"Every child is an artist. The problem is how to remain an artist once he grows up." ~ Pablo Picasso
This is one of my absolute favorite pastels!  The lines are simple; the flow of the bending tree limbs is instantly recognizable to the viewer.
You can draw this picture on any size of paper; but having said that, I must say that a piece of paper smaller than a 5'x7' will probably "cramp" your drawing style and not let you express the full length of tree limbs.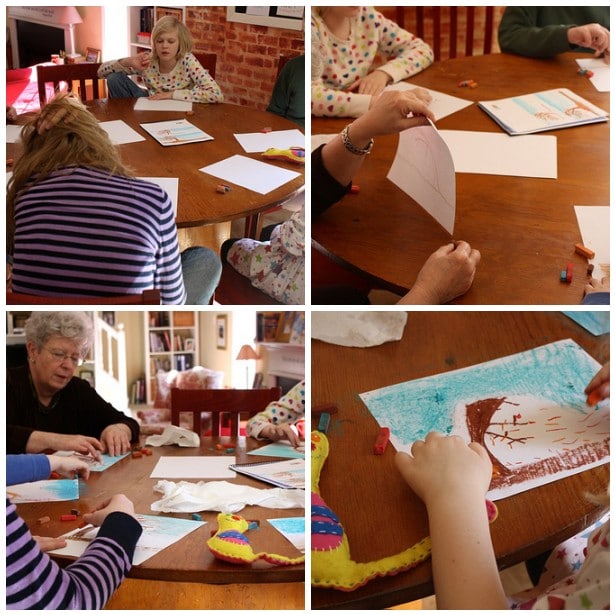 Nana is teaching all ages together, above. From age five to 15.
This is very simple; the youngest of students can take a dark brown pastel and quickly draw a tree trunk bending down by the wind.  Plant your tree firmly on the ground, and then just let your imagination go…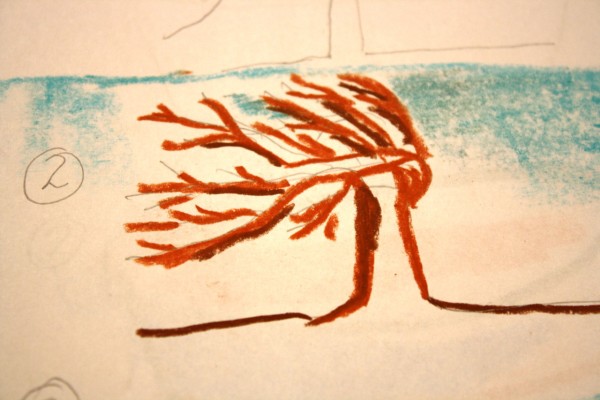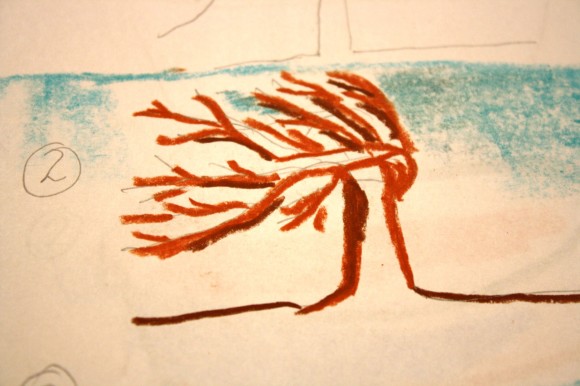 You can just draw a very few limbs and smaller "twiggy" shapes from the bigger limbs…or you can really add on a lot of limbs.
I realize that we cannot see the wind itself; only the effects of the wind.  The wind is blowing from the opposite side of the tree and the tree bends to this force.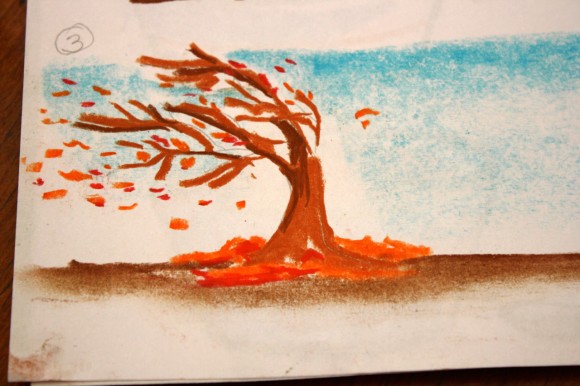 There are a few brave red leaves clinging to the blast of the wind and several twirling in the wind away from the tree.  Don't forget to add a pile of leaves at the bottom of the tree…those that have maybe already fallen and been raked up around the tree.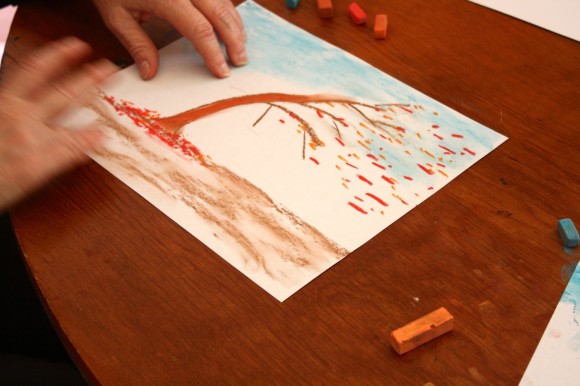 I think that a bright, aqua-blue, October-like sky is fine, but remember, this is YOUR pastel picture.  You may like to have clouds scuttling across the sky, threatening rain!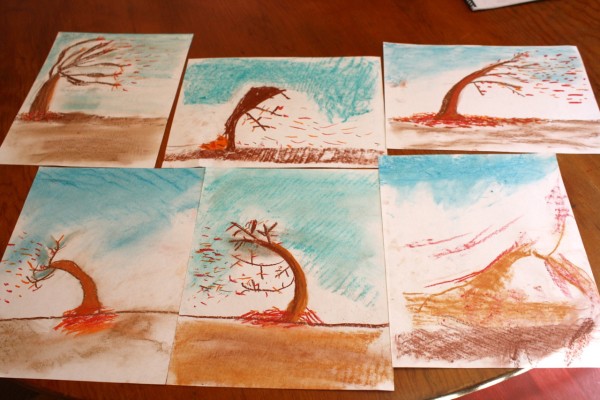 From the top, left to right: by 15-year-old, by seven-year-old, by Nana. Bottom left: by 13-year-old, by 10-year-old, by five-year-old.
There you are!  A wonderful, expressive picture that you have done yourself….a picture of the "effects of the wind" and weather!  Good job!
I'll be sharing inspiration art quotes over the next few weeks in hopes you'll pull out the brushes, the pastels, the palette of colors too. Be inspired by more Quotable Wisdom with the ladies of iHomeschool Network. Now, we will let Van Gogh's quote from last week answer Pablo Picasso's quote above: If you hear a voice within you say 'you cannot paint,' then by all means paint and that voice will be silenced." ~Vincent Van Gogh
–> Be encouraged by our Inspirational Art Quote series!
Our new Simple Start in Chalk Pastels ebook

Enjoy!
Print this lesson: Just click the green, 'print-friendly' button at the top, left of this post. You can choose to print the lesson with or without photos. By clicking the 'remove photos' box, you may print the text directions only.
A note on chalk pastels: Pastels are an easy, forgiving medium. Fun for children and adults alike! Details on the pastels and paper we use, how and where to purchase, and links to all of Nana's other pastel lessons (50 free lessons now) are all contained in the post Pastels plus links to tutorials. A simple set is very affordable. Nana also teaches acrylic lessons.

The practical aspects of a mess: Pastels are blessedly messy. We always have baby wipes close by to wipe hands. We wear something we don't mind getting stained or don a smock.
Encouragement: How to Start Art with Little Ones and How to Add in the Joy of Art.
A special thank you to our subscribers!

–> As a special thank you to our Hodgepodge subscribers, we will occasionally share art tutorials only available via a download link on our subscription feed. We have a subscriber only volcano chalk pastel coming next week. We will still continue to post lessons here on the blog but some will only be available for subscribers. So please subscribe to Hodgepodge now (it's free!) Don't miss any art lessons!

Are the trees around you still bare and bending in the wind? Or have you started to see signs of spring?
Hearts and Trees: Art, Handicrafts and Nature Study for your Homeschool