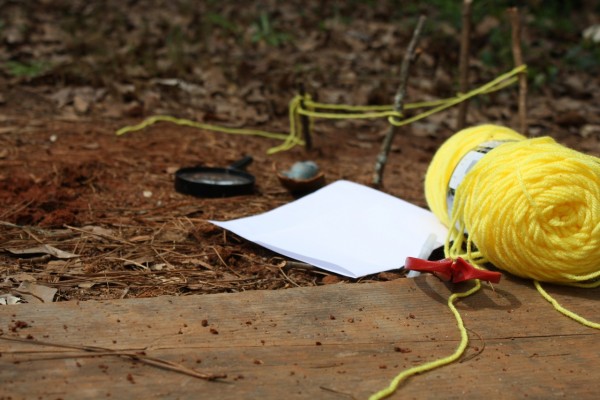 After lunch we set out to discover what we could find in one square foot of backyard. I handed over the yarn, the scissors and instructions to the older ones and asked they pick a spot. After clearing the lunch dishes and setting out notebook pages, I joined them outside.
They had picked a square of red, Georgia clay. Ok, then. Let's see what we can find. Dig, dig, dig. Mud. Dig some more. Not much but mud. A group decision was made to abandon the first one small square choice.
The handy puddle of mud formed by the shoe scraping underneath the backyard swing (with maybe a bit of help from the shovel, perhaps?)
They did get distracted with more mud. (Reminds me of mud-luscious and puddle-wonderful from last week). Hmmm… maybe we should see if we can find some winter insects instead.
What do you say? Under the logs in the 'camp fire' ring? Let's see. Eldest boy hoisted the large logs and, bingo!
Oh yes! We disturbed a millipede (or is it a centipede? We later looked it up and it is a millipede), a beetle and some rolly pollies (pill bugs). The children decided this would be a much better spot for a small square study. The four rocks were moved to this preferred spot. No string for this make-shift study. The logs were already moved and the insects disturbed. Besides the insects, the children also listed termites, pine straw, fungus, leaves and soft, damp soil. This area of the backyard was definitely much more fun than even mud.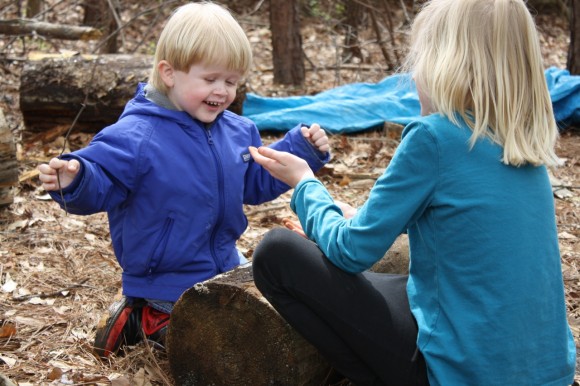 My grandfather's magnifying glass was deployed and shared around.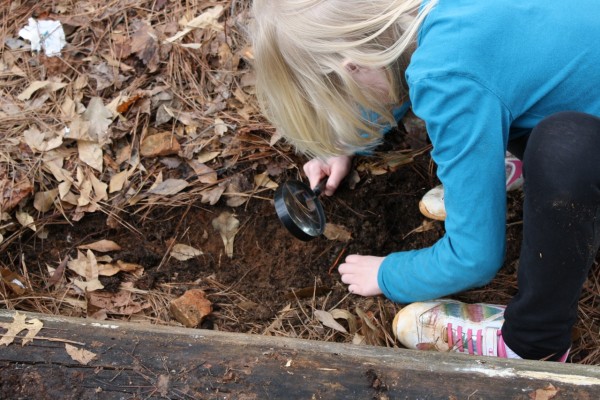 Who knew a millipede could be such fun for little ones and big ones too?
With four inches of rain forecast the next day, I decided that the children were having such a great time being outdoors we'd work on notebook pages indoors the next day.
Eldest boy noticed a few holes looking like insects might be close. But he didn't find any.
So, this morning after breakfast, snug and dry as the rain falls outside, we looked up our insects to find out what they do in the winter. We wondered why they prefer our backyard logs.
Five-year-old's notebook page. She found termites!
The children also sketched their small square finds. And we talked about what we learned. Solid Georgia red clay isn't the best spot for a small square study. That is, if you are looking for variety.
Eight-year-old says her favorite part was when youngest boy called the millipede a caterpillar.
We learned it is much more fun to search under backyard logs. We also learned the difference between a millipede and a centipede.
Eleven-year-old's notebook page. He also sketched the roots we saw.

Plus, how that millipede found a safe spot for winter – all curled up under that log. And, not to give up if your first spot for study yields no findings. Move to another area close by and keep your eyes peeled.
One small square leading to winter insects and a great appreciation for logs and clay.
P.S. We also found Creation Wiki by doing our Google search for millipede. Did you know about Creation Wiki? Check it out! Creation Wiki