What is an artist? Webster defines it this way:

Definition of ARTIST
1 a obsolete : one skilled or versed in learned arts  b archaic : physician  c archaic : artisan 1
2 a : one who professes and practices an imaginative art  b : a person skilled in one of the fine arts
I asked Lil' Buddy 'what is an artist?" He says, "someone who paints!" Over the course of the next 10 days, we hope to encourage you to be an artist, share outlets for creativity and spur you and your children on in all things art. Lucia Hames, my mother, and also known as Nana, will be a very big part of our series. She is the one that inspired us to make a love and practice of art a big part of our lives. We will also share tutorials and tips. Next week, we'll even have a visit from Barb McCoy-Harmony Art Mom from Harmony Fine Arts!
But, before we get into any of that, let's discuss this definition of an artist. Nana is here to encourage your thinking about this description. Here she is…
All of us are born with talent….an inbred wiring to create.  As parents, grandparents and teachers, tapping this talent and helping students reach a rich satisfaction with creation of art is our goal!  If you pick up a brush, pen, pastel chalk…or use your finger for glorious finger painting (which is a child's most favorite way to paint) you become an artist.
What is an Artist?
All children are artists; they still have an excitement and imagination that an adult may lack.  The younger the better the artist… they love to see the wide swath of red paint follow their brush across the paper.  They don't look at the paper of the child next to them to compare what he may be painting, they are totally in the the moment of joy in the of creation of art.  As the child grows older, more emphasis is placed on reading and writing and testing. Art can become the forgotten beloved toy of a younger time.
My goal as a teacher is to get that forgotten excitement in creativity back!
It has been shown that if art curriculum is added to the daily schedule of school subjects, a student has a chance to tap that "left brain" activity.  Could it be that a focus art and creativity could help with other studies?
Feed that inner child!  Break out the paint, crayons, pens and chalks! That's just what we'll do over the rest of this You CAN Be An Artist series.
"The artist is the person who makes life more interesting or beautiful, more understandable or mysterious, or probably, in the best sense, more wonderful." ~ George Bellows
Brought to you by these lovely ladies…
Becoming Healthy & Fit | Alisha at Flourish
Teaching With LEGO | Amy at Milk and Cookies
New Experiences | Angie at Many Little Blessings
Homeschooling Tots & Preschoolers | Carisa at 1+1+1=1
Project-Based Learning | Cindy at Our Journey Westward
Electricity and Magnetism Experiments | Colleen at Raising Lifelong Learners
ABC's of Journaling | Dollie at Teachers of Good Things
Boosting Brainpower | Heather at Cultivating Lives
Hopscotching Across the USA | Heidi at Home Schoolroom
Homeschooling for Free and Frugal | Jamerrill at Free Homeschool Deals
How to Work from Home and Homeschool | Jamerrill at Holy Spirit-Led Homeschooling
Sights to See in Washington, D.C. | Jenn at Daze of Adventure
Autism is… | Jennifer at Jennifer A. Janes
Raising Boys (By a Mom of Five Sons) | Kendra at Preschoolers and Peace
US Presidents | Lauren at Mama's Learning Corner
Things You Can Do With A Can of Tomato Sauce | Laurie at Our Abundant Blessings
Learning to Exercise With Your Kids | Lisa at Chaos Appreciation
Understanding Your Anxious Child | Lisa at Our Homeschool Adventure
Homeschooling the Large Family | Marianne at Abundant Life
Screen-Free Family Activities | Michelle at The Holistic Homeschooler
Healthy Eating | Sarah at Sidetracked Sarah
Planning a Summer Garden | Stephanie at Nature Notebook
Tips for Selling Your House While Homeschooling | Susann at Mama Hopper
Gluten Free Recipes | Tabitha at Meet Penny
Cool Group Projects & Parties | Tabitha at Teaching With Cents
How to Use Coupons | Tabitha at Online Coupon Workshop
Using Games in School | Ticia at†Adventures in Mommydom
You CAN be an Artist | Tricia at HodgePodge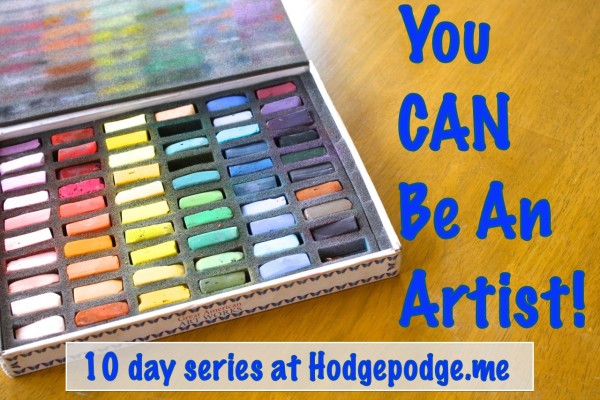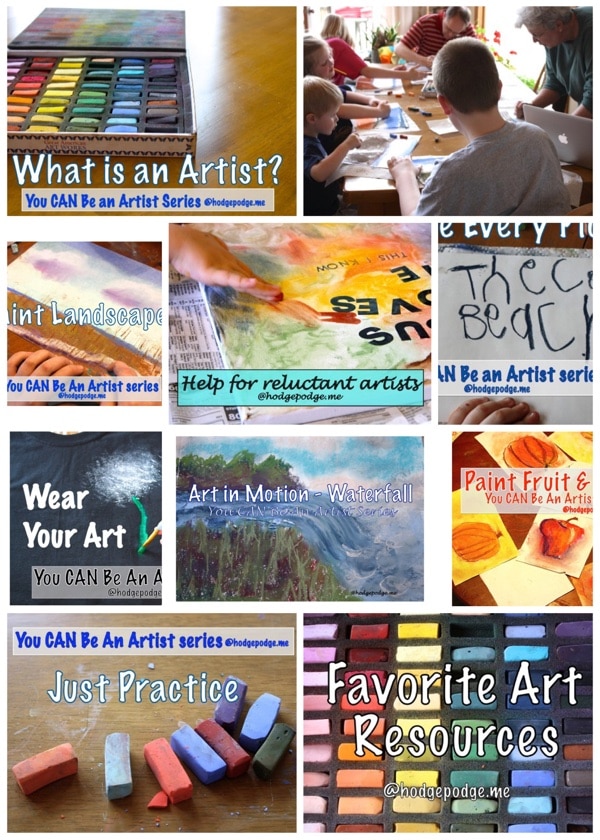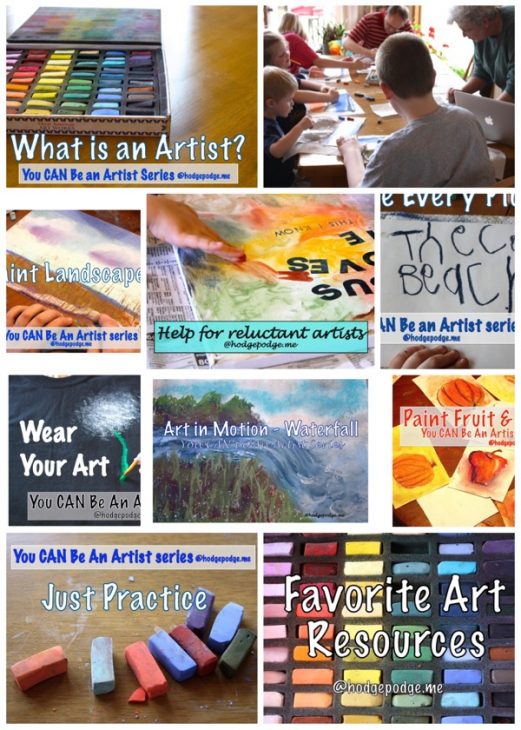 How about you? How would you define an artist? or what are you hoping to learn from this You CAN Be an Artist series? Is there a question we can answer for you?
Save