Some exciting things to share! Dear friends if you haven't already downloaded your free Volcano Chalk Pastel tutorial, please do so right away. The lesson will be going away before our new tutorial will post on Friday.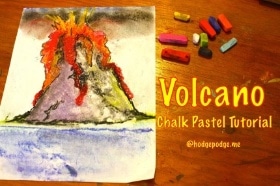 The other good news? If you subscribe now,  you will receive the newest chalk pastel tutorial when it posts on Friday! So, you'll get two tutorials this week – plus a bonus I will share with you then.
You CAN Be An Artist 10 Day Series
Starting next week, I'll be sharing a 10 Days of Art series with iHomeschool Network entitled You CAN Be Artist! Nana and I will be encouraging you with tips and even more tutorials. So now is the time to subscribe!
I'll be back at the end of the month to share all that will be going on in our homeschool: Science fair projects, talent show, drama troupe performance prep and more!
A special thank you to our subscribers!

–> As a special thank you to our Hodgepodge subscribers, we will occasionally share art tutorials only available via a download link on our subscription feed. We will still continue to post lessons here on the blog but some will only be available for subscribers. So please subscribe to Hodgepodge now (it's free!) Don't miss any art lessons!
Thank you for your loyalty! Have you seen all the beautiful pictures our readers have been sharing from the tutorials they are enjoying from A Simple Start in Chalk Pastels?
Click over to our Art Tutorial Showcase board and take a look. I've also been sharing some photos on our Hodgepodge Facebook page. Many thanks to RaShell Southerland and Stephanie Harrington – and their families! – for these latest photos.
Did you subscribe? (it's free!)

P.S. Thank you so very much for the award! It's an honor to be included in this list of supers! You readers have been so very generous with your votes for Hodgepodge! We have a hand full of awards thanks to you.  🙂
What questions might we address in our You CAN Be an Artist! series?