The habit of family gathered for a meal is one that spills over and blesses in so many other areas of family life. Today, I share several helpful posts from our authors to make 10 Habits for the Family Table.

The incredible gift of the ordinary! Glory comes streaming from the table of daily life."

~ Macrina Wiederkehr
10 Habits for the Family Table
1. Celebrate Every Day (You are Special Plate – pictured above) "Why not find something to celebrate every day? A lost tooth, an extra measure of kindness, diligence in school work or finding the long-lost library book."
2. The Habit of the Table – "eating together as a family is a very important part of being a family. Maybe we should look at it as an honor to gather around the table. God himself is preparing a table at which we will gather one day. If it is important for His family should it not be important to mine."
3. What's for Dinner: Presentation "Don't I just have one of the kids set the table, put the food out and ring the dinner bell? Well there is absolutely nothing wrong with that and it's what happens at our house on the majority of days. However, God spoke to my heart some time ago about all the events and parties I would do for extended family, friends and church and asked me if I shouldn't do the same for my own family on a regular basis…"
4. Mad, Sad, Glad – a dinner conversation starter game. "The game also gets everyone talking, allowing us parents to help the children to work through some emotions we each face daily. Reflect on the day. We might even remember something we'd already dismissed in our minds."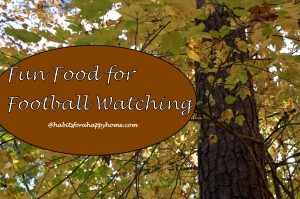 5. Fun Food for Football Watching – great, fall favorites!
6. Manners Monday – "We'll start with the basics of table manners and go from there, keeping our special dinner night as a perfect opportunity to practice what we've learned. Then we'll add in other social graces."
7. A basket centerpiece for the table – "a basket with a bible, devotion book, history book and poetry. I am not talking about having a long lesson or bible study but just taking 5-10 minutes to read something that will help, inspire, bless, encourage and maybe even correct or rebuke us. With this basket right in my face at the table it just makes it harder to forget the habit that I am trying to establish for our family."
8. Help for Picky Eaters – "If you have a child like this, hang in there. But here are a few things that seemed to work the best…"
9. A Grand Lunch time Adventure – "During our lunch break, we gather around the table and go on exciting adventures."
10. Dance with the Dishes – make clearing the table easy and fun!
And as a bonus to our habits for the family table, here are some recipes for your family table: Our Habits for a Happy Home Recipe Box
We invite you to subscribe so you won't miss any Habits for a Happy Home. You can find us on Pinterest too!
~ originally published by Tricia October 2012
Save
Sav
Save