It is one thing to study a piece of art or an artist with a book or an online artist study. It is quite another to see a piece of art in person – and to see, up close, the actual brush strokes by the artist. That is one reason why you should take an art museum homeschool field trip. And here are a few more reasons you should go. Don't miss details on The High Museum of Art, Atlanta art exhibits – and information for educators.
Taking a homeschool field trip to an art museum gives your study subject importance. When you set aside the time to drive to a museum, spend the money on admission, and walk right up to a piece of art, it means something special.
Seeing a work of art in person helps you recognize the time investment of the artist. When you see a painting, you recognize that it took time, energy and commitment.
An art museum homeschool field trip will inspire further learning! When we went to see Eric Carle: I See a Story, we went straight to the library and checked out every book by this wonderful artist.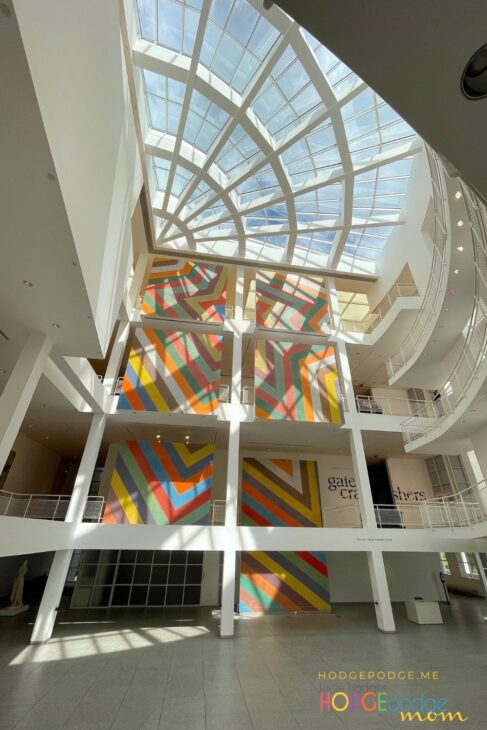 Visiting an art museum inspires creativity. Maybe your student would like to learn about a certain art technique. Paint in the style of that artist. Learn about a particular era of art history.
Going out in the field you are studying gives you real experience.
Plus, taking a homeschool field trip is just FUN! I know my children and I love a break in the routine. There is no complaining when we don't have to do a math assignment for one day!
Homeschool Field Trip: Art Exhibits at The High Museum of Art, Atlanta
Last month we went to see Gate Crashers: The Rise of the Self-Taught Artist at the High Museum of Art, Atlanta. We were especially interested in paintings by Horace Pippin and Grandma Moses. We also learned about new to us artists. And, we were surprised to see paintings by several other of our favorite famous artists! This was such a rich experience and we saw so many famous works of art that I could write a post on each one.
Recently, we have been studying Horace Pippin because Nana shared a famous artist lesson and podcast on Horace Pippin for members of the You ARE an ARTiST Clubhouse. We read the wonderful book, A Splash of Red: The Life and Art of Horace Pippin. What a privilege to take a homeschool field trip to see Pippin's works of art in person! We kept talking about how the biggest impression for us was seeing his brush strokes and his style of art up close. What joy!
I remember seeing many prints of Grandma Moses' paintings in my lifetime but we got to see her signature in the lower right hand corner of her paintings – plus learn more about her life and the variety of paintings she created. One thing we found really interesting was a set of Moses paintings displayed side by side. One time, when a collector was coming to view her paintings, she didn't have enough paintings to show. So, she cut one of her paintings in half!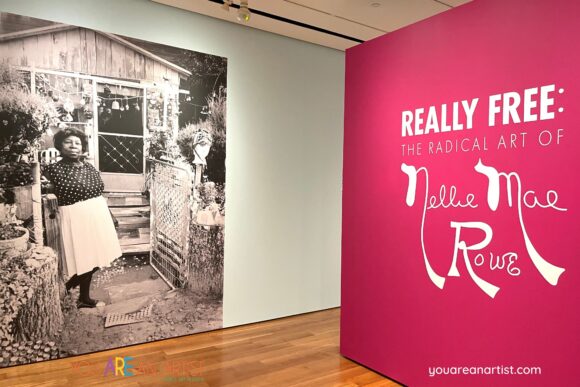 Really Free: The Radial Art of Nellie Mae Rowe – Nellie Mae Rowe was a Georgia artist we learned about on our field trip to The High. What a unique artist she was! We were most impressed with what she called her 'playhouse'. This was the house she lived in. She decorated it with everything from chewing-gum sculptures and handmade dolls to hundreds of her own drawings.
We next visited a new permanent exhibit of French Impressionists that was especially a delight for me! It contained several paintings by Monet, Renoir, Pisarro and Matisse! This was such a joy that we circled back around and went through it a second time before we left that day.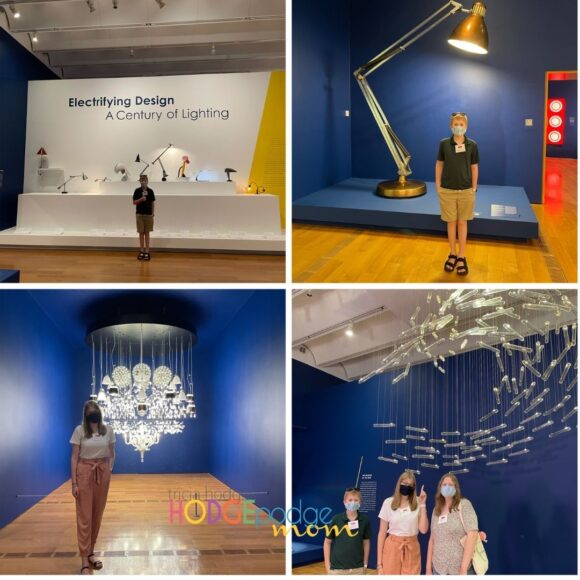 For my middle schooler, the highlight of our homeschool field trip was the Electrifying Design: A Century of Lighting. It did not disappoint this technology-loving son!
We also had the special privilege of seeing the Calder-Picasso exhibit. How wonderful to see Picasso paintings in person! While we knew about the famous artist Picasso and the paintings he called "pages from my diary", we were pleased to learn about Calder and his animated sculptures. There were more than 100 paintings, sculptures, drawings, sketches and large designs to explore!
On the way out, we had fun going through the many, fun, outdoor exhibits at The High. On the way home, we talked about what our favorite paintings and exhibits were. And we started to plan our next homeschool field trip to The High!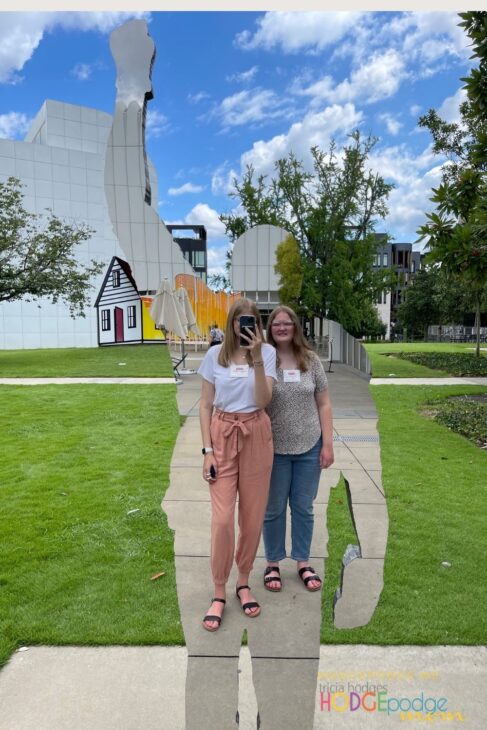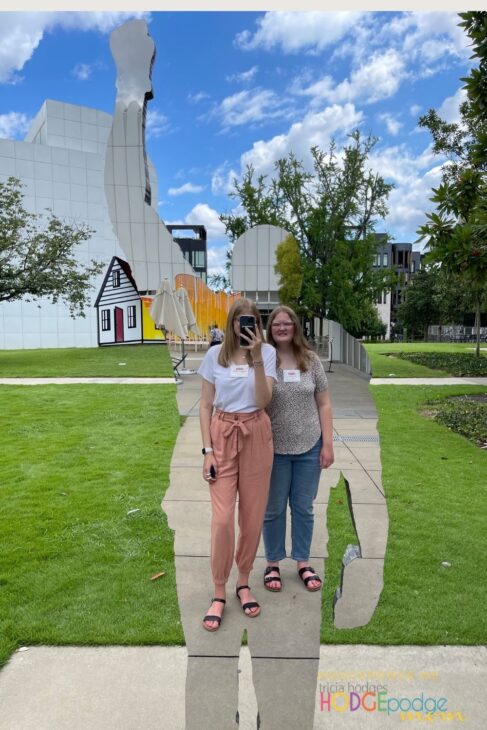 A Few Tips For Planning Your Day
Before you go, study the museum website. See if there are special discounts or even homeschool days. Be aware of admission prices and parking costs.
Make sure you pack a snack and some water for the car ride. After walking through many exhibits we surely needed some water and a granola bar on the way home.
On this particular art museum homeschool field trip, my children were middle school, high school and college-aged students. However, we have been taking homeschool field trips since my children were much younger. Read more tips and explore an exhibit designed by The High specifically for younger children in I See A Story, The Art Of Eric Carle.
You can even take a virtual field trip with online resources from The High Museum of Art.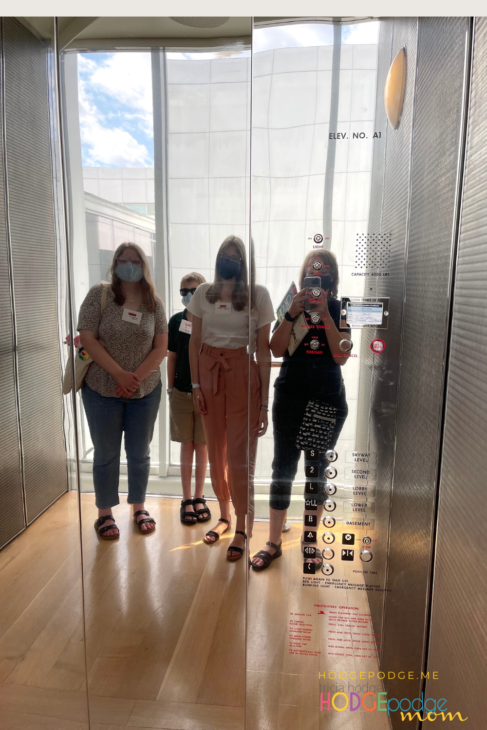 Follow up your homeschool field trip time with some discussion. What was your favorite painting or exhibit? Write down and describe your favorite painting. Then, create a painting of your own in the style of your favorite artist!
Be sure to check out our trip to the Van Gogh Immersive Experience! We celebrated a birthday there.
Have fun and make memories together!