Warning
: Trying to access array offset on value of type null in
/home/n0c986d/public_html/hodgepodge/wp-content/plugins/amazon-associates-link-builder/vendor/mustache/mustache/src/Mustache/Parser.php
on line
278
The last two weeks I have noticed several intertwined homeschool themes at Hodgepodge. The themes are different because of our multiple ages – from elementary up to high school. But, of course, those themes are complementary and supportive of one another. I'll share them with you today. Let me know what you think.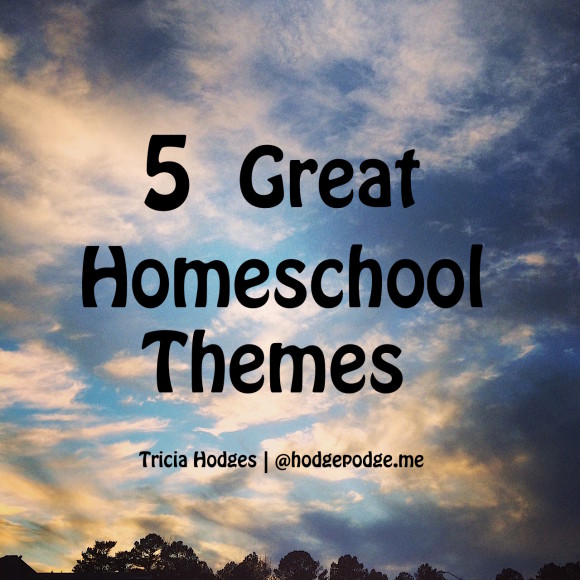 ~ Affiliate links are included in this post. So a portion of the sales – with no additional cost to you – will go towards keeping this Hodgepodge blog running and chalk pastels for more tutorials. Thanks in advance for blessing Hodgepodge! See our full disclosure policy.

1. I am doing a great work and I cannot come down.
"I am doing a great work and I cannot come down. Why should the work stop while I leave it and come down to you?" Nehemiah 6:3

This is a great lesson I learned at the start of the year. My Sunday school ladies and I watched a video sermon from Andy Stanley that I highly recommend: This One Thing. "We all make resolutions. We all break resolutions. But if we're honest, there is something in each of our lives – a habit, a relationship, a debt – that deserves our attention this year. In this message, Andy recounts the Old Testament story of Nehemiah and draws out a lesson that can be the key to finally accomplishing the one thing we each need to put our minds to this year."
Not that by focusing on our 'One Thing' that we can't chase a bunny trail of learning. This verse is one that has really captured ME, the homeschool mama. Like Nehemiah, I am doing a great work (homeschool, parenting) and I cannot come down. I'm going to stay up on that wall.
1. My train engineer designed hills and loops with stations at the farm and more! | 2. Practicing painting a sky with Nana and pan pastels (tutorial coming next week!) | 3. Practicing adding the doubles + one facts in Saxon first grade math. | 4. Staggering seven steamies.
2. Practice, Practice and More Practice
Practice handwriting. It takes lots of practice and it is hard. Practice multiplication tables. They aren't that easy. It take practice. Practice tying shoes. That takes patience and practice. Practice piano many, many times a day. Practice Aladdin for drama troupe. Practice songs, lines. Practice driving. Make those turns, learn how touchy that gas pedal is. Practice. Practice love with each other.
1. Various states of homeschooling multiple ages this morning. The sounds of Aladdin drama troupe practice upstairs, youngest off having a snack, and third grader doing language arts here in the homeschool room. | 2. Someone (creative youngest girl) has been enjoying a wonderful stuffed animal pet shop story! | 3. Third grade Teaching Textbooks – practicing multiplication tables. | 4. Marveling at math manipulatives and youngest girl's imagination.

1. Good times with my awesome daughter. | 2. Saturday mornings are for pancakes and turkey bacon and a warm fire. | 3. Rise and shine and give God the glory, glory! #sunrise | 4. 'Soli' the solar-powered and recycled robot (First grader bought it with Christmas money and his big brother helped put it together. #teamwork)
3. Carpe Diem
Last weekend we watched an Oscar winning, now old, movie, 
4. Just Write and Just Watch
Write a letter for Daddy to find at supper, a letter to a friend. Write Tapestry of Grace writing assignments, put together a grammar notebook. Write captions for Instagram.
Watch – movie suggestions from Tapestry of Grace (that we can borrow from the library or find on Netflix)!
And if all else fails…
5. Just Read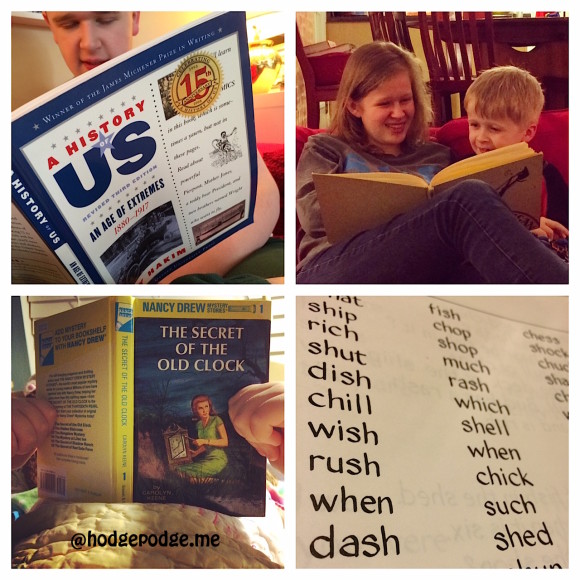 1. Such a wonderful series of history books by Joy Hakim. We've enjoyed them many a time throughout our Tapestry of Grace studies. | 2. Eldest, youngest and Mike Mulligan. | 3. Yes, you can stay up just a bit more. (The Habit of Reading at Bedtime). | 4. "That reading list is longer than my Christmas list!" ~ first grader, about his Alphaphonics practice.
Winter homeschooling can be a time of feeling cooped up, stuck inside. But we've decided we will just read. It's our theme! Just read. There's so much to learn that way – even if other things have fallen by the wayside that day. We have read. Build a cozy fire and just read. And we have plenty to just read! History and literature with Tapestry of Grace.
Oswald the Bearded Dragon approves of the plan for next homeschool week during our Weekly Homeschool Planning Meeting for Multiple Ages. (that first one is a link to an instagram account by Middle Girl – documenting a bearded dragon's life at Hodgepodge. 🙂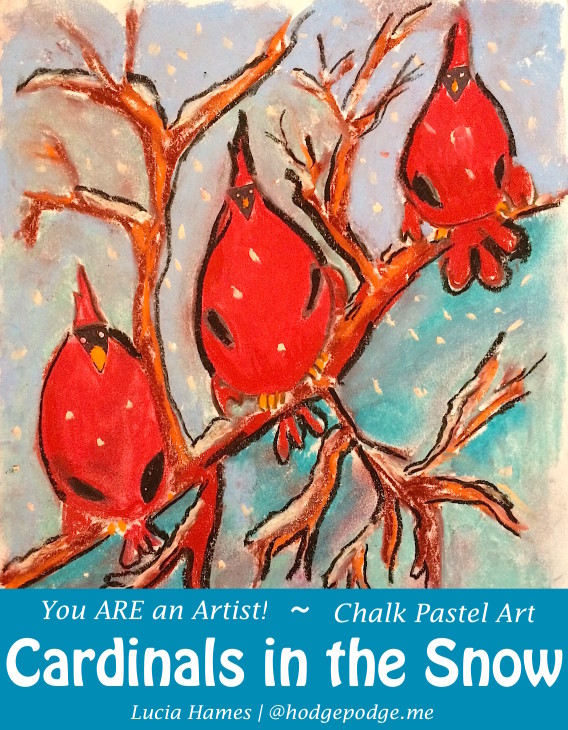 In Case You Missed It:
My Favorite Homeschool Retreats! (I'm sharing about Real Refreshment Retreat, iHomeschool Studio and Teach Them Diligently – today at The Curriculum Choice.)
Many thanks to these kind hostesses (I'm linking up!):
Are you finding themes in your homeschool days? What do you think of ours? A bit of a Hodgepodge…