A Day in the Life of a Charlotte Mason Inspired Home School.
(Family time – an important part of our lives together)
I have been using or should I say inspired by the Charlotte Mason (CM) method since I started home schooling. But lately I haven't been following it as much as I had planned. My goal this coming school year is to fully get back to the CM method. I found it when I first starting researching home school and I knew it was the right way to go for our family. Over the last two years, I unfortunately got lazy and started leaving out the beautiful extras that the CM method has. Or I started falling into a more traditional method for the core subjects. So my plan for this year is to go back and follow the CM method just as much as I possibly can.
So as I came up with the plan for this upcoming school year, I kept this goal in mind! Right now I have to say that this post is more of a "hope to be" a day in the life of a Charlotte Mason inspired home school. This is the goal but it has never in all my years of home schooling been daily reality! This is a new year and a new season of life and I am hoping (in the LORD) for this to be reality for most of our days! I know one thing I have to do to make this a reality, I must work on Habit Training for my kids and especially for myself. I always say I am a work in progress and I acknowledge the LORD has a lot more work to do in me and through me. So I know for this to become reality (at least most days), even with habit training, and hard work in all areas of our life, it will still only be by HIS grace!!
*Here is the daily SCHEDULE I created to help me have days like I describe below.*
* See my All about Charlotte Mason post HERE*
(Creation *Nature* Study  and Nature Journals are a BIG part of the Charlotte Mason Method)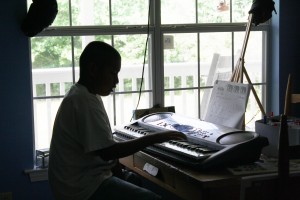 (Walk outside, observing and enjoying GOD's amazing Creation)
(Hands-On-Art) 
(Golf with daddy)
What is your inspired method of homeschooling or parenting?
 ~ written by Angie @ The One Thing