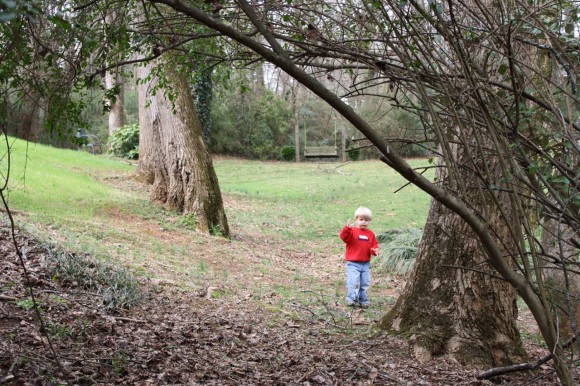 Often times while our two eldest girls enjoy Drama Troupe, the rest of us troop over to Mama Ann's for a visit. We are already out and half way there. So the van just somehow finds its way. Mama Ann's is a magical place for me. See, she's my grandmother. I house many a childhood memory from her woods and all the simple, childlike fun I continue to enjoy with her now that I am grown (even though I am now the age she was when I became the first of her eight grandchildren. Love those cousins!)
It goes without saying that Mama Ann's house is a wonderful spot for nature study. Her yard filled with heirloom plants, natural moss and thick pine, dogwood and maple trees. And, each time we go, we always find something new.
As we exited the van on this morning, an enormous flock of robins was darting in and out of the ivy on her tall pine trees. I've never seen anything like it! They were very noisy and filled the spring-like morning with song. Robins! All of them!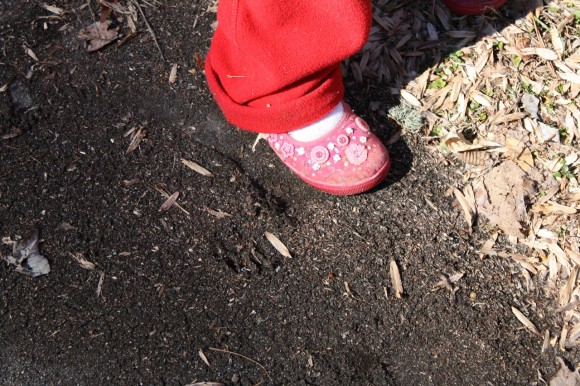 So, while we didn't intend to, one morning we went, we found animal tracks.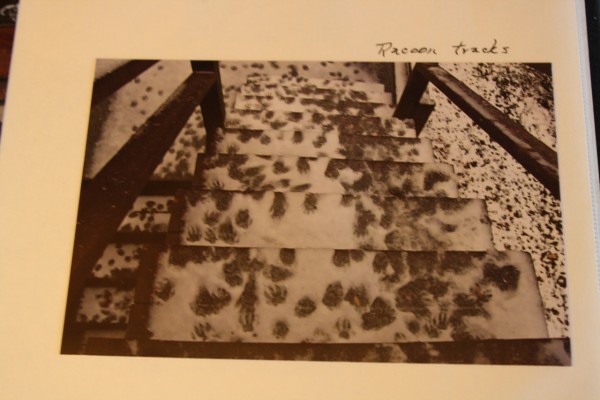 And she just happened to show us the photo of the raccoon tracks in the snow. We weren't even looking! The nature study found us. (Remember when Mama Ann provided us with the photo of the raccoon at her feeder last summer? He's a regular around her house).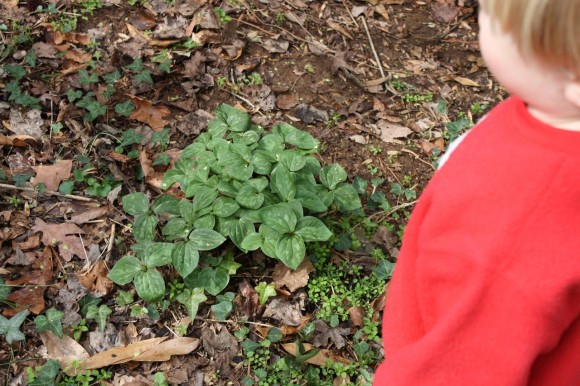 We didn't spend much more time on mammals than taking those two photos on this morning. What we did was enjoy the outdoors. She has a screened porch perfect for birdwatching, a swing set, bubble wands at the ready, a trail over to the garden swing, a secret path to the creek and plenty of chances for noticing nature.
I felt like Alice in Wonderland as I followed my younger two up the short hill I've climbed many a time. I think I've grown way too tall to fit through there! But I made it.
On this morning the tall camelia bush was shedding its blossoms. It made for a beautiful display of color.
Home the next morning, one who wasn't there to see the raccoon tracks, then looked up their shape in the First Field Guide: Mammals book. Peered at those footprints in the snow. And drew a notebook page full of small paw prints.
Two girls made me promise we'd go to Mama Ann's on a different day this week. So we'll choose another day and all troop over together. To see what we can find.
The blessings of time with my grandmother. The beauty of her yard. That which she so lovingly added details to create a spot we are all drawn to. Counting on this Monday the multitude of ways family time and the beauty of nature are all rolled in together. (#2286-2292) Plus…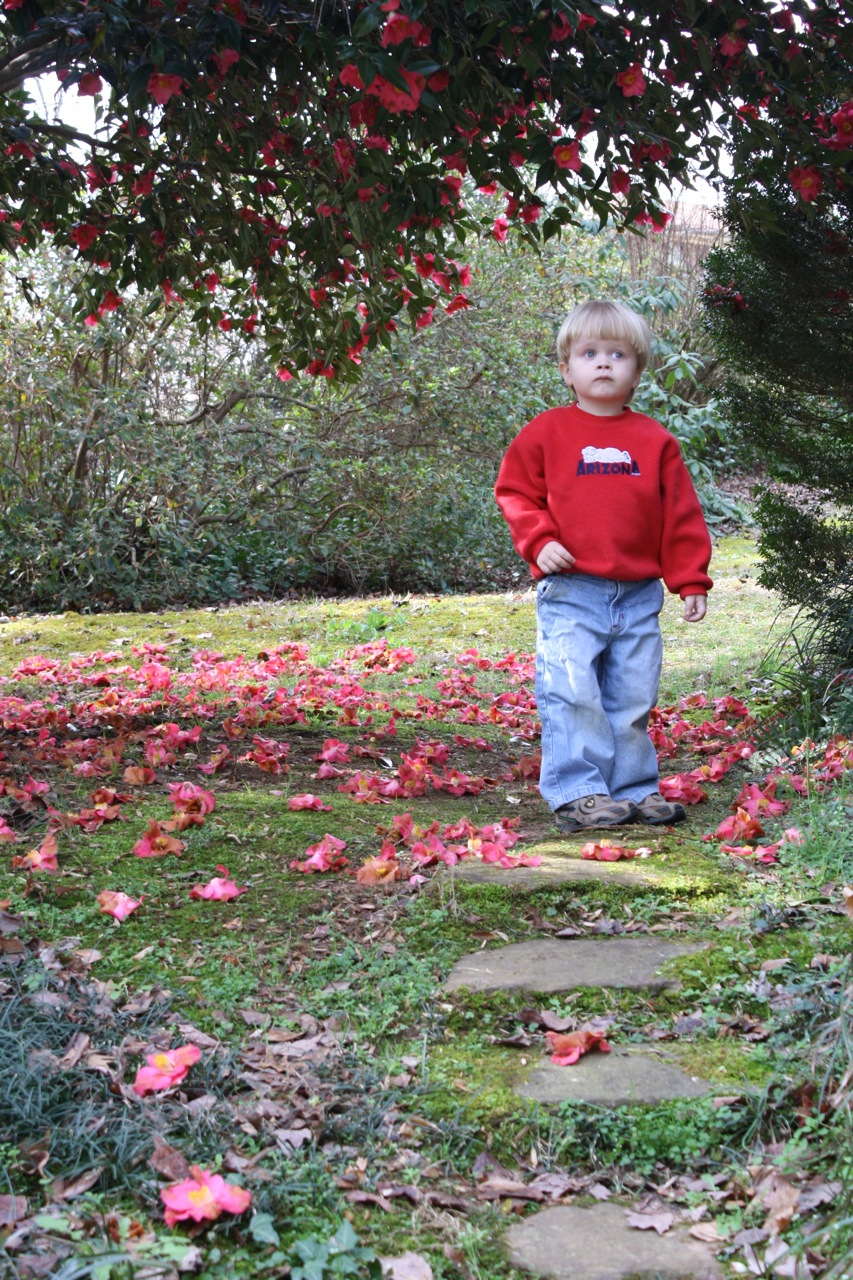 2293. Camelias
2294. Forsythia
2295. The oakleaf hydrangea starting to sprout – just like the one transplanted to my house from her yard
These and the many gifts of the past week…
2296. More light in the evenings after time change
2297. Warmer afternoons for being outside longer
2298. Spring sights and sounds all around
2299. Sunday lunch with family
2300. Saturday science projects, all the learning of last week
2301. Swinging high in pink boots
2302. Swinging sisters being silly!
2303. Cheerful children on a Sunday morning following spring forward time change. Everyone up and on time – even eating breakfast  🙂
2304. Eldest girl's enthusiasm over lessons.
2305. The little things like eldest boy's diligence in wearing his rubber bands with braces.
2306. Nana's slow cooker dressing (yum!) and a yummy new chicken recipe.
2307. Grandma's voice on the line.
2308. The pure joy of nature studies!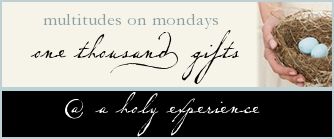 "When children's eyes are smiling, Tis God's love that's shining through, With glints of joy and laughter, What good medicine for you!" ~ Margaret Fishback Powers