It's been a Hodgepodge sort of December. We've collected many happy memories even though we were hit with sickness starting early in the month. The flu was staggered with each of our family of seven – lasting 10 days to two weeks for each of us. So far, only one escaped. The sick ones were quarantined upstairs in hopes of preventing the spread to the well ones downstairs.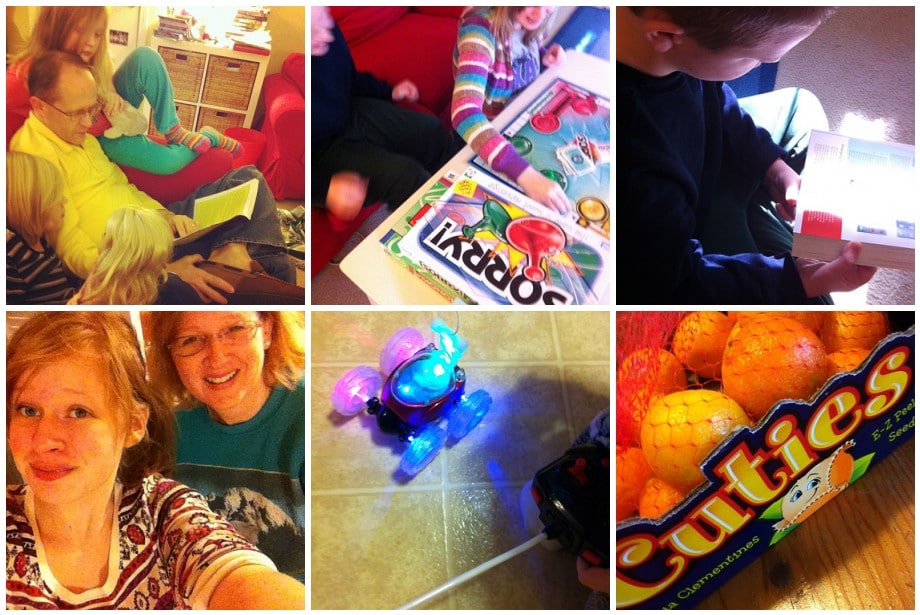 The different levels of the house even skyped each other! Then the well side switched with the sick side. We were very thankful that our girls were well in time for their piano recital. And even though Lil' Buddy was still getting well, he did break the record for getting up the earliest on Christmas – at 3:30 a.m. We went back to bed but did head down the steps at 6:00 Christmas morning.
Pitiful with a capital P! Needless to say, it's been a rough go. We had multiple trips to the doctor, several secondary infections. While we weren't able to be around extended family this Christmas, we had each other! We read Jotham's Journey by the fire. Took frequent naps. Drank our weight in Gatorade.
Of one thing I am sure. I am thankful that we started our school year the last week of July! There is no pressure and we've allowed ourselves the healing time needed.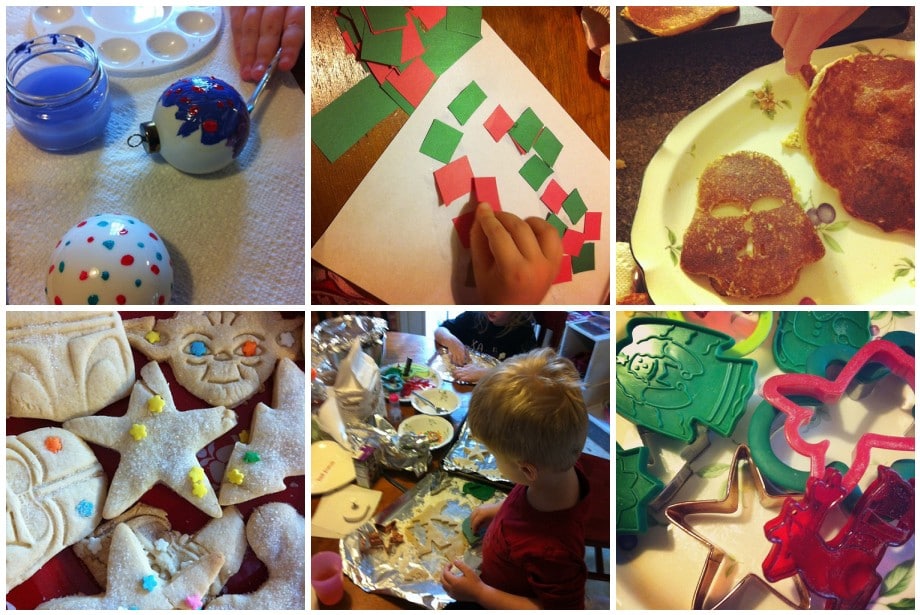 Hodgepodge Christmas cookies. The force mixes with tradition. With the sickness staggered, some enjoyed art projects. We also staggered our Christmas cookie making. The well ones went first, making a cookie sheet full. We baked those. Then the sick ones stepped up to the table and had fun making a batch too. We used the cookie cutters I enjoyed with my mother when I was a child! And we also were able to make one Darth Vader pancake. Many thanks to my Aunt Patti for the fun Star Wars cutters and molds!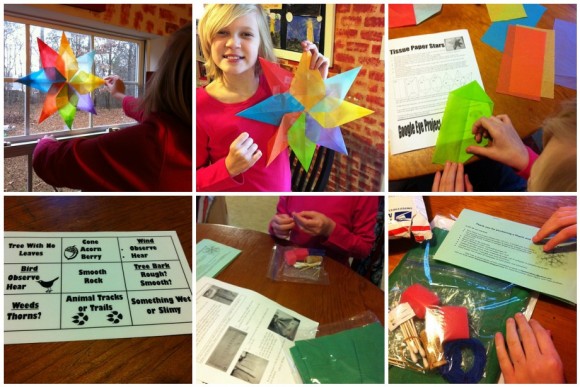 A very big highlight is Middle Girl has been busy on the newest Hearts and Trees Winter Fun kit. I highly recommend this all-inclusive kit for an easy way to add in some extra handicrafts, art projects and nature study. She was able to open it up and enjoy projects herself! We are looking forward to making the fleece hat. And Littlest Girl loves the laminated card of nature study prompts. Mary at Homegrown Learners is reviewing the Prairie Kit today. You can enter to win a kit of your choice! Stop by The Curriculum Choice and enter to win. Or go ahead and order a kit for your children. An easy and affordable way to add some winter fun on these chilly days!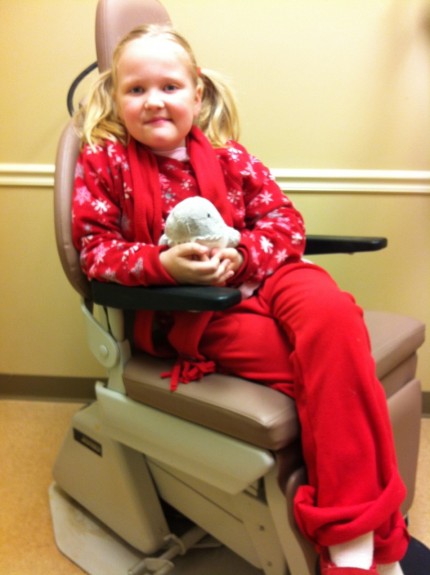 We are building Littlest Girl's strength for a scheduled tonsillectomy next week. Here she is, above, at her pre-op visit yesterday. She's glad her new shark Webkinz can accompany her.
During the Christmas break I spend some time planning for the new semester. "With my morning coffee I can reassess plans and goals for each child. Fifteen minutes to half an hour each early morning for each child. The rest of the day enjoying the break with family."
I am happy to let you know that coming Monday I'll be sharing a couple of planning guides I hope will be a help to you. I'm joining in with the wonderful iHomeschool Network ladies. My topics are How to Plan Simple Afternoon Art Projects and How to Plan Individual Time with Multiple Ages. You'll also not want to miss Barb-Harmony Art Mom's How to Plan Art Appreciation for Home or Co-Op at The Curriculum Choice.
Did you miss my Top Slow Cooker Recipes of 2012 or our Best of Hodgepodge Homeschooling Multiple Ages posts?
And now, the big announcement! In the background, amongst real life, my husband, Nana and I put together a resource I hope will bless you. It's all our chalk pastel tutorials in one spot. It's huge – lessons for a whole school year. Along with some new ones – including video tutorials! We are aiming to release next week. So stay posted!
Many thanks to our Friday hostesses!
How about you? Have you escaped the sickness this year? What time did your children awaken you Christmas morning? Click to comment…