The other day, my middle girl turned 17.  We didn't have a "friend party" this year, just a nice, family day.  I loved my birthdays when I was growing up.  My mom always made them so special, no matter how small the budget.  Using some of my mom's ideas and some of our own, here's how we honored our Ballerina Girl:
The first thing I did was bring Ballerina Girl coffee in bed.  I took a picture, and have been threatened within an inch of my life if I post it!  So here is one of our kitchen chalkboard instead.  The French terms are a nod to her third year language lessons.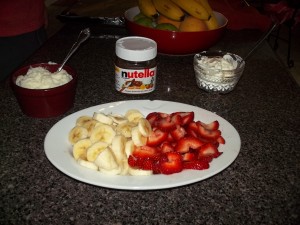 Breakfast on your birthday in this house is whatever you want!  I have spoiled my children with homemade cooking too long, so pop-tarts don't cut it.  Instead, we all enjoyed homemade crepes with fruit, Nutella, whipped cream, and lemon-ricotta filling.  Still fattening, but with less preservatives!
This is my kitchen after crepes.
  Which brings me to another point… I enlist help, but not from the Birthday Girl, for no one has to do chores on her birthday!
It is fun to be home schooled and be able to open presents all day long.   Since they were about 5 or 6 years old, our girls have been purchasing each other's gifts with allowance or other earned money.  This teaches them to budget as well as to lovingly choose something with which to bless a sibling.  They usually spend about 10.00 on each other, and have become quite the bargain shoppers.
Ballerina Girl's requested lunch was taco salad.  It is difficult to get an attractive picture of taco salad.
We try to take a picture with each child each year on her birthday.
Our gift to our Ballerina was a new robe from Target and "tickets" to a professional ballet performance in the future.
Dinner was King Ranch Chicken Casserole with Doritos.  Youngest and I made it, and the cake, while Dad took Ballerina Girl to, you guessed it, ballet class!  She wanted a lemon cake with lemon AND raspberry filling and chocolate frosting.  I used a white cake mix flavored with lemon zest, a recipe for lemon curd from the good old Better Homes and Gardens "Red and White" cookbook, and Joy of Baking's raspberry cream.  For the frosting, I used my old standby, the one on the box of Hershey's Cocoa.
I am not at all artistic.  My cakes look awful but taste delicious!
Eldest girl (away at college) Skyped in to wish her sister Happy Birthday.  Grandparents, aunt, uncle, and cousins came over after dinner for cake.  We also have grandparents, aunts, and uncles on the other side of the country.
   Here is our Ballerina Girl opening a present from her California Grandma.
    It's never a dull moment with extended family around!  Boy cousins are the next best thing to brothers… and they go home just when you've had about enough of their antics!
Each birthday is as different as the child it honors and the age she is.  What fun to be a mommy and get to plan these special days!  Like my mom, I want to make sure each one is filled with love and special memories.
~by Kim, The Daisy Muse