When your ancestors boarded the ship and set sail for America, they brought with them some of their earthly possessions, loved ones, memories, and traditions. As the generations have passed, many of those possessions may be deteriorated, the loved ones passed on, the memories forgotten, and the traditions cast aside for new ones.
These are my great, great grandparents on my dad's side of the family, Peter and Augusta Juhlin. This photo was taken before they boarded the ship from Sweden to America. The picture in the bottom right corner is Peter many years later.
For centuries, a "family" started with the wedding ceremony, if things were done in the traditional way. Typically, the order of operations would be, first of all, to date (or court), fall in love, have an engagement, attend bridal showers where the bride-to-be is showered with gifts and well-wishes, have a rehearsal the night before the wedding, then have the wedding, the reception, and finally…the honeymoon. Of course, not all families start in this way but you get the gist. (Below is a picture of my parents at their wedding.)
After a family has formed, which is a combination of two families brought together by two sweethearts, new family traditions are added to the old. If the bride and groom come from the same social class, religious and/or ethnic backgrounds, then many of the traditions in their new union would remain the same as in the previous generations. However, if they come from different backgrounds, they will form new traditions, often meeting in the middle with a compromise.
There's a meaning behind every tradition.
Back in the Colonial times, people put candles in their windows to symbolize warmth and security. It was like an invitation to come on in and be a part of the family. Later, the family fireplace did the same thing. People gathered around and popped popcorn, or in more recent times roasted marshmallows, and it became a time of connection. Simple. Yet profound.
Another tradition, which let people know they were loved, missed, cared for, and thought about was to tie a yellow ribbon around a tree. This welcomed people home from war or from long adventures and said "Come on in," just like the candle in the window.
And yet another tradition was to gather everyone together annually for a reunion. Many families still carry on that tradition.
Building traditions takes effort.
In our busy world, nightly meals where we sit around the dinner table together may be impossible for some families. If Dad travels on business or the kids are involved in sports or dance or scouts, they may only be afforded the opportunity to dine together once or twice a week. In days of old, this was a staple in the life of a family. They worked together and ate meals together. Many speculate that the elimination of the family meal time has contributed to the crumbling of the family and, in essence, to our society. But that is a discussion for another day.
Whether you know it or not, the traditions of your ancestors or of the Founding Fathers of our country have infiltrated your home without you having to even think about it. Many families celebrate Valentine's Day with candy hearts and sweet notes to those they love, wear green on St. Patrick's Day so you don't get pinched, hunt Easter eggs in tall grass or dye eggs for colorful table decorations, and go trick-or-treating dressed in costumes and beg for candy. We've all probably participated in these things without knowing the origins (which may stem from Pagan rituals) just because that's what everyone else was doing. There's no real harm in good clean fun if it brings you together with those you love.
Traditions are there if you look for them.
Do you celebrate birthdays each year? (That's me with my sister on my birthday blowing out the candles on my chocolate cake with chocolate icing.)
Do you have Sunday dinners with the grandparents? 4th of July picnics? New Year's celebrations where you stay up until midnight and blow your horn or ring a bell? How about carving the Thanksgiving turkey, which sits on the dining room table adorned with the favorite family tablecloth? Or opening a few gifts at Christmas, and eating favorite foods from old recipes on the Christmas china while talking about Christmases of long ago and baby Jesus who was born in a manger?
Don't despair! It's not hard to slap a "TRADITION" label on your family's favorite activity.
If you have a favorite vacation spot, or if Friday night means pizza and game night, or you enjoy camping out in the Living Room with a homemade tent of blankets and quilts, or you simply watch a favorite TV show together once or twice a week, you've got the makings of some pretty great family traditions. Let's don't forget how important attending church together is. It's a great tradition that will change your life!
One of our favorite things to do annually is go to the state fair. We haven't always been able to attend because of finances but when we do get to go, it's such fun! To the left is a picture of me, my daughter and son riding one of my favorite rides. My husband took the photo. He's not a big ride rider. The highlight of his night at the fair is eating EVERYTHING! That's what we like to do, too. My daughter's favorite thing is the petting zoo. (see picture below)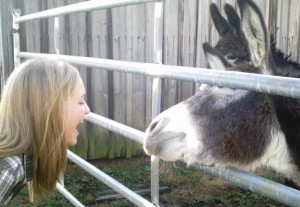 Even though each family has its own way of doing things, the important thing is that they do them. Time together does not have to consist of elaborate events or expensive items in order to make them special.
One of the best traditions we can make and keep is the tradition of gathering together. In fact, Hebrews 10:25 tells us: "Let us not give up meeting together, as some are in the habit of doing, but let us encourage one another—and all the more as you see the Day approaching."
How about starting a new tradition in your family this week—the habit of recognizing a tradition in the making.