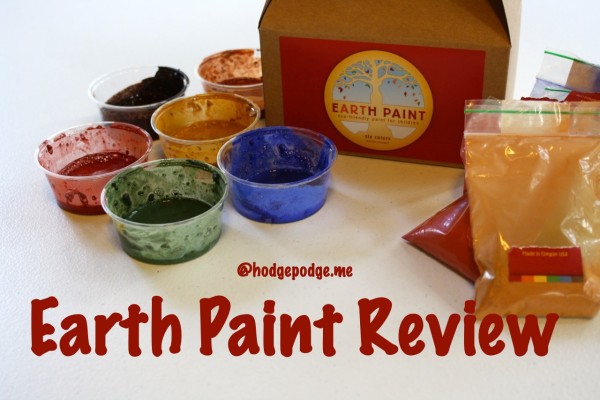 We know you will love Earth Paint as much as we do. So please don't miss the giveaway at the end!
We love a new way to enjoy art. And that we found with Earth Paints: eco-friendly paint kits! Not only that, our afternoon with Earth Paints was one of sheer delight. I saw smiles and heard gasps from my little ones, middle one and my teenagers. On our painting afternoon, we had a field trip. We loaded up our supplies, our new Earth Paints, and we headed over to Nana's – to paint outside on her new screened porch!
I think that my 'students' came to PAINT that afternoon! We had new, wonderfully colorful paints to use and a brand new way to use them. The paints were easy to use and all were thrilled with the range of deep, natural colors! ~ Nana
Natural ingredients
First of all, I was quite taken with the story of earth paints. Creator and artist Leah Mebane had been experiencing headaches using conventional artistic media. This led her to develop natural pigments and paints from the earth. We surely know about allergies and environmental factors around here. What a blessing to use a completely natural medium. And to read about and learn how each color was developed. You can find even more here:
Rich colors
There's just something about the deep and true colors of God's creation. That's what we found in Earth Paints. We literally ooohed and aaahed over the colors.
Easy to mix up
The Earth Paints kit comes with the little cups pictured. All we did was add a little water – in no certain measurement. Just enough until it looked good to us. Nana is helping mix up the green in the photo above. Stir, stir, stir. And get all excited about what you are going to make! Plus, just a small amount of powder makes plenty for all of us. We still have powder in our packets to look forward to more afternoons of fun!
Such fun to use
If we hadn't had fun already just mixing, next it was time to use our paints! We were concerned that the paint might feel sandy or chalky – simply because that is how it looked when we stirred up our colors. Not so. When you dip your finger into a color and spread that richness over a canvas, it is smooth and appealing.
Our project – If It's Not Messy It's Not Fun
We decided to try a brand new project with our Earth Paints. I had seen this absolutely adorable project on Pinterest called Messy Masterpiece. Many thanks to the blog *Explanation Required* for the idea. We ran with it!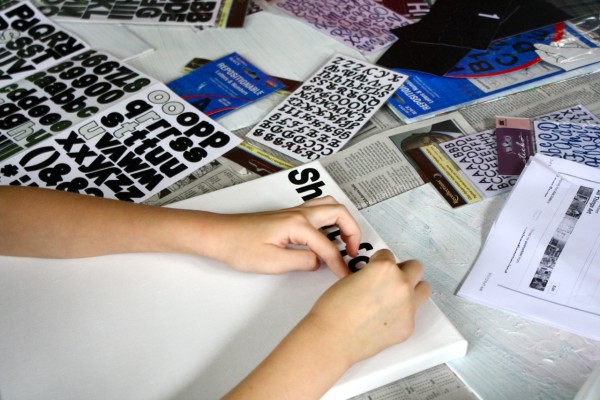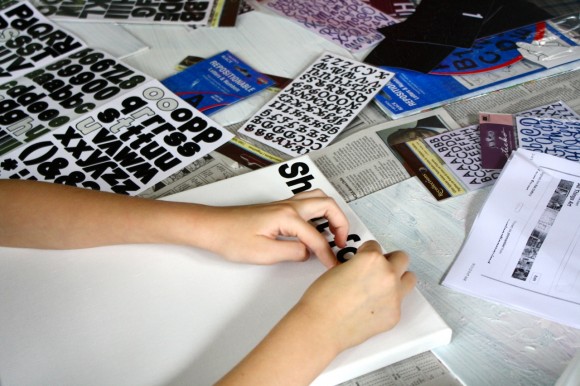 For our project you will need:
11×14 canvas
stick on letters
Earth Paints
Using office supply store stick-on letters, we placed our letters on a canvas. I let each child come up with their very own saying. I suggested they might want to choose something that is a favorite for them personally.
A life verse, a favorite line from a hymn or song. Each child decided his or her own project. Plus, using stickers is a great small motor skill for little ones.
So, after the letters were added, next came the paint. Can you see the smiles, the freedom, the fun? You remember the sheer joy of finger paints, right? Of course, you don't have to put your fingers in the paint. Feel free to use a paintbrush. But we had a "you can do whatever you want to, honey" sort of afternoon. Here are a few reactions from the children while they painted:
This is fun! Brilliant! Oh so smooth…earth colors…
Tips
We spread newspaper over our table for simple clean up. And so that the children felt free to do what they would like without worry of staining our work surface (we were at Nana's house). But even when we did get a few little drops on the table, the paints were easy to wipe up. We also kept little, plastic cups full of water close by for easy rinsing between colors.
Beautiful Results
We had originally intended to peel off the letters and leave white space. But we found that we liked the dark letters. With no specific guidelines, we had individual results. Plus it was just such fun to go to Nana's house and paint outside on her porch!
Earth Paints Are For All Ages
Above are our results! 1. by Four-year-old | 2. By six-year-old | 3. by 15-year-old | 4. by 13-year-old | 5. by 10-year-old | 6. by Hodgepodgemom (as a side note, Nana ended up doing one of these herself on another day. She spelled out all the street names where she has either lived or worked. What a keepsake. And she hung her finished picture on her porch!)
I give this paint 10 stars because that is the highest review! ~ 13-year-old
We still have each of our canvases propped around our family room because we just love to look at them. I'm thinking that each of these would be great to hang over each child's bed. Or as a group somewhere in the family room.
Easy Clean Up!
(And you know how we don't mind a mess). You don't have to worry about rinsing anything down the drain. It's all natural. And it doesn't stain hands. So paint away!
Earth Paints is eco-friendly natural paint…The naturally colored clay was collected from the ground, dried, crushed and sifted into pure pigment.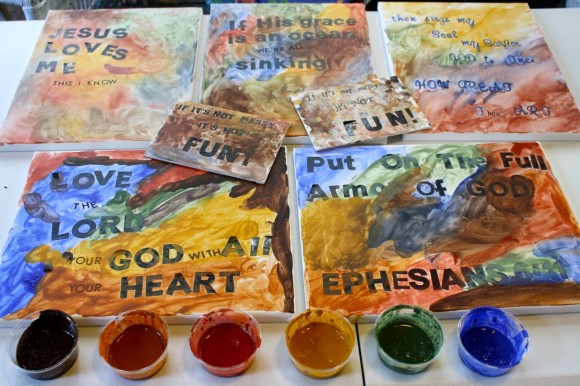 We look forward to many more Earth Paint afternoons!
You can find Earth Paints on their website NaturalEarthPaint.com and follow them via their Facebook page.

Now for the Giveaway and Special Discount Code!
Another chance to win! I am teaming up with Barb-Harmony Art Mom on this review and giveaway! We are each running a Rafflecopter giveaway for a Children's Earth Paint Kit – Petite. This paint kit is valued at $19.95. Enter once on my blog and then click over and enter to win on Barb's Harmony-Art Mom blog too! While you are there, read her wonderful review and see the completely different art project done with Earth Paints and her art co-op.
For all of you who would like to purchase your own set of Earth Paints, we have a special discount code that will give you $5.00 off any kit you purchase from www.naturalearthpaint.com.
Special Code: earthart
I invite you to subscribe to Hodgepodge (it's free!) Don't miss any future art projects!
A big thanks to Leah for the privilege of a review! I know that all my readers would enjoy Earth Paint as much as we do.