Our 2011 First Day of School Photo.
All our school photos from 2001 to 2011. Moments. Each one of these photos. A simple habit to preserve memories. A picture taken at about the same time every year. Whatever sort of school your child attends. Preserving the dimple of a baby hand…
The short hairstyle of that year…
The not-quite-grown-into outfit of a sibling…
A reluctant younger brother, not wanting to pose…
Little, bare feet.
Yes, sometimes it's sheer torture to wrangle children outside to hold a sign. Even so, I'm glad I read about this first day of school idea in Family Fun magazine years ago. I guess it didn't really sink in then just how quickly the years would pass.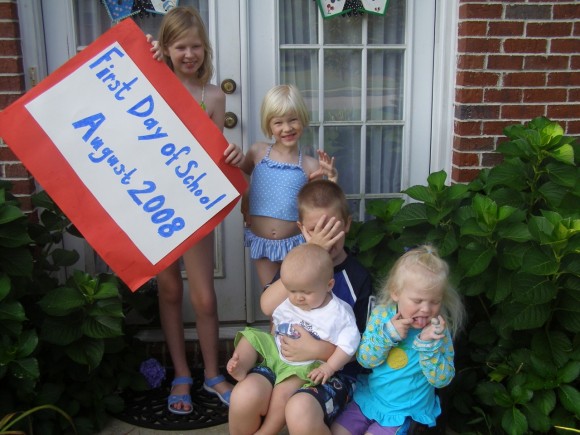 We always do a silly shot too! 2008 was the year we started a new first day of school habit. We finish up our Before 8:45, Math then head to the pool for PE. We saunter back, have quick showers and then finish up our school work. Here's how our first week went this year.
Want to see how my babies have grown in a decade? Click over to Habits for a Happy Home to see all the First Day of School Memories. I'm keeping up the habit of sharing a helpful habit on Fridays.
When does/did your school year start?
Save