Often times, an atmosphere of learning is simply giving permission. Yes, you can chase after that answer. The tools you need are right on that shelf or maybe a computer search away. Sure, hop up in that moving van! With an atmosphere of learning, there is a natural "yes" built into our day.
Let me share an example from this past week. From Sunday to Wednesday, Hodgepodgedad traveled most of the way across the country. All the way from our southern state of Georgia to the majestic mountains of Colorado. His parents retired and moved out west.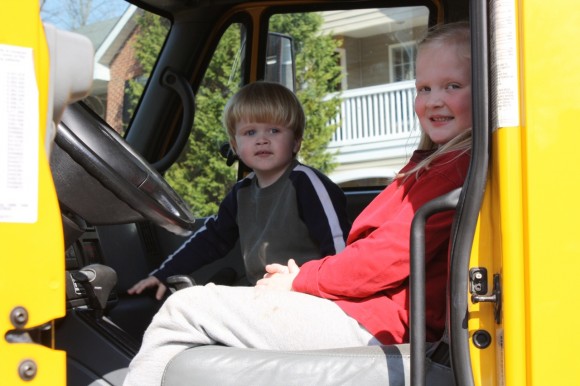 Can you see the learning opportunity yet?
I clicked over to the Tapestry of Grace site and printed black line maps of the US.
From Mapquest I printed the marked blue line route from Atlanta to Denver (pictured at top).
From About Homeschooling.com I printed coloring pages from each of the states our family would pass through.
From the road, he texted, sent photos and updates. We stopped whatever we were doing and mapped Daddy's coordinates.
"Crossed into Kentucky, just north of Clarkston, TN." 2-28 at 11:04 a.m. It was a geography education provided by one we love. Our focus was on him, Grandma and Grandpa. Though we stayed behind, we learned about the hills of Tennessee, the arch of St. Louis, Rocky Mountain National Park. We thought about time zone differences, subtracting hours. Yes, it was bedtime here but in Colorado they were eating supper.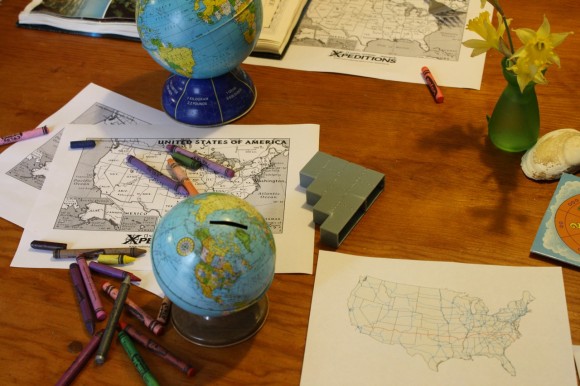 One moving van and two vehicles would cost how much in gas money?
Wow! They are already to Illinois? What speed were they traveling?
That third day, the children wondered why the family was still in Kansas. So we took at look at just how big that state is. And how two of our Georgias could fit inside Kansas.
Two grandparents and three brothers would require how many tables for lunch? How many hotel rooms for the night?
"Stopped for supper in Independence, MO" ~ 2-28 at 9:10 p.m. We also learned about technology. We saw Daddy through face time and told him about our day. Some emailed video messages from home. Hodgepodgedad sent a photo of the St. Louis arch, blue skies there while the clouds from thunderstorms were still clearing here. All great practice for keeping in touch with Grandma and Grandpa in the days ahead.
Prayers for specifics, safety, provisions were offered up. Then, before we knew it, it was Wednesday and Daddy was on an airplane back home. Just two and a half hours from Denver to Atlanta? But it took three days on the road!
We were three turns from home when this text came across my phone: "Arriving." We were 40 minutes away. There was enough time for him to gather his bag and meet us at the curb. The drive to the airport a field trip itself. Youngest declared, "I want to ride on a big airplane!"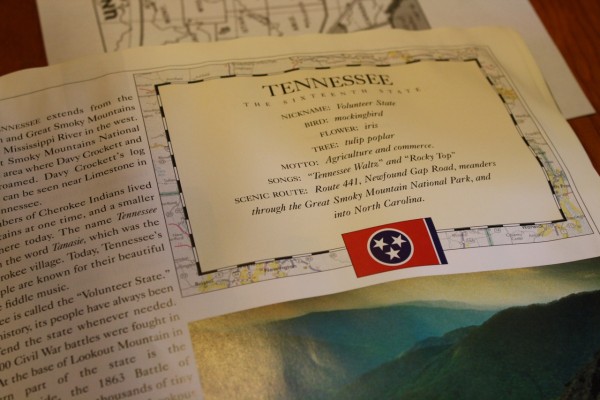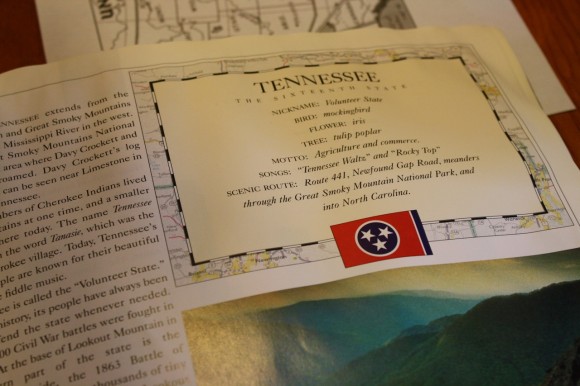 Four days of learning provided for us. We learned more this week about geography, calculations, mountain ranges, state flowers and birds – more than any unit study I've put together as a teacher, on my own. All we did was pull the resources from the shelves when we needed them. We waited. We listened for the ring and watched to see what we'd learn next.
"I don't think we're in Kansas anymore." 3-1 at 4:15 p.m. Hodgepodgedad's photos from the road…The Cross-Country Move.