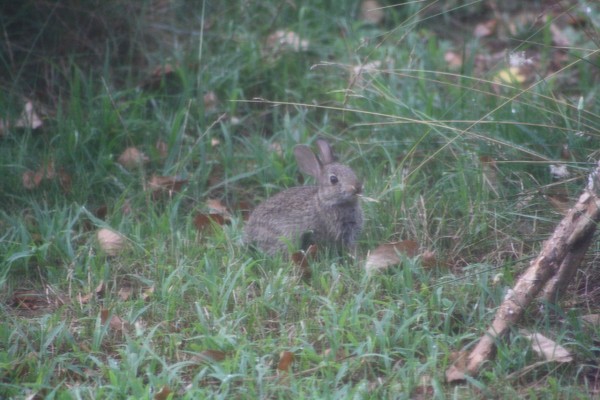 With my coffee perched in one hand I pull up the blind with the other. That's when I catch my breath. And I (somewhat quietly) call the children. It's our backyard bunny at day break!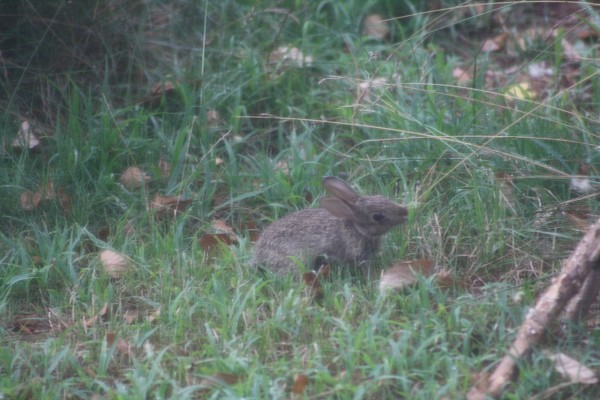 Back to nibble at dandelions and dart through the grass. I'm not sure why the bunnies love our yard so much. But we are sure glad they do. We live in a neighborhood. But, there is a nearby park as well as farmland. Our yard is fenced and much of our backyard we have left natural and filled with brush. I guess the bunnies feel safe with plenty of places to hide. Little cottontail does blend nicely with its coloring, doesn't it?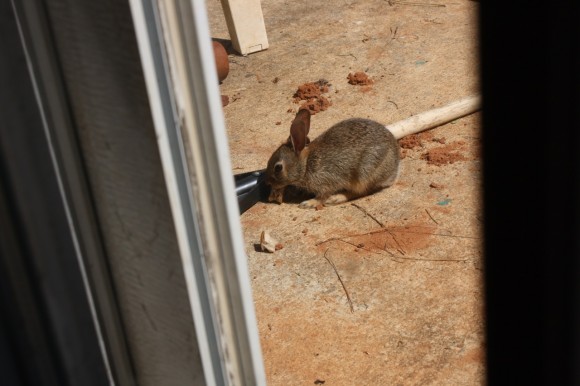 But that's not the only time we've seen a bunny. Sometimes, in the heat of the mid-afternoon sunshine, one comes sneaking up to the patio to see what we've shared with the birds. And since the sun is shining on the windows, there is a glare and we can get close without startling the bunny. We can see its little cottontail up close, admire its twitching nose.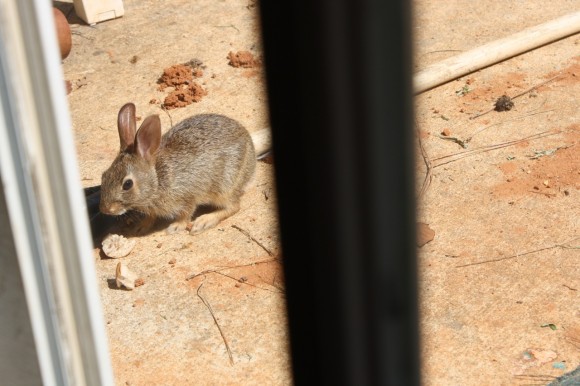 Then, something startles it and it dashes off under the playhouse. We think that must be where they nest. For several years now we've seen bunnies dash under there.
We can peek when we are playing outside and we've noticed that there's a nice little path and an opening under our playhouse. Since we've seen the bunny dart over that way, we've decided, the bunnies like our playhouse as much as we do!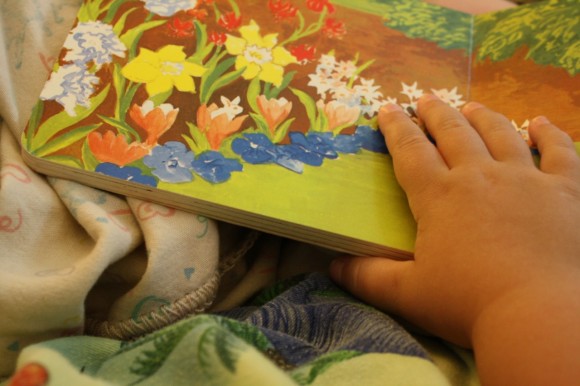 So, back inside, I pull out tales of Peter Rabbit and Benjamin Bunny. Our youngest, though, loves Runaway Bunny. Giggles at the little bunny as a crocus in a hidden garden.
The picture of the runaway bunny's nest is how we picture the bunnies under our playhouse. We're happy they have decided to stay.
"Shucks," said the bunny, "I might just as well stay where I am and be your little bunny." And so he did. "Have a carrot," said the mother bunny.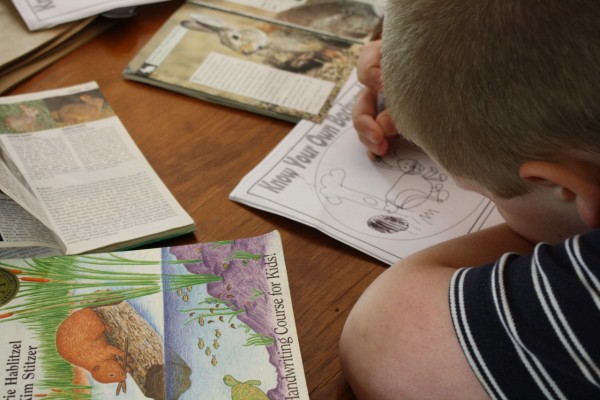 Eldest boy's notebook page
Notebook pages: We sketch from a photo since we are always so startled when we actually see one. We don't think to pull out a pencil then!
And we talk more about all our favorite bunny books. We compare our cottontail bunny with the nutbrown hares in Guess How Much I Love You.
"And I love you all the way up to your toes," said Big Nutbrown Hare, swinging him up over his head." 
The nutbrown hares are different from our sweet, little cottontails. They have bigger, stronger back legs and look more like a jack rabbit rather than the bunny pictured in our First Field Guide: Mammals (pictured above).
Middle Girl's sketch
We wonder, are these mammals nocturnal? We've seen them during the day. The Handbook of Nature Study (HNS) says, "The cotton-tails are night wanderers and usually remain hidden during the day." We once again decide that they just must feel safe in our backyard.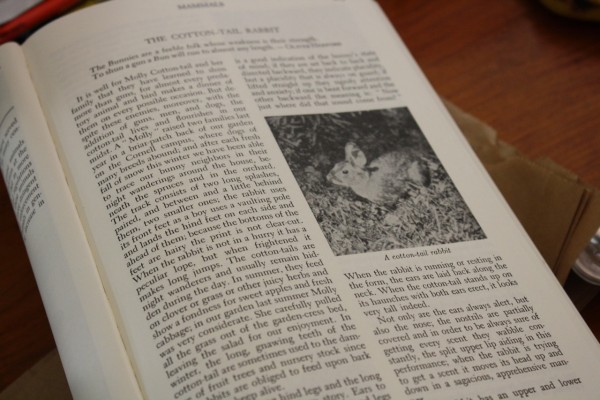 What do they eat and what do they like about our backyard? "In summer they feed on clover or grass or other juicy herbs and show a fondness for sweet apples and fresh cabbage." ~HNS Aha. And, apparently they like bites of leftover breakfast bagel.
Do they not fear our friendly orange cat? we decided they might but we also talked about the story in the HNS of a rabbit that used its hind legs to kick a cat away. Our kitty is mostly indoors and only ventures out a couple of times during the day. Even then the backyard birds fuss at him so that he doesn't stay out long.
Do they leave bunny tracks? We checked but didn't see any. Youngest girl did decide to sketch some bunny prints when she couldn't find any.
The bunnies seem to leave our summer squash and cucumbers alone. The sunflowers show no evidence of nibbles. And, so, we continue our game each day at dawn. Seeing who spots the backyard bunny first when we pull up the blinds!
Our garden critter backyard nature study with the Outdoor Hour Challenge community hosted by Barb-Harmony Art Mom at The Handbook of Nature Study. Won't you join us? This is our second summer we focus on nature study. This post shares how we started, just small steps towards nature study and building the habit in your own backyard: Deliberate Delight – Nature Study.