Warning
: Trying to access array offset on value of type null in
/home/n0c986d/public_html/hodgepodge/wp-content/plugins/amazon-associates-link-builder/vendor/mustache/mustache/src/Mustache/Parser.php
on line
278
Now we just couldn't head into the new year without a look at a hodgepodge of healthy habits, could we? I'll pulling out all the stops with the best of healthy mama habits. The Lord has blessed me with a wealth of tools and I just have to share about them and remind myself as well.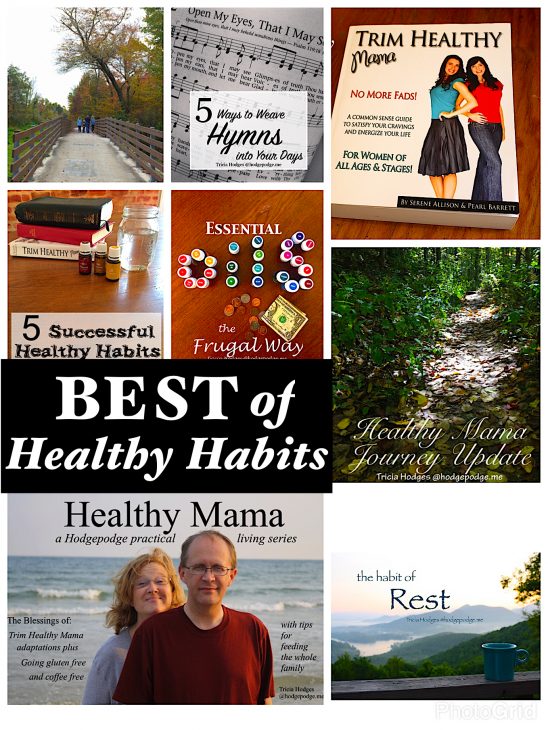 It's not always easy. But the blessings are huge.
(The information I share here is by no means medical advice. Just simple, practical encouragement and sharing of how thrilled I am to find what works for me. Some links are affiliate links to products we have grown to love and truly depend on. See our disclosure policy.)
I'll share these habits as categories. Because that is how I baby stepped through. One level. Then another layer. Then another tool brought to light yet another layer I needed to focus on. Health is a journey.
Now remember that what I am sharing here is a round up! Please don't get discouraged by this list. I started a little over four years ago. And each step took courage and a change in my thinking.
Of course each of these steps have also waterfalled into changes for the whole family.

Spiritual Habits
A life-long journey with the Lord. I have to keep my priorities in order – placing the Lord first. Hanging tight to that quiet time habit. And the habit of hymns! It would be easy to fall into placing healthy habits and feeling better above other things. So I start my day with the Lord. So, with the proper perspective, I turn to taking care of mama.

Healthy Habits with Diet Changes
Gluten Free Living – since I made these steps, almost the entire family is gluten free. Several started having issues with gluten in just the last year. Here's my Guide to Getting Started Gluten Free. Of course I'm always learning.
Trim Healthy Mama: Hodgepodge Style – down 30 pounds and several clothing sizes. But the best part is feeling better. That. That is the best of all. I hear you big time about ONE MORE THING to add to your life. I ordered the Trim Healthy Mama book and put off reading it when it came in the mail – simply because it was just so big! The book sat beside me on the end table by the couch. But when I did start reading it, I tried to hone in on what would work for me. That is what I am sharing with you. Those simple adjustments that were easy to roll into the Hodgepodge lifestyle.
Good Girl Moonshine – I make sure that at least once a day I have my Good Girl Moonshine from Trim Healthy Mama.
Life Without Coffee (Why I Quit Coffee After All These Years)

Body System Support with Essential Oils
Essential Oils the Frugal Way and Essential Oils Organization for the Whole Family.
Essential Oils – (A Day in the Life and 100+ Uses for Essential Oils) I share with you a day in the life with essential oils. Because I just can't keep quiet any more. Young Living Essential Oils are a tool on this health journey – a tool that has blessed me and my family so much.
Maybe you would like to start with Essential Oils 101?

Fitness for Life Walking
Now this was the name of the college PE course I took. But it blessed me. I dearly love to walk. To stroll. To hike. And that gift has been given back to me after literally decades of not being able to keep up.
I have been walking more. And more. And more! The family and I have made a point of regularly exploring local trails – to keep things interesting! I remember a time that I could only walk to a certain point on our favorite trail. And I would sit and wait on the rest of the family. Now we can stroll, walk and hike a good distance together.
To start with all we did was take a walk right after supper each night. Then some added bikes. We just went a little further as much as we could. And we made sure we took plenty of water with us!

Consistent Chiropractic Care
I know. I was skeptical too. But the fantastic clinic I go to has a whole health approach that includes nutrition, stress management and more. And the technique used is a gentle TRT approach rather than manipulation. Spinal health has pointed me to my need to focus on gallbladder and hormonal health. It have been consistently under chiropractic care for more than two years now. And the entire family has joined me and seen the benefits in the last year.
Rest
Once again this year with meeting the needs of the age range here, I took a good part of the summer and practiced The Habit of Rest. Not only that but I have made a point of keeping a more consistent (can't say I am always good about it) bedtime.

Healthy Mama Habits – Resources
[amazon_image id="1939714001″ link="true" target="_blank" size="medium" ]Eat Move Sleep[/amazon_image]  (this simple book is a great place to start!)
Did you miss our Top Art Tutorials at Hodgepodge?  <—- find them here
What healthy habits are you focusing on?
Save
Save