I am thrilled to introduce you to my long-time friend, Paige Harbuck! She has encouraged me in so very many ways and just one of those is in the area of feeding your family. She is sharing a series on freezer cooking with us. Her tips will change your life! Here's Paige sharing how to make a month of meals to fill your freezer…

A Month of Meals for Your Freezer
What is a big cook?  If you read Hodgepodge regularly, you know about my dear friend, Tricia, and her batch cooking.  It's a bit like a batch cook, just on a way more "produced" scale.  A big cook consists of actually making the meals and putting them in the freezer, ready to go.  All you have to do is make your list of what is in there and pull something out each morning!  It is heaven.
Freezer Cooking With Grocery Sales
I always try to plan my big cooks around food sales:
Kroger will have boneless, skinless chicken breasts on sale regularly and I try to hit those as much as I can.
Did you know that you can thaw meat, and as long as you cook it first, you can refreeze it?
Nice trick – buy your chicken, freeze it for a couple of weeks until you are ready, and then pull it out, boil or bake it, and use it for all the cooked chicken you need in your big cook recipes!
Twice a year, a company named Zaycon Foods will run a ground beef sale.  It's great meat and a great price-just know that you have to buy 40 pounds at a time. Go find a friend and split! (They also run a chicken sale twice a year as well, but it usually doesn't coincide with my big cook times-but excellent prices!!!)
Sales also extend past the meat counter: 
I have yet to do a big cook without making spaghetti sauce, and with the exception of that one summer that I had a million tomatoes from my garden, I use canned.  Look for them BOGO and stock up when you can.
The same goes for fresh veggies that can be frozen. Being from Georgia, we have access to Vidalia onions almost all summer and I'll buy them by the 5 lb. bag and chop them all at once.
Peppers also freeze well, so when you find them on sale, buy a bunch and chop away.  Of course, if you are not into chopping your veggies, go to the frozen section-it has onions, peppers, etc. galore.
Freezer Meal Planning
My first task in big cooking is the menu planning.  Many years ago, when I found this way of stocking up, I started with a book called Once a Month Cooking by Mary Beth Langorford.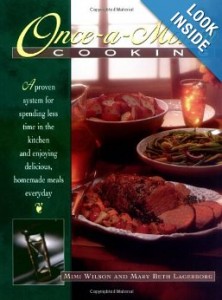 It is nice and basic.  It gives you menus for two weeks or a month, regular, and low-fat.  It also gives you a complete shopping list as well as the order in which you prep and assemble.  The first time, I just went to my local library and picked it up-the next time, I just bought it.  It is just perfect for beginners.
A couple of years ago, I picked up a book at our book fair called Freezer Pleasers, by those Taste of Home people.  It was well worth the money I spent on it.  It is geared more toward the "cook once, eat twice" theory, and comes in handy ALL the time!
An Easy Start in Freezer Cooking

1. Remember this – start small. Look at the meals your family loves and always wants to eat.  For us, this includes meatloaf, Mexican food, and all things spaghetti-ish.  We also eat a lot of chicken, mainly because it's ALWAYS on sale and a lot cheaper than beef.
2. Go ahead, make your menu of about 10 dishes.  That will carry you about two weeks!  (Even though there's a massive amount of food in my freezer, I always account for the time I forget, or we just don't want to "cook", or cereal just sounds lovely-oh, and Fridays.)
3. The easiest thing to do the first time is just to double everything.  I plan on two meatloaves, a crock pot full of spaghetti sauce, at least 2 sets of chicken breasts in some sort of marinade, a chicken casserole, and something Mexican.  So mine would look like this:
4. After you have made your menu list, make your grocery list.  Don't include things you already have in your fridge or pantry like spices or soups or the 12 cans of tomatoes you bought last week (oh, wait, that's me.)  Just include the things you need.
5. Now, go to the store.  I suggest doing this early in the morning without children if possible.  You will go faster because you don't have to worry about their 400 questions and requests AND no one wants to go to the store early.  It also gives you the whole day to work on prep.
6. Once you get home, go ahead and wash your veggies.
7. The first thing I do is put my spaghetti sauce in the slow cooker.  It's pretty basic-tomatoes, onions, peppers, spices-and takes about 4 hours on low to get good and wonderfully smelly.  I do not put meat in my sauce until I use it because I also like to use it for calzones, pizza, etc.
8. Once that task is taken care of, I chop-onions, peppers, celery, etc.- and grate my cheese.  I will store all of these things separately in plastic containers until the next day (I don't want to use up all my freezer bags-those are too expensive, and I am cheap).
9. Once my spaghetti sauce is finished and cooled, I'll go ahead and measure it into quart baggies, label it (PLEASE don't forget to label what and the date-you WILL forget), and put it in my freezer flat.
10. Then I usually put a big roast in the slow cooker for overnight.
The next day (trust me, you want to break it up if it's a lot), I start my assembly and freezing.  Do all "like" items together-chicken first, then beef, then whatever.
Depending on how many meals you do, it can take you a couple of hours to all day.
Month of Meals – Storage for Freezer Cooking
I use freezer bags for everything.  Casseroles fit better in gallons (usually because of the noodles), but meat and sauces are fine in quarts.  If you do a lasagna or something similar, line your pan with foil, then fill and freeze.  When it's totally frozen, you can remove the foil with the food and now you have your dish back!  Remember to label and date everything with a sharpie.
Hope you'll follow this series!  Next up-breakfast foods that freeze!
Paige is a mom of two and an elementary teacher of many for 24 years. Always frugal and practical she takes the common sense route.  But most of all she loves the Lord, thankful beyond measure for His grace and mercy, and His ability to turn a career girl into a woman that knows her home is the most important place to be.
Save
Save
Save
Save