Our artists have some top art tutorials here at Hodgepodge! I'm sharing your top 10 favorite art tutorials, below. In case you missed them, be sure to browse and pin to enjoy in 2017.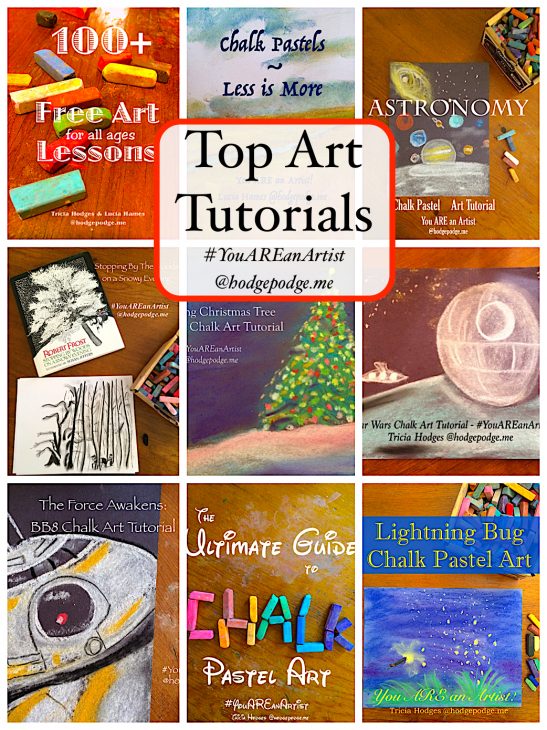 Top Art Tutorials at Hodgepodge
100 Free Art Lessons for All Ages – really it is more than 100 free art lessons now. All in one spot for you. Browse and enjoy!
Glowing Christmas Tree – We've seen so many of you sharing photos of art times with this fun project. Thank you for sharing.
Ultimate Guide to Chalk Pastel Art – FAQs, supplies, teaching art and lots of tips for more art fun.
Snowy Evening – an art project to follow reading a beloved book and favorite poem.
Star Wars BB8 – because we all love Star Wars!
Astronomy Chalk Art – from our favorite astronomy study we discovered that space art is fantastic – black construction paper shows off those brilliant colors so well.
Tree Reflection – an all time fall favorite with those gorgeous colors.
Chalk Pastels: Less is More (How to paint clouds with chalk pastels) – don't miss this technique from Nana.
Star Wars Chalk Art – in celebration of all things Star Wars – the death star.
Lightning Bug Chalk Art – summer fun for you and your artists!
And announcing! Video Art Course for All Ages coming January 2, 2017
Featuring You! You ARE an Artist!
Paint one of our tutorials and be sure to share with us! Simply tag @hodgepodgemom on social media, send a photo via the Hodgepodge contact form here or post on the Hodgepodge Facebook page. We will be sharing these via the Hodgepodge instagram or on our Art Tutorials Showcase Pinterest board – or both! Nana will even comment on a few I am sure!

Free eBook and More!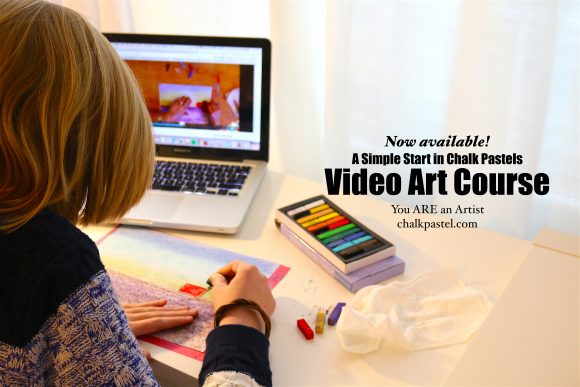 Do you and your child find it easier to learn with a video tutorial? You will be happy to know that we have a video course for all ages!
—>> Subscribe to Hodgepodge so you won't miss any future art tutorials! <<—
Be sure to stop by all the best posts of 2016 from the iHomeschool Network bloggers!
Which art tutorial is YOUR favorite?
Save
Save
Save
Save