In honor of Shark Week I couldn't pass up the opportunity to bring one of the most terrifying and funny characters from Finding Nemo as your pastel tutorial. Bruce the Shark really wants to be a friend, but has an appetite for any fish (or unlucky diver) in the area!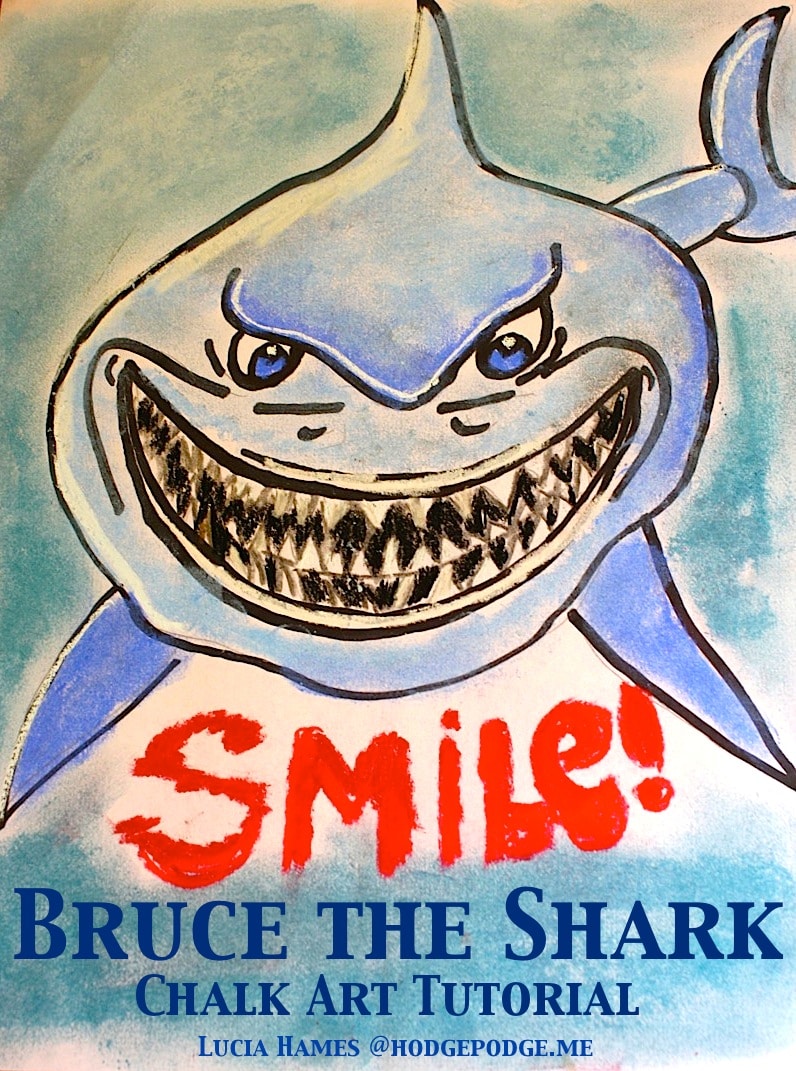 "Here's Brucieeee!"
You will need the following pastel colors: black, dark blue, medium blue, white and light blue. Yes, this is an almost all-blue painting!
Let's start out by drawing an outline of Bruce. His whole body looks a bit like an onion. Now, he would probably take a bite out of me for that remark, but I will show you. Start by turning your paper vertically, and pick up your black pastel. We will start at the top of your paper, right on the top edge. Using your black pastel, draw his dorsal fin. The fin will look a little like a straightened curl looks on top of your head…sticking straight up.
From the fin, draw an almost onion or pumpkin shape for his whole body. On the right side of his head, draw his tail fin. This is a very short cylinder shape with a big tail fin attached. Now he needs two pectoral fins that jut out from the chin area on the right and left; these are short and not big fins. Next we will give him his eyes. They are dangerous looking! First draw a wide "V" shape in the middle of his head. Then attach under the "V" two eyes.
These eyes are almost crossed, giving him a comical appearance. There is a speck of white in the top of each eye, giving them some light and life. His nose is just a straight line with two nostrils that are small "u" shapes.
Bruce's mouth is the most noticeable feature of his whole body…it is very, very big. You can start his mouth at the left corner and draw a curved smile all the way across the face to the right. Then, open it up wide and draw the bottom lip from right to left. His teeth are very impressive. Most sharks his size have double rows of teeth, and Bruce likes to show his off.
The teeth are drawn like upside-down triangles. The top row has teeth spread apart a bit, then the next row is right in the middle of the mouth like straight triangle shapes. Draw a short gum line, then fill in the bottom row of those terrible teeth next to the lips. You may just want to put teeth on the top and bottom of his mouth. I am sure Bruce won't miss the extra teeth! Give him some "smile wrinkles or dimples" at the corner of his mouth.
"I am a nice shark, not a mindless eating machine. If I am to change this image, I must first change myself. Fish are friends, not food."
And you are finished drawing him and can now use your pastels to color him!
Disney artists painted Bruce a medium to dark blue. I would suggest this too, but please remember to give him some light areas on top of his head and the top fin.
His eyes are pale blue with the white dot of light. The pupils are black. His teeth are left white like the paper, or you can color them with a white pastel.
You cannot leave Bruce beached on the big sheet of paper, so surround him with beautiful ocean water with light blue lights at the top of the page.
Just look at the silly, yet terrifying, Bruce the Shark that you have painted! What a great job! Now be sure to sign your name in the corner, flip the painting over and give it a name, and date it. Wow! We have had such fun! And always remember, you ARE an artist!
More Shark Week Resources
Do you and your artists learn best with video art lessons? Be sure to check out Nana's Shark Video Art Lessons that include our two Sharks ebook volumes at ChalkPastel.com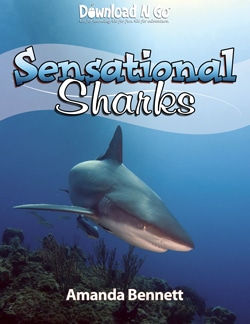 Follow Tricia's board Sharks! and More Marine Biology on Pinterest.
Hodgepodgemom's Sharks! And More Marine Biology Pinterest Board
You Are An Artist!
We will be painting all kinds of sharks this week! How about you?