St. Simons Island, Georgia is a marvelous golden isle to visit – with many historical sites!
Above: The view of the marsh from Ft. Frederica.
I highly recommend beginning your historical tour of St. Simons with the Colonial Trolley Tour. You can soak up about 400 years worth of history with this fantastic overview –  then decide which spots to explore further. That's what we did! (I shared detailed information about the trolley tour in my St. Simons Island a Golden Isle of Georgia in 48 hours.)

Fort Frederica National Monument
Middle Girl earned a Jr. Ranger badge at Fort Frederica National Monument! We arrived early in the day before any other visitors. The very kind park rangers encouraged her to take the Jr. Ranger challenge. We sure are glad they offered and that she did accept the challenge!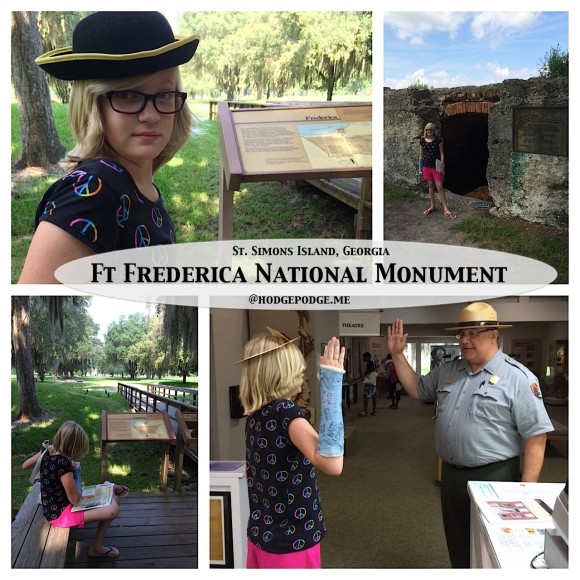 Above: She has her haversack and her dispatch from General Oglethorpe and is earning a Jr. Ranger badge. The detailed booklet leads the child through several scavenger hunt-like steps: writing a letter back home to England, reporting to General Oglethorpe, finding north with a compass, visiting different houses in the Frederica town. And after our time there, Middle Girl was officially sworn in as a Jr. Ranger of Ft. Frederica National Monument. She promised to preserve the historical site and tell the stories to others.
I encourage you to do the Jr. Ranger program as well because you will learn so much more exploring this historical site. We also recommend the approximately 20 minute movie! You can preview Fort Frederica History Uncovered on the park website. Ft. Frederica is open 9 a.m. to 5 p.m. except holidays. Park fee is $3 and children 15 and under are free. The museum and bookstore are fantastic as well. It has all been upgraded since I was there as a girl!
For more information on the Jr. Ranger program and other special programs, see the official Fort Frederica site. As I said, this was a fantastic experience and the book she used and was able to keep is full of information to study further – even has pop up doors!

Christ Church
We arrived at Christ Church mid-morning before we were headed back home. So we did not get to tour the inside. Our time here was brief because soon after we arrived there were many more folks that soon arrived too and we didn't want to get in the way of what appeared to be a funeral. However, we did get to read the historical markers and remembered what Captain Rod had told us on the trolley tour about John and Charles Wesley.
Pictured above are a few of the many historical markers. The marker at bottom right can be found at Ft. Frederica.
We learned about how the Wesleys preached under the big oak, now named Wesley Oak, before returning to England and founding the Methodist Church. Be sure to visit the Christ Church section of the Golden Isles website for hours and tour times.

Avenue of Oaks
Once Retreat Plantation's oak-lined entrance, The Avenue of Oaks is now the impressive entrance to the St. Simons Lodge golf course. Oh those trees and the Spanish moss! I remember photographing this in black and white film the summer I lived on St. Simons. What a treasure to have photos of my daughter in the gorgeous oak-lined scene.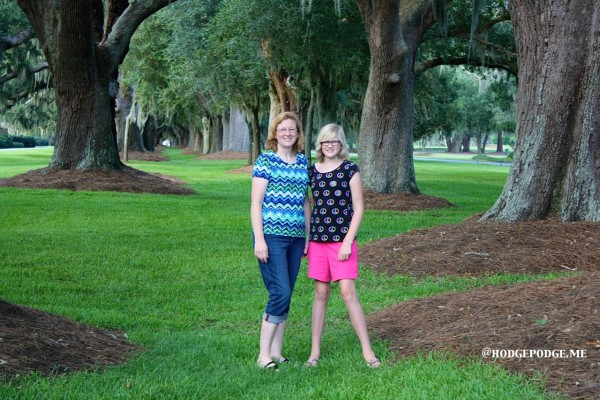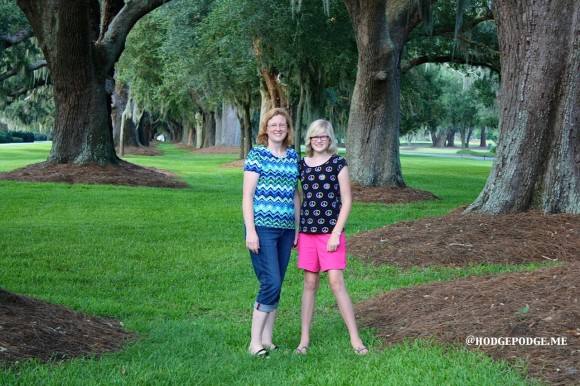 And the guard at the entrance to The Lodge was so nice to let us stop and roam about with the camera and offer to take some shots of the both of us together!

Historical Markers
Don't miss these! There is so much to learn by simply taking a moment to read historical markers and ponder the past. (See the mention of Retreat Plantation and The Avenue of Oaks above?) We learned the story of Neptune Small early on in the St. Simons Colonial Trolley Tour.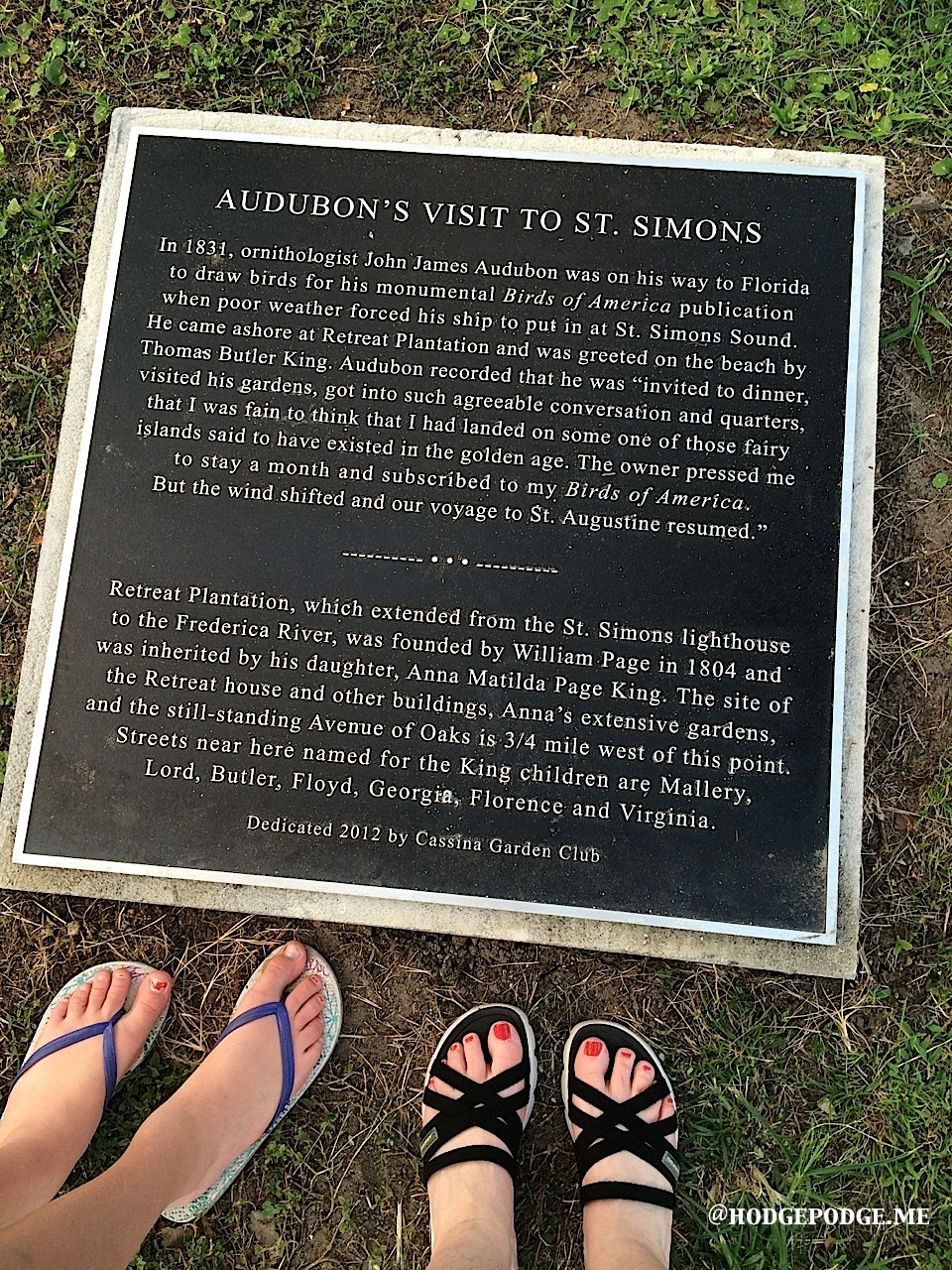 I had no idea Audubon had made a stop at St. Simons! Did you?
St. Simons Colonial Trolley Tour
Of course there is also the St. Simons Island Lighthouse that I shared about in my previous post. We also stopped briefly on the trolley tour at Bloody Marsh Battle Site but didn't have time to go back for further exploration. But we did learn more about Bloody Marsh at our stop at Ft. Frederica. This battle was key to holding the 'disputed territory' between Colonial Georgia and Spanish Florida.

More Georgia Travel and Studies
This list is not nearly exhaustive! Remember that Middle Girl and I were only there for 48 hours and part of that time we spent at Jekyll Island's Sea Turtle Center – which I will share more about in my next post in this series!