Down here in the south, we don't have much of a chance to build a snowman because we don't get much – if any – snow during the winter. So, in honor of our friends up north, who we understand are overly blessed with snow – we offer this simple chalk pastel snowman art tutorial. Snowman Hello!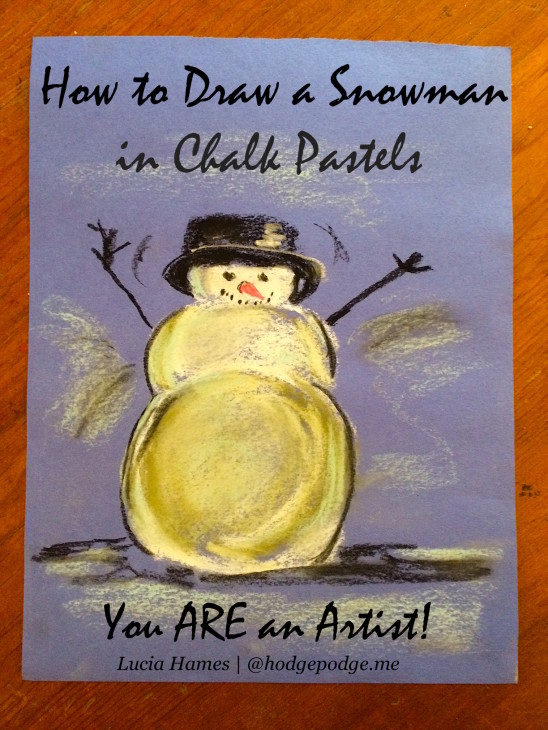 I must tell you that the snowman idea came from a very expensive pillow by Pottery Barn – not an exact copy – but "in the manner of Pottery Barn."
Chalk Pastel Snowman Art Tutorial
This painting was painted on medium blue construction paper, because it looks icy to me! The pastel colors are: white, black, light blue or aqua and orange.
Pick up your black pastel and draw a big circle with a bit of a flat bottom to sit on the ground. Then another circle, also flat on the bottom, for the middle snowman layer. Then the smallest for the head. Try to just make the head with no top – that is where the hat will be drawn.
The hat is a semi-circle on top of the head, starting at the ear area, from ear to ear. Then the top of the hat is next – not too tall, just a little flat hat.
Chalk Pastel Snowman Art Stick arms are giving the viewer a wave next – be sure to put on some "twig fingers." Now take your white pastel and turn it on its side. Smooth on the snowman's white snow layer by using circular motion. Then use your finder to smooth it out. Take your light blue to put some shadow on the edges of the curved layers. Use your black to smooth in some color on the hat. But leave a little bit uncolored on the right side of the hat to show light.
Now make sure that this snowman is not floating in the middle of the paper! Put some black shadows under him to steady him on the ground.
This is your painting, so make the snowman's face just how you like. Two black dots for the eyes and a small smile make turned up with six to eight dots of black. The nose is a carrot made like a small triangle and colored with your orange pastel.
What a wonderful snowman you have done! Sign it in the corner, flip it over and name the painting and date it. Be sure to share it with your family and friends – because they will see that You ARE an artist!
Snowman Paints! (VIDEO art tutorial)
Featuring You! You ARE an Artist!
So, paint your snowman and be sure to share with us! Simply tag @chalkpastelart on social media, use the #YouAREanArtist hashtag, or upload a photo to the ChalkPastel.com Facebook page!
A note on chalk pastels: Pastels are an easy, forgiving medium. Fun for children and adults alike! Details on the pastels and paper we use, how and where to purchase, and links to all of Nana's other pastel lessons are here: 100+ Free Art Lessons for All Ages plus the video The Very Few Must Have Supplies for Chalk Pastel Art. A simple set is very affordable. Nana also teaches acrylic lessons.
The practical aspects of a mess: Pastels are blessedly messy. We always have baby wipes close by to wipe hands. We wear something we don't mind getting stained or don a smock.
Do you and your artists learn best with a video art tutorial? Find our Winter Games and Preschool Winter Video Art Lessons at ChalkPastel.com!
—>> Subscribe to Hodgepodge so you won't miss any future art tutorials! <<—
-originally published February 2015