What a wonderful afternoon we had making heart collages! Nana was fresh from a class with Ann Cockerill of The Red Cockerill Gallery. So, she taught us how to make a heart in the same spirit. See, in her heart collage, how the acrylics emphasize the heart, the words and the border?

There are so many possibilities with this art work. Nana's collage was made with pieces of copied sheets of music, red tissue paper, words and Valentines. For ours, we pulled from the craft supplies we had.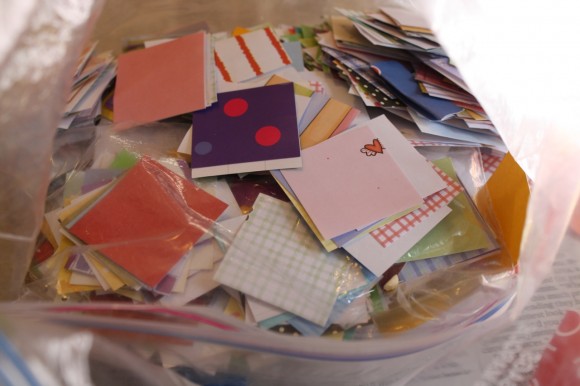 We didn't have any tissue paper on hand. But we did have new construction paper we'd just purchased for making Valentines. And, I found a big bag full of scrapbook paper cubes.
We really loved Nana's Love Makes the Heart Sing. But we also thought Bible verses would work beautifully as well. So, I printed off 1 Corinthians 13 in the Message version.
Mixed Media Heart Collage
For this project you will need:
5×7 canvas (this is what we used. You could also use card stock or a larger canvas, as Nana did)
tissue paper, construction paper, scrapbook paper, copied sheets of music, Valentines etc.
modgepodge (we made a homemade version of glue mixed with water – no certain amounts)
acrylics (we used purple and blue)
paintbrushes
paper towels for blotting
smocks to cover clothing (old kitchen hand towels work well too!)
We cut out a large heart and placed it in the center of our canvas.
So, no matter what I say, what I believe, and what I do, I'm bankrupt without love.
We trimmed the Bible verses and placed them about on our canvases. We tore sheets of construction paper.
To make the modgepodge, Nana mixed water with about two tablespoons of glue. No certain amounts. Mixing it in the center of a palette. We dipped our brushes and painted the homemade modgepodge over our patchwork.
Love never gives up.
We filled our canvases anyway we liked.

Then we let them dry.
Love…Trusts God always, always looks for the best.
About an hour and a half later, we mixed up some purple on our palettes, adding just a touch of water to make the acrylic more of a 'wash.'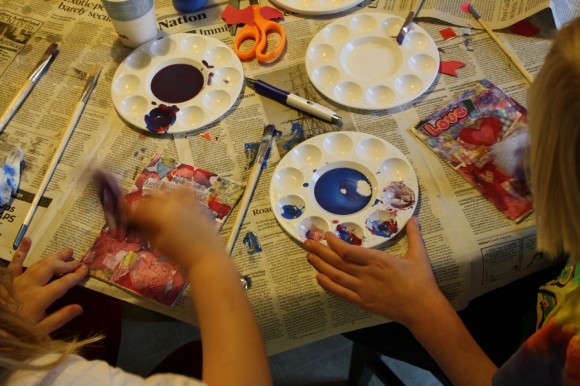 We painted around the border. We emphasized our large hearts. We painted around our Bible verses. We used the paper towel to dab at the acrylics when they were too dark.
By six-year-old and 14-year-old
By nine-year-old and my heart collage

Trust steadily in God, hope unswervingly, love extravagantly. And the best of the three is love.
A note on acrylics: Just like pastels, acrylics will wash off your hands easily. But if the paint gets on any fabric – it is permanent! We wear a smock and cover our painting surface.

Supplies needed: All details on paint, brushes, canvases and palettes are listed in Acrylics Plus Links to Tutorials.
Featuring You! You ARE an Artist!
So, paint your heart collage and be sure to share with us! Simply tag @chalkpastelart on social media, use the #YouAREanArtist hashtag, or upload a photo to the ChalkPastel.com Facebook page!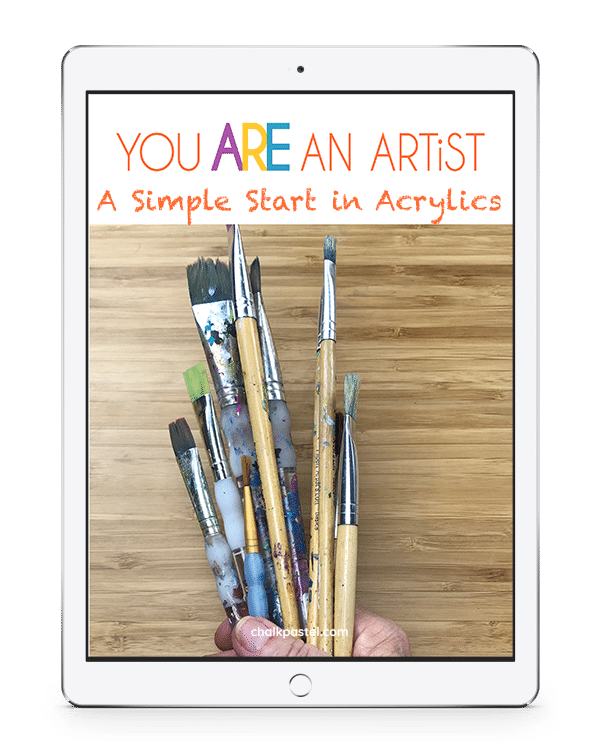 Do you and your artists learn best with a video art tutorial? Find more of Nana's video art lessons at ChalkPastel.com.
A fun afternoon. 1 Corinthians 13. Love makes the heart sing!
Love extravagantly!
-originally published February 2012
Save
Save
Save