It's a tradition at our house to watch A Charlie Brown Thanksgiving each year. You too? And in anticipation of doing just that we decided to search some images of Charlie Brown Thanksgiving for artistic inspiration. There are many images to choose from – check it out for yourself.  YOU are the artist – so you choose which Charlie Brown you'd like to paint! We offer you Charlie Brown Thanksgiving Chalk Art!
We settled on this one of Charlie Brown, Snoopy and Woodstock because of the fall leaves and Snoopy holding the Thanksgiving turkey and sporting a chef hat.
Charlie Brown Thanksgiving Chalk Art
We started with the shape of Charlie Brown's head and then sketching his triangular body. We added the distinctive, black zig zag on his yellow shirt.
Snoopy was next, sketching his chef hat first. His head is much wider than Charlie Brown's – since he is a dog! But his lower half with his red apron is somewhat triangular as well. Both have big feet!
Linus: "In the year 1621, the Pilgrims held their first Thanksgiving feast. They invited the great Indian chief Massasoit, who brought ninety of his brave Indians and a great abundance of food. Governor William Bradford and Captain Miles Standish were honored guests. Elder William Brewster, who was a minister, said a prayer that went something like this: 'We thank God for our homes and our food and our safety in a new land. We thank God for the opportunity to create a new world for freedom and justice.""
Woodstock is sort of a few swipes of black for his flappy bird shape.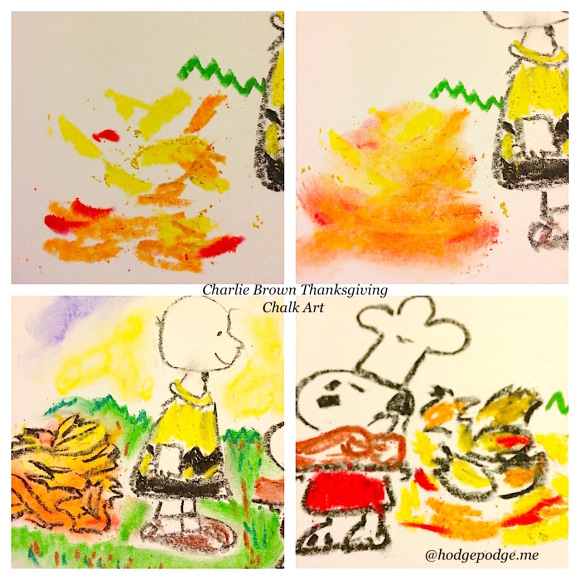 Next we created the pile of leaves. We learned to use the chalk to place the colors first! As you can see, our leaf pile on the left turned out better than the one on the right because of this. So, we suggest you use your beautiful orange, yellow and red to make a pile of leaves first. Gently blending the colors with a finger, ever so slightly. Next, outline your leaves in black chalk pastel, creating leaf veins and defining the leaves as much as you'd like.
The grass is much darker behind Charlie Brown and Snoopy. So keep that in mind as you fill in your green. We made some sharp, green grass outlines. And also added brown and dark green lines here and there throughout the grass.
There's a lovely painterly effect around Charlie and Brown and Snoopy. Yellow closest to them and the purple of the evening sky.
Peppermint Patty: "What kind of Thanksgiving dinner is this? Where's the turkey, Chuck? Don't you know anything about Thanksgiving dinners? Where's the mashed potatoes? Where's the cranberry sauce? Where's the pumpkin pie?"
More Fall Chalk Art
Be sure to sign your painting and maybe use it to decorate close to your Thanksgiving table. Speaking of Thanksgiving table – have you painted what is on your table yet? We'd love to feature you on Instagram, Facebook, and/or our Art Tutorials Showcase Pinterest board!
Maybe you and your artists learn best with video art tutorials? We have those at ChalkPastel.com!
Happy Thanksgiving to all!
Save
Save
Save