Just how I teach multiple subjects to multiple ages? It's always changing with growing children and their needs. Since you, dear reader, might be looking for a specific answer for a specific subject, I include links to all of my best tips for teaching multiple ages. First, let's start with the basics.

The Basics of Teaching Multiple Ages
There are some basics thoughts and habits I have developed and turned to over the years. I share them, below:
10 Great Things About Teaching Multiple Ages – One of the best things about teaching multiple ages is all the learning we can do together.
Weekly Homeschool Planning Meeting – Along with our habits, our weekly planning meeting helps build the 'bones' of our homeschool days. Our family meeting with all our children gives us an outline for the week ahead. There are so many benefits to this time together…See, I have found a comfortable system that works for me and my children. Annual planning and goal setting and weekly homeschool meetings.
10 Parts of the Hodgepodge Homeschool Day – Our school day doesn't always happen exactly like this. Sometimes the lines blur. And there are daily challenges. But these are the basic bones, the habits of our day…
Bible Study and Character Training for Multiple Ages – I remember a time when I was searching for and seeking out devotional books plus asking for ideas from fellow families. But now that we've gathered a pretty good library, if we need an answer to a question, we just open one of several Bible resources. We are blessed that way. So today I share with you our favorites. Some we turn to for family devotion time. Some we have available for our children to enjoy independently.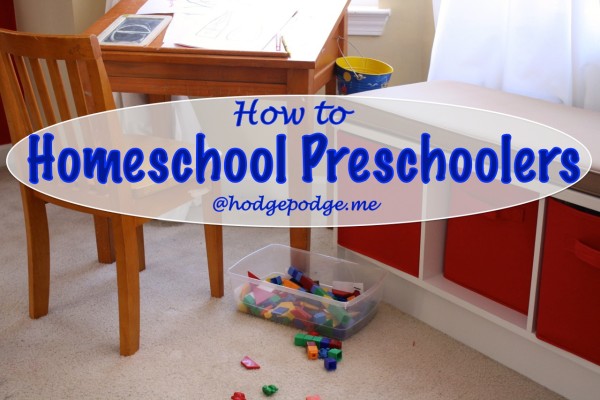 Homeschooling with Little Ones – …if the Lord is tugging on your heart too about keeping your littlest ones at home, I can offer encouragement. I understand the need to have just a small span of time to focus on something other than your preschooler. That needed time could be teaching and working with your older children. Or it might simply be that you are in survival mode and needing to breathe or get a shower.
My 10 Days series on Lasagna Learning: Teaching Multiple Ages – All of our best habits, the 'bones' of our days. For a long time I've called it Layers and Levels of Learning. That one-room schoolhouse type of learning. But Lasagna Learning describes it much more accurately.

Teach Multiple Subjects by Subject
Science with Multiple Ages – Is it time to do our science lesson yet? We look forward to it. The reading of the science lesson during lunch. Not every day but most days we enjoy a lesson. We use several resources for all our ages. I'll share them with you today as well as how we work them into our days – for each of our ages. In each section, I'll share links to more how tos or reviews.
Marine Biology with Multiple Ages – We are embarking on a new adventure together. We are formally studying marine biology in our homeschool. I say formally because our studies will count for high school credit for our eldest two. And we have many wonderful resources we will purposefully be using.
Math with Multiple Ages – Much about math with multiple ages? Well, you might not think it's much. Because we basically have two resources that have worked well for our students so far. I am sharing how we actually get math done with all the grades plus the natural progression in our homeschool. Also how living math gave us permission to incorporate some new ideas.
Writing Workshop for Multiple Ages – Sometimes in our homeschool we just need to focus on a certain subject. I've mentioned this strategy in When You Need to Catch Up. This week it was writing. So, rather than say, "Children, write!" I decided we would call this week a Writing Workshop. Something about a workshop makes it a little more fun, don't you think? A workshop implies all sorts of things and reminds me to pull out all the resources.
Spring Nature Study with Multiple Ages – Warm sunshine on your back, leaves unfurling and marvelous moss and lichen? Yes, please. We enjoyed some signs of spring and nature study with all our ages this week. It went something like this…
Homeschool Electives and Extracurricular for Multiple Ages – Well, of course there was math, language arts, science and the rest in there. But it was a bit overshadowed by the greatness of field trips. Particularly one that we are still smiling about…
A Painting a Day – A painting a day is an absolutely fun habit happening at Hodgepodge that came about quite on its own.
How to Plan Tapestry of Grace for Multiple Ages and Levels – Even if you don't use Tapestry, many of these planning tips can be applied to teaching an age range in general. Join me…
Hands On Geography for Multiple Ages – The last few weeks we've been heavily hands on in geography. What we found out is that when you actually make a model of something you have to pay attention to its qualities. The details. The boundaries and borders. These hands on geography activities also help the child see the big picture. To think of the Creator. Sometimes, a geography project helps children to fix a portion of the history timeline in their minds.
Elections Unit Study for Multiple Ages – How are we doing it? Once again, while the children are still finishing up their lunch, I crack open the laptop. I scan ahead and print a few copies of coloring pages. These coloring pages are perfect for the littlest ones and help keep them at the table a little while longer. I click and we watch the suggested video – usually about three to four minutes long.
Homeschooling High School at Hodgepodge – This is the year we have two high schoolers – 9th grade Eldest Boy and 10th grade Eldest Girl. Two high schoolers. I am thankful my husband and I have the privilege of this time with our young adults. Thankful we can tailor an educational plan with their input and with consideration of their gifts, talents and needs.
More on How to Teach Multiple Subjects to Multiple Ages
"If you don't know what you're doing, pray to the Father. He loves to help. You'll get his help, and won't be condescended to when you ask for it. Ask boldly, believingly, without a second thought." James 1: 1-5, The Message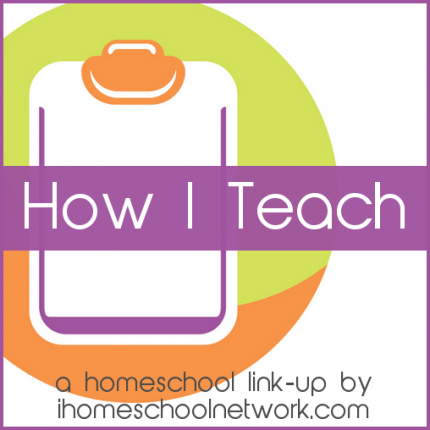 There are so many great posts from iHomeschool Network bloggers on How I Teach… Be sure to check them out, pin them, share them!
Save
Save
Save
Save