Welcome back to 10 Days of Lasagna Learning: Teaching Multiple Ages. For over a dozen years we've turned to our habits as the 'bones' of our day. Our habits help us accomplish a basic school day and get food on the table. We leaned on one or two more heavily when all were age 10 and under. We've tweaked habits to meet our needs with growing children. For me, over the years with babies, toddlers, stacks of school books, hungry mouths and now towering teens, these helpful homeschool habits are the basic routes I've discovered for seeing results.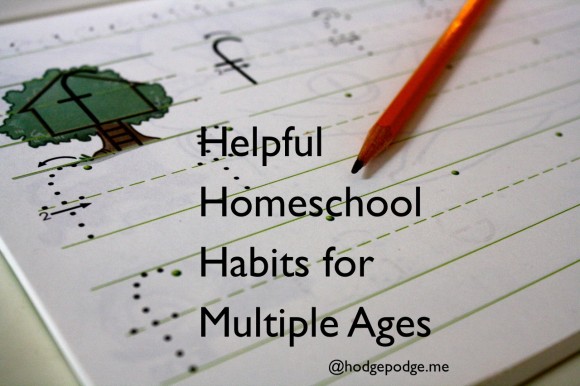 Helpful Homeschool Habits for Multiple Ages
For example, yes, I love our curriculum but how do I work that wonderful resource work our day? We can usually handle the basic reading, writing and arithmetic. But what about brushing teeth? What about the roaming toddler? How do we fit in science and history? 10 Days of Lasagna Learning will answer these questions as well.

These Things Must Be Done Before School – Before 8:45 Checklist
But you might be wondering how we get going in the mornings, what a typical day looks like in our homeschool. Just how do we implement those helpful homeschool habits? Little ones, middle ones and older ones. First off, we start with our Before 8:45. This handy checklist is now such a habit we don't even look at it posted on our chalkboard. I discovered this guideline from HSLDA and Everyday Homemaking's Vicki Bentley. Bible and morning quiet time are included. As well as all the regular sorts of reminders like brushing teeth, making your bed, clearing your spot at the breakfast table and even getting dressed. Rest assured there are those days it is more like a Before 9:45.

What About the Little Ones?
One of the most asked questions I get is What About the Little Ones? Well, more these days the little ones are right there, part of the action. Sometimes leading us in learning (as you'll see in our Lasagna Math).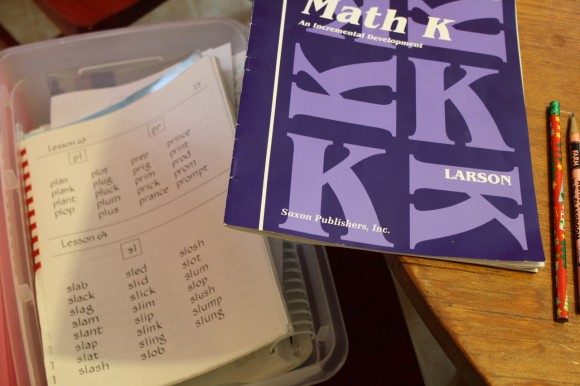 I start teaching time with the little ones. Special math, phonics and a little fun Rod and Staff workbook time. The younger two use workboxes to help them visualize their learning time. We can move the workboxes from the school room shelf to wherever is best that day. Most often the kitchen table so I can finish my morning routine. But sometimes we find ourselves at the school room table or even outside on the patio on a nice day.

Morning Room Time
Next, we practice something I've written extensively about: Morning Room Time. This is when the two younger ones spent half an hour to 45 minutes of alone, play time while listening to a recording of mine and Hodgepodgedad's voices. We share Bible verses, the ABCs, sing some hymns, practice learning our address and more. All of this is mixed up with fun Veggie Tale and Bible songs some hymns and some Laurie Berkner.
Morning Room Time is the habit that blesses all ages. It's how I can be in two places at once! Both helping our littlest ones and helping the older ones with math or some other subject. Plus, little ones learn how to play quietly, by themselves for a short span of time. This is an important skill. Having some quiet, alone time allows your little one the opportunity to work on small motor skills, build attention span and learn the contentment of playing alone. Do you see how this is a gift in a busy household? As my children have grown, I see so many other skills they have that stem from the morning room time habit.
More how-tos of morning room time: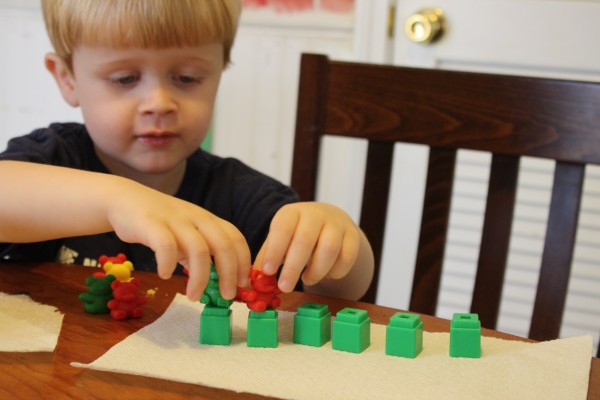 Now, lately, our youngest hasn't been participating in morning room time as much. That's because he wants to be around the learning and doing some 'school' himself. He is ready! But the blessing in it all is this: Because he is practiced in quietly playing by himself in morning room time, he now will quietly play nearby. Because we built the habit of just about half an hour of alone time in the middle of the morning, he can hop down from learning something, build a block tower all on his own and entertain himself while we accomplish one or more subjects.
Meanwhile, the older children are starting their basics: math, English, spelling, handwriting. I am able to help the older three get started, help with questions and more. All because of morning room time.
Tomorrow I'll share more of the habits that bless our homeschool day. The lasagna learning that helps me teach the basic subjects to multiple ages. Our habits also speak to learning styles, as you'll see later in this series.
More on Helpful Homeschool Habits:
Topics in this series:
 Help! I'm Homeschooling! Helpful Habits for the Heart of Homeschooling. All the best of the helpful homeschool habits here at Hodgepodge – compiled in one spot.
**Remember to subscribe to Hodgepodge, so you won't miss any lasagna learning! You can have free Hodgepodge delivered to your email inbox.
The 10 Days Series is organized by iHomeschool Network, a collaboration of outstanding homeschool bloggers who connect with each other and with family-friendly companies in mutually beneficial projects. Visit us on Facebook, Pinterest, and Twitter. And of course, click the image below to visit all the 10 Days posts from these homeschool moms of the iHomeschool Network. You'll be blessed with tips on how to handle bad days, cultivating curiosity, teaching with Legos, and much much more!
What habits help your homeschool day?
-originally published 2012
Save
Save
Save
Save
Save