Chickadees are a frequent visitor to our backyard feeder.
Photo of a favorite Christmas card
We love their little black caps – though our southern variety is the carolina chickadee. The two are very similar, as you'll notice below. So, upon request, Nana taught us a chickadee pastel lesson. Thank you, Nana!
We pulled out the field guides and studied the chickadee shape. You may want to have your favorite field guide handy as well. The Cornell Lab of Ornithology site also has wonderful information on the chickadee. If you click over, you can view and study the perfect silhouette of the chickadee's shape for your drawing. We learned that John James Audubon named the carolina chickadee while he was in South Carolina.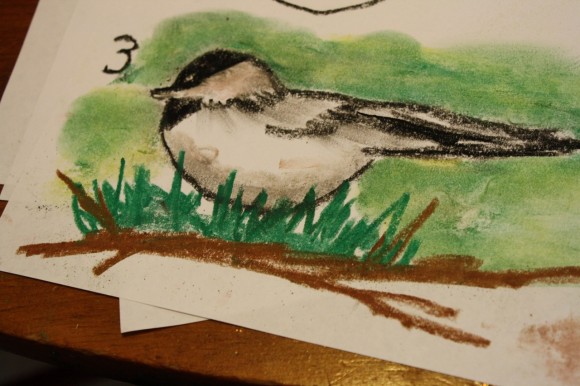 Chickadee Chalk Pastels Tutorial
As we began with our pastels, Nana emphasized that the chickadee is a short, rounded bird.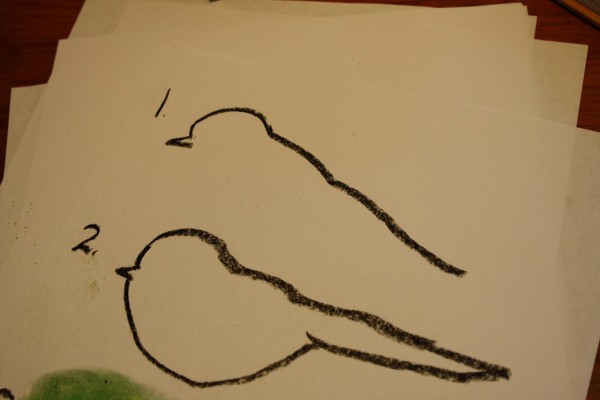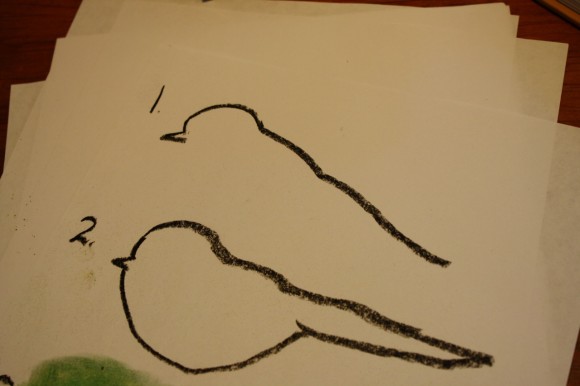 The chickadee's 'cap' and its back was our starting point, using a black chalk pastel to draw the outline. Notice also that the chickadee has a very long tail.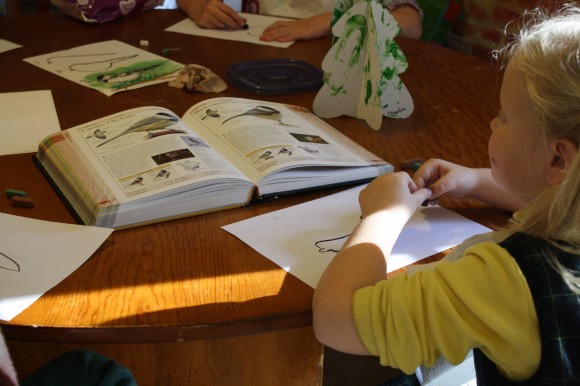 Next, we enjoyed drawing the chickadee's beak. Just one, tiny 'V'. Then, Nana asked us to again pay special attention to how short the little chickadee is. Take your time as you draw his little, plump shape.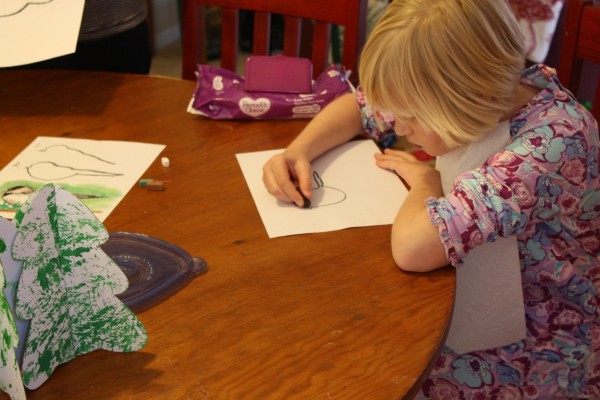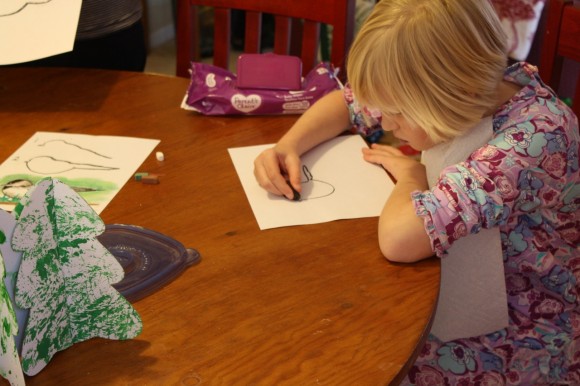 As you complete your chickadee shape, notice the underside of the chickadee tail isn't just straight.
Rather the feathers are layered beautifully.
Now we get to add his little cap! First the top, angled just like the chickadee in the field guide. Almost a mask. Then, a separate area of black below –  what Nana called his beard.
For the next step you might want to clean your fingers. Take your white pastel stick and add just a dot for the chickadee's eye. The light is reflecting in his tiny eye. (The Christmas card at top shows the placement of his eye well)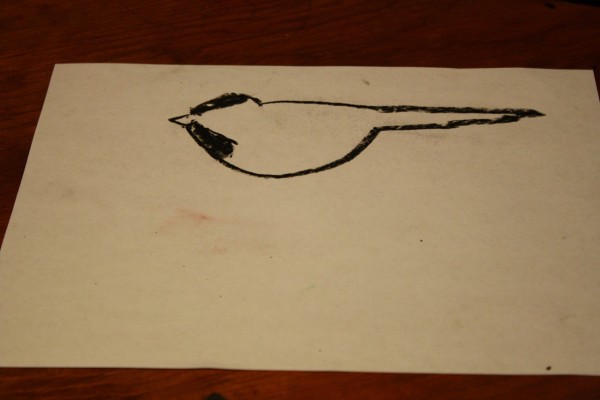 Make the line that goes up around his neck. Next, add the details of the tail feathers. Still only using your black pastel stick.
Now we will add the little bit of gray on the underside of our bird. Take your black pastel stick, turn it flat on its side and – very lightly – skumble a small amount of black on your bird. (Turn your pastel stick like you are doing a crayon rubbing). You only need just a small amount for gray. Use your finger to gently blend and soften the color. Just a little on his tiny belly.
Your bird needs a spot to perch. We imagined our chickadee waiting his turn at the feeder while perched on a pine tree. You might choose a winter evergreen too. So, take your green pastel stick and make several sharp looking pine needles.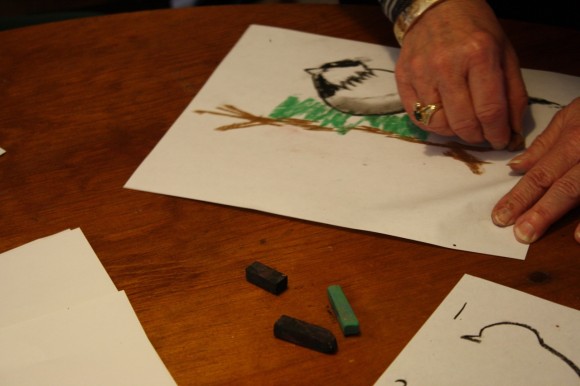 Next, draw a branch for your pine needles and your chickadee. Again, the Christmas card at top offers a good example of a pine tree perch.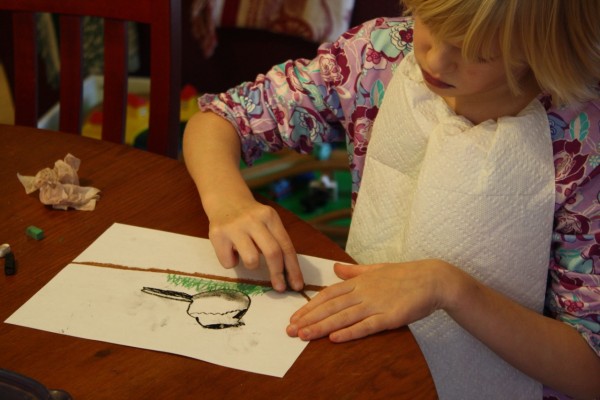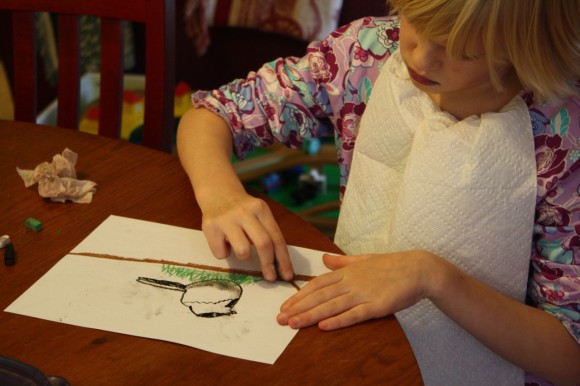 (Paper towels, tucked like a bib, also make good 'smocks').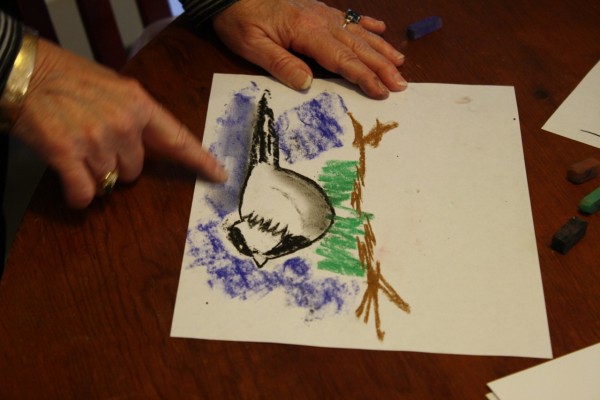 We also imagined our bird was waiting his turn at the feeder on a brilliant, sunny, winter day. So we chose to add a blue sky – a painterly effect. A painterly effect meaning that you are creating patches of color to compliment the focus of your scene but not filling in all of your picture with the color. Our blue ranged from a cobalt to more of a teal.
Skumble gently around your bird with your shade of blue. Then blend in your color with your finger.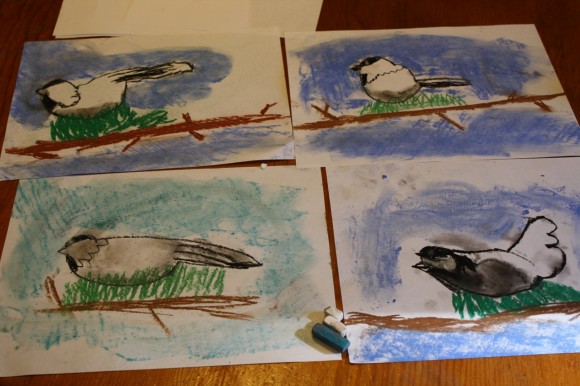 Our results! Top left: 12-year-old, top right: nine-year-old, bottom left: 14-year-old, bottom right: six-year-old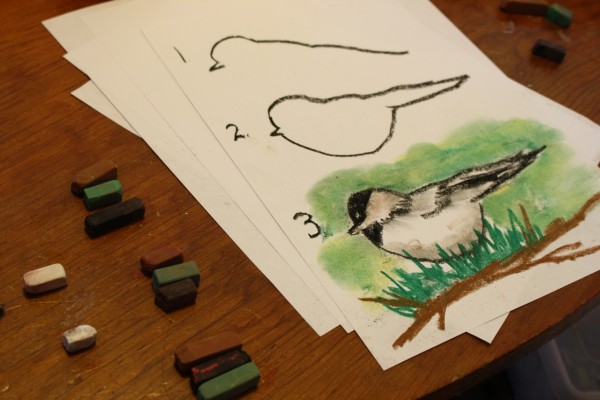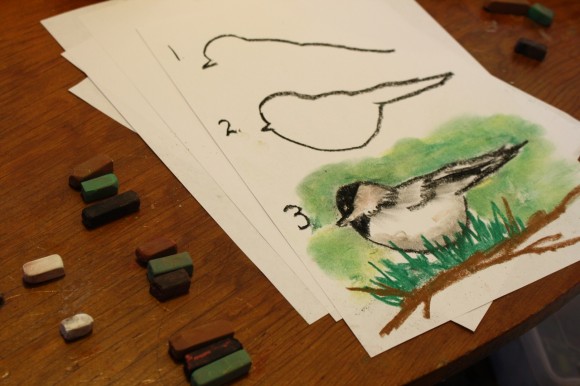 A photo summary of the steps plus the chalk pastel colors needed.
Featuring You! You ARE an Artist!
So, paint your chickadee and be sure to share with us! Simply tag @chalkpastelart on social media, use the #YouAREanArtist hashtag, or upload a photo to the ChalkPastel.com Facebook page!
A note on chalk pastels: Pastels are an easy, forgiving medium. Fun for children and adults alike! Details on the pastels and paper we use, how and where to purchase, and links to all of Nana's other pastel lessons are here: 100+ Free Art Lessons for All Ages plus the video The Very Few Must Have Supplies for Chalk Pastel Art. A simple set is very affordable. Nana also teaches acrylic lessons.
The practical aspects of a mess: Pastels are blessedly messy. We always have baby wipes close by to wipe hands. We wear something we don't mind getting stained or don a smock.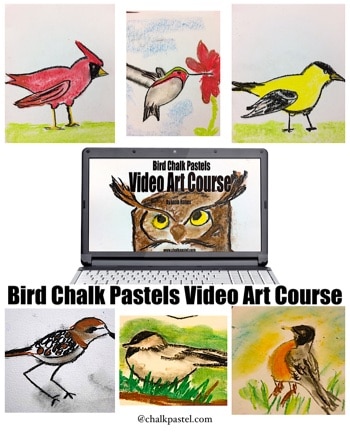 Video Art Lessons
Do you and your artists find it easier to learn with a video art lesson? This chickadee tutorial is a video art lesson in our Bird Video Art Lessons!