The Bible is the tool for life. The resource for parenting. The Child Training Bible (CTB) makes it easy to use as just that.
I received the Child Training Bible to review right before we went on our family vacation. What a great vacation project it was! Each time I got out the rainbow of highlighters and sticky tabs, they drew a crowd. Highlighting verses in the Bible prompted questions.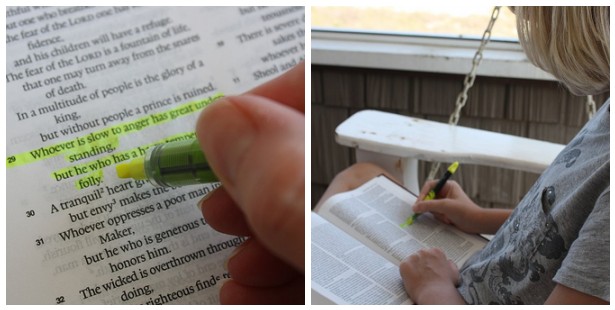 Putting the Child Training Bible together provided some one-on-one time with my children. It also opened up some wonderful discussion.
"This is really fun. I'm glad you got this." ~ nine-year-old
How do you put together a Child Training Bible?
Instructions are included in the kit. While they are thorough, I found it helpful to watch the Video Tutorial and Instructions on the Child Training Bible site. (You also will get to see the family behind this tool. A fellow homeschooling family! They share more of the background behind the CTB and how it came to be.)
Plus, the boards on the CTB Pinterest account will help you visualize the how tos of putting your Bible together, especially this visual. You can also click on reviews by other families on their review board.

A Tour of the Child Training Bible:
1. The CTB topical key: taped right in the front, inside cover, the key helps you easily find the topic you are addressing. Topics include: anger, complaining, defiance, discouraged, disobedience, fear, fighting, gospel, impatience, jealousy, laziness, lying, making excuses, not listening, pride, quarreling, selfishness, stealing, tattling, unforgiveness and wrong friendships.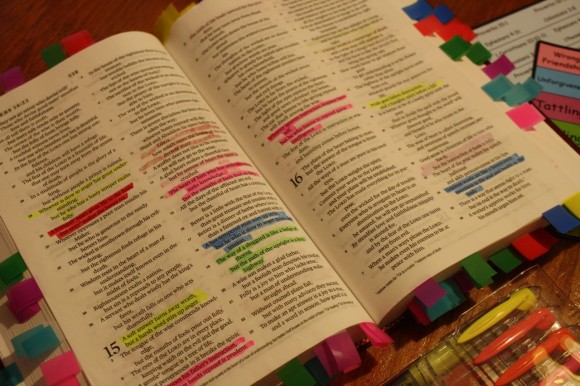 2. The colored Post-It flags: correspond with the topical key. Tabs on anger are yellow to match the topic marked in yellow. Just go to the marked pages on anger.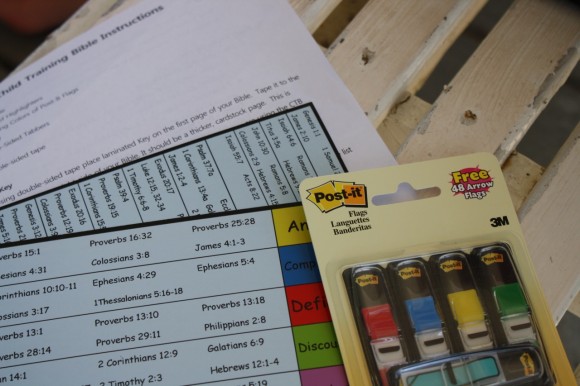 3. Double-Sided Tabbers (laminated question cards):  These durable cards list the scripture references for the topic on the light blue side of the card. On the opposite side are three columns offering suggested:
Heart issue questions (e.g., for Anger: Did you have a godly response to this situation? How can you show love right now instead of anger?)

Jesus questions (e.g., for Anger: Did Jesus have reason to be angry? What was His response? 1 Peter 2:21-23))

Prayer to pray with your child using scripture (e.g., for Anger: Lord, help my child to control his desires so that he loves you more than himself and help him to ask you for things that are pleasing to you (James 4:1-3). Thank you Jesus for never having sinful anger and for always entrusting yourself to the Father (1 Peter 2:21-23))

Benefits of Using Child Training Bible:

Go to resource by topic. The whole family is going to the Bible for answers!
Perfect for all ages – use for a shorter amount of time with younger children, judging attention span.
A sturdy, standard pew Bible.
English Standard version is easily understandable in today's language.
My children feel comfortable picking it up and browsing.
Verses at the ready!

Questions answered. More information:
When I shared a photo of the CTB on the Hodgepodge Facebook page, Christan and Amber wanted to know: I'm interested in knowing if the verses they include talk about the opposite of the sin being addressed? i.e. when looking up a verse marked for selfishness, is there another that addresses selflessness or giving?
The answer: Yes. Anytime you are using the Bible, you will be encouraged in Godly living. Let me give you an example for the very first verse on Anger. The first yellow post-it marked verse is Proverbs 15:1 A soft answer turns away wrath, but a harsh word stirs up anger. (this is a verse we've learned with our Sing the Word cds! I'm singing it in my head as I type it). Not only does God's Word cut to the issue each time, the question cards point the child to Jesus and gets to the heart issue.
Also, marked on the same page in Proverbs 14:29: Whoever is slow to anger has great understanding, but he who has a hasty temper exalts folly.
In Summary: Pray for wisdom in using this tool best in your home. Using the CTB, you are shepherding a child's heart. And I venture to say that the practice of using the CTB will certainly minister to your parent heart as well. We have long been using Doorposts Biblical and parenting tools in our home. The Child Training Bible falls right into that category for us. Tools for use in Biblical character training for everyone.
A marked up and tabbed Bible is the mark of a well-used Bible.
Could we take some time and just study each topic? ~nine-year-old

Why, yes. The Child Training Bible is a wonderful tool for helping us all – the whole family – continue to turn to God's word for answers. And, we've already seen that become more of a habit in our home by using CTB.
The kit includes an English Standard Version pew Bible, laminated cards, Post-it tabs, highlighter pens and instructions – all that you need to put together your own CTB. Valued at approximately $31.11
In addition to entering to win a CTB kit here at Hodgepodge, Dawn is also sharing a review. So be sure to click over to Child Training Bible kit at Curriculum Choice as well!
a Rafflecopter giveaway