Chalk pastels and construction paper are such a good match. A piece of black construction paper truly shows off some Christmas lights art. And this tutorial is fun for ALL ages! Make as many strands of lights as you'd like. You can make your lights all white or colorful like ours. You may even decide to do a separate shape. (If you are looking for the video version of this lesson, scroll down!)
Either way…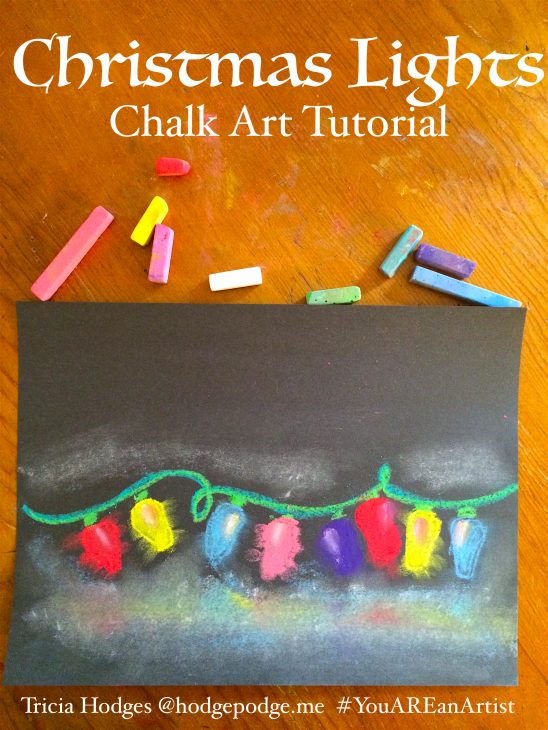 …let's get started with these very few art supplies.
Christmas Lights Art Tutorial
Dark construction paper – black or blue. A rainbow of chalk pastel colors to match Christmas lights.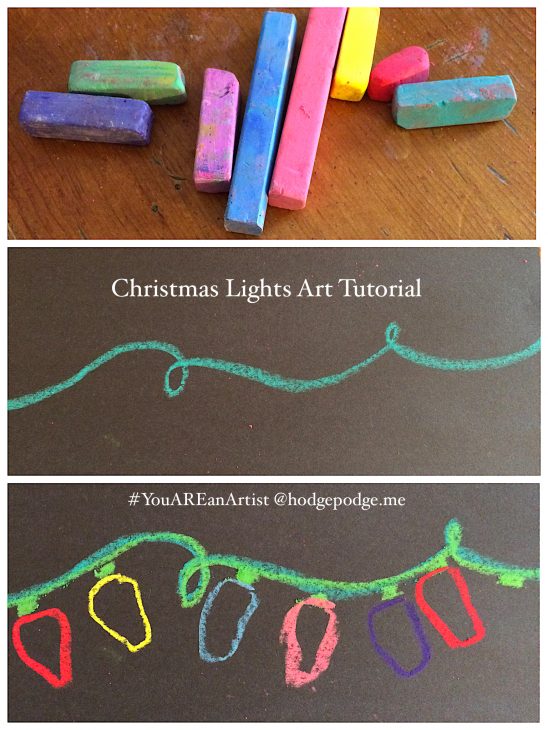 Begin with your green chalk pastel and make your strand or wire from which your lights will hang. While you have your green you can go ahead and add your base for each Christmas light.
Next take a colored chalk stick and draw the outline of your Christmas light. It is sort of shaped like a strawberry. Continue adding the colors you like. Then fill in each light with that beautiful color.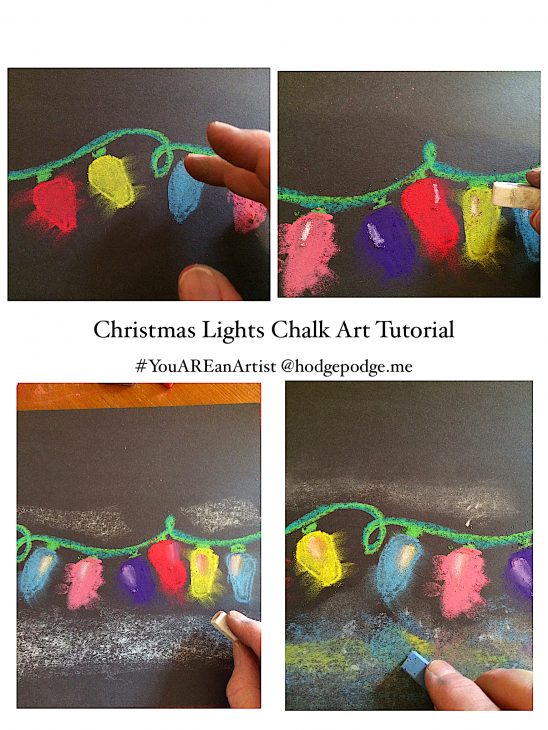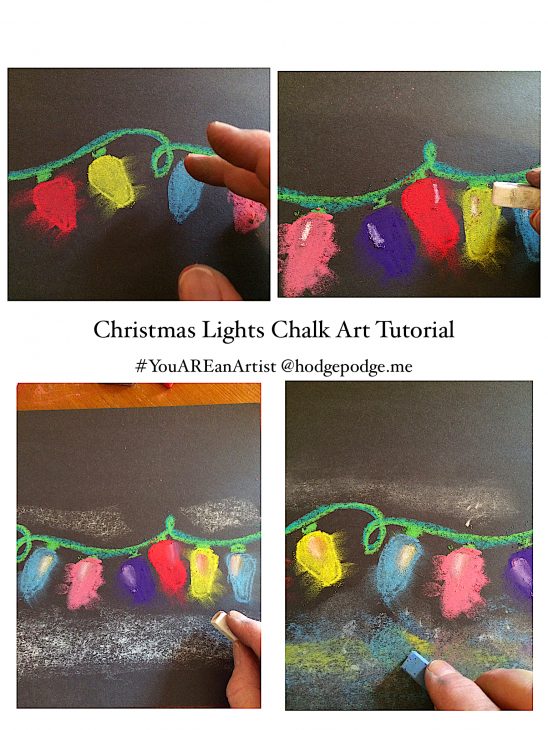 Take a finger and carefully blend each color. You probably want to use a new finger to blend each color. Or you can clean your finger on a baby wipe or wet paper towel in between each color.
Next is the really fun part! Take your finger and 'pull' the color of each Christmas light to make it glow! Once again you should try to keep those colors separate so that each will shine brightly.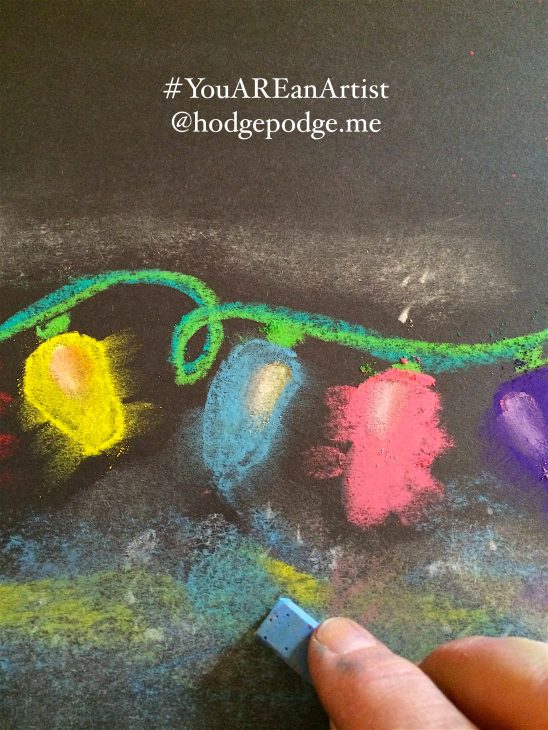 Now, think about how Christmas lights glow and reflect their beautiful colors on the surrounding surfaces. There may even be some snow! So, finally, take your white chalk pastel and turn it on its side. Pull the color across the bottom of your paper. You can even take a bit of color and reflect it below each light! Be sure to use your finger to smooth and blend the colors.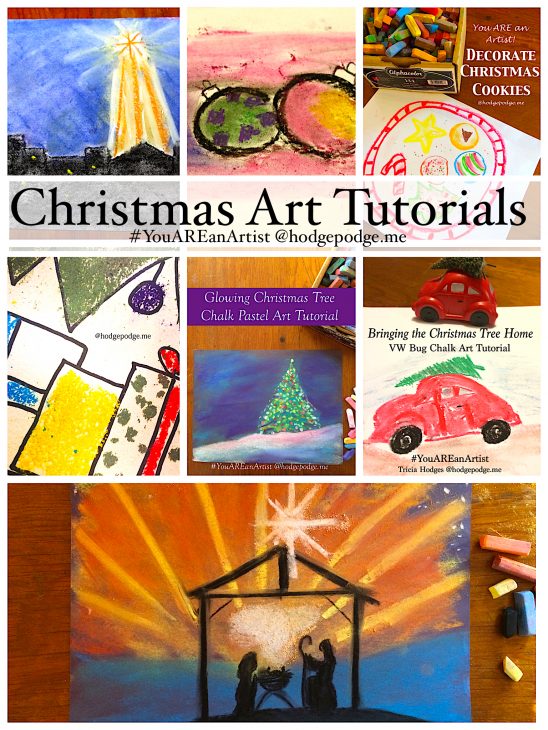 More Christmas Art at Hodgepodge
Be sure to enjoy more of our holiday art and Christmas art tutorials. Christmas tree, nativity and more. Plus be sure to check out the video version of this Christmas lights art lesson in our Christmas Video Art Lessons with enough art to carry you through December!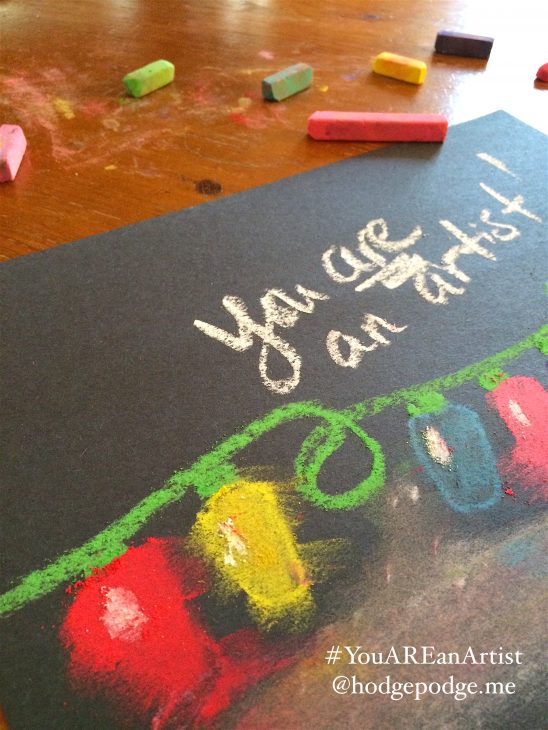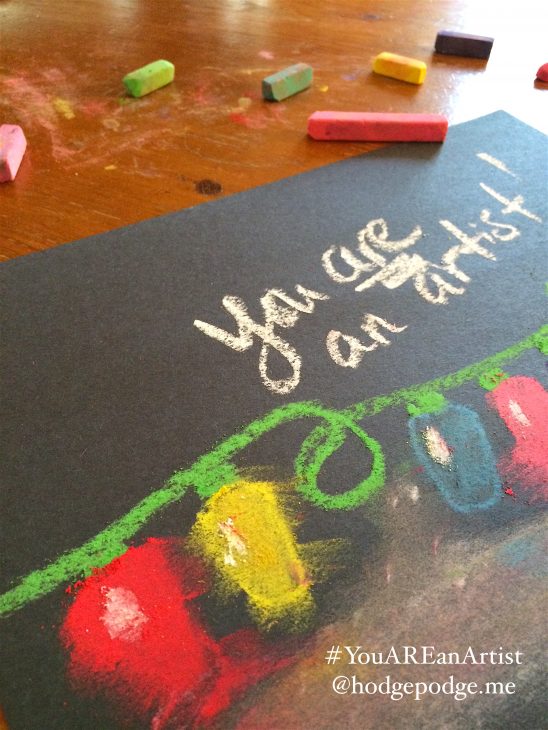 FEATURING YOU! YOU ARE AN ARTIST!
So, paint your beautiful Christmas lights and be sure to share with us! Simply tag @chalkpastelart on social media, use the #YouAREanArtist hashtag, or upload a photo to the ChalkPastel.com Facebook page!
A note on chalk pastels: Pastels are an easy, forgiving medium. Fun for children and adults alike! Details on the pastels and paper we use, how and where to purchase, and links to all of Nana's other pastel lessons are in Our Favorite Chalk Pastels. A simple set is very affordable. Nana also teaches acrylic lessons.

The practical aspects of a mess: Pastels are blessedly messy. We always have baby wipes close by to wipe hands. We wear something we don't mind getting stained or don a smock.
Do you and your artists learn best with a video art tutorial? Find our Christmas, Nutcracker and Preschool Winter Video Art Lessons at ChalkPastel.com!
O Christmas tree, O Christmas tree, how lovely are your branches!
—>> Subscribe to Hodgepodge so you won't miss any future art tutorials! <<—
-originally published November 2016
Save
Save
Save