One of our favorite Five in a Row books is Stopping By the Woods on a Snowy Evening. Of course the poem is by Robert Frost. And this being the start of winter, it is a perfect time for a snowy evening chalk art tutorial. We love the illustrations by Susan Jeffers.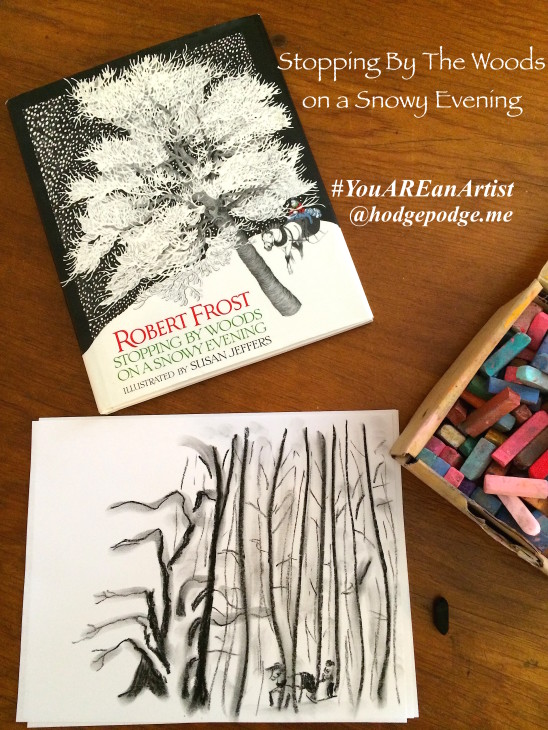 Looking for a Snowy Evening video art lesson? Nana shared one with our You ARE an Artist Clubhouse members as a Master Class!
Snowy Evening Chalk Art Tutorial
Just a few supplies needed: plain, white paper. Black chalk pastel and some baby wipes or wet paper towels for easy clean up.
This post contains affiliate links. Please see our disclosure policy.
Begin by simply sketching sticks for trees. You are creating the woods. And there is no other color. Just the woods and the snow. Black and white. Keep in mind that the wind blew the snow on one side of the trees. So aim to show that in your chalk painting. The woods are thick. The branches intersect.
The only other sound's the sweep

Of easy wind and downy flake.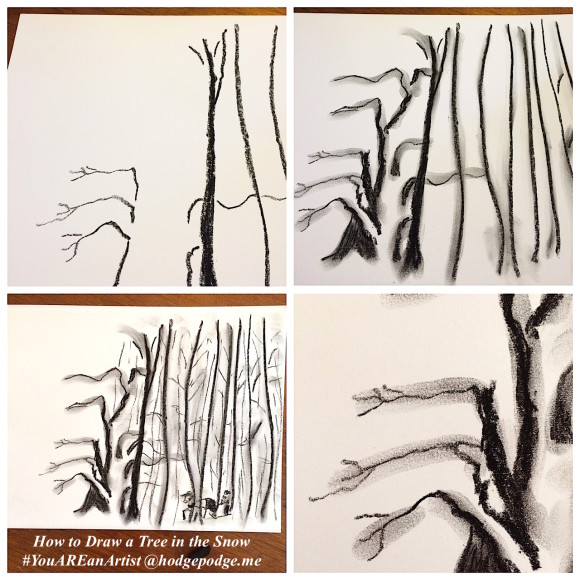 Next, you might want to turn your attention to the one, nice, big, thick tree. Its branches are beautiful. Enjoy drawing the branches and the deep shadows on the left side with your black chalk pastel. Take your time and sketch the tiny branches too.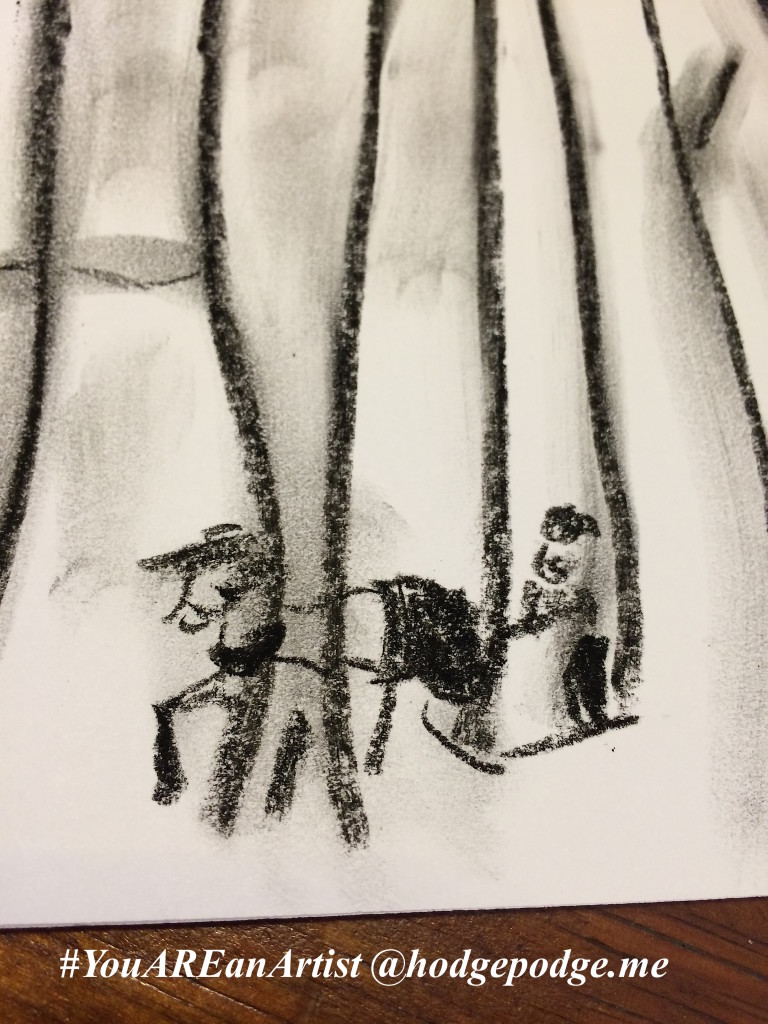 Now, your horse and sleigh are coming through the woods. Don't worry too much about making them perfect. They are far away from the viewer. Notice that the horse is stepping, so one leg is bent. The horse also has warm blanket and the driver a warm cap.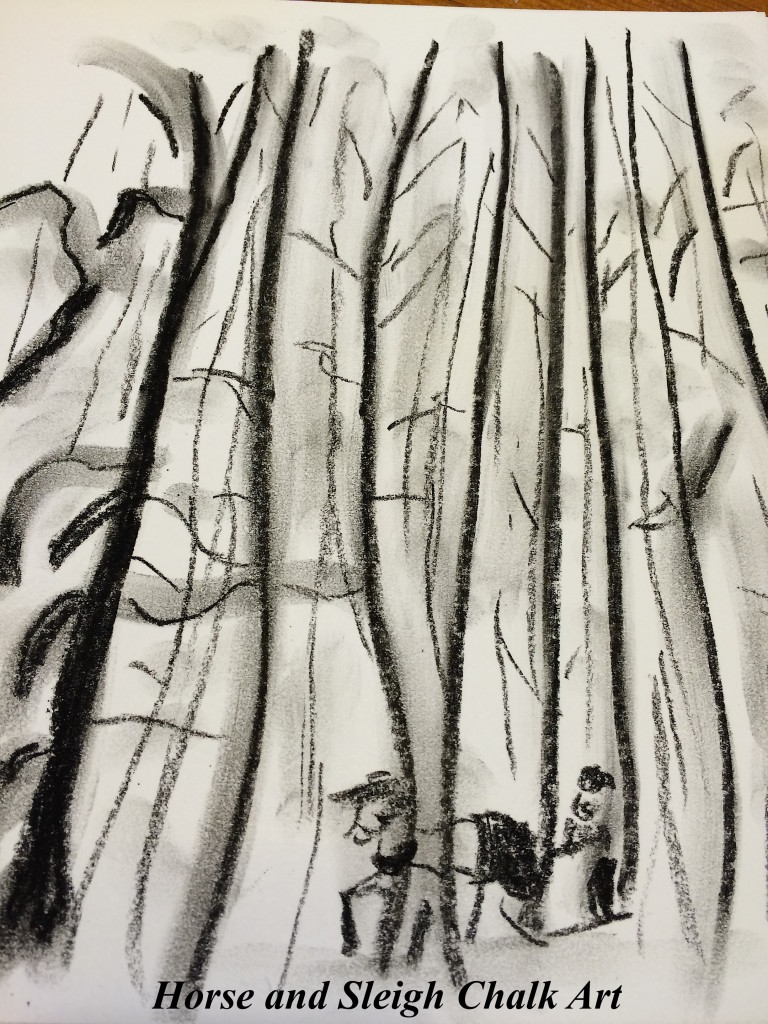 Blend the woods just slightly. Do this by taking your finger and just carefully going over your black chalk marks. Just slightly. This helps to soften the woods – just like the snow!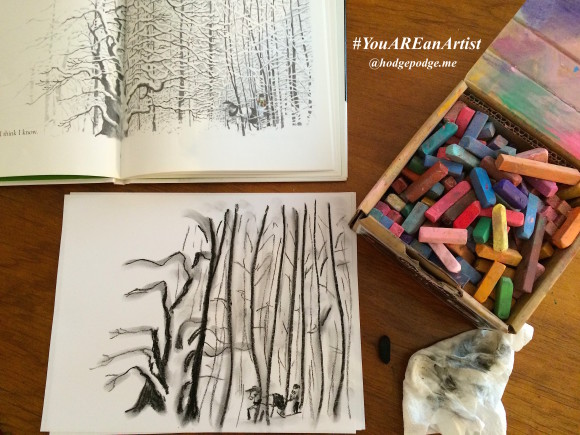 I just love how these turned out! All with white paper and a black chalk pastel.
The woods are lovely, dark and deep,

But I have promises to keep,

And miles to go before I sleep,

And miles to go before I sleep.
There are so many beautiful illustrations in this book,
Stopping By The Woods on a Snowy Evening
. You may want to make an afternoon of it – sketching the animals, the trees – all in black chalk pastel.
Featuring You! You ARE an Artist!
So, paint your snowy evening art and be sure to share with us! Simply tag @chalkpastelart on Instagram, use the #YouAREanArtist hashtag, or upload a photo to the ChalkPastel.com Facebook page!
A note on chalk pastels: Pastels are an easy, forgiving medium. Fun for children and adults alike! Details on the pastels and paper we use, how and where to purchase, and links to all of Nana's other pastel lessons are here: Our Favorite Chalk Pastels
The practical aspects of a mess: Pastels are blessedly messy. We always have baby wipes close by to wipe hands. We wear something we don't mind getting stained or don a smock.
—>> Subscribe to Hodgepodge so you won't miss any future art tutorials! <<
Paint the snowy scene even if you don't have snow out your door because – you ARE an artist!
-originally published January 2016