In this nativity chalk pastel art tutorial we will focus on the scene the night of the birth of Jesus! Now this colorful scene is a picture of Mary, Joseph and Baby Jesus right at sunset. The sun's rays are bursting forth and reaching far in glorious color. At the same time the star of Bethlehem is right above. So the scene is at dusk and the setting is beautiful in so many ways.

Away in a manger, no crib for a bed, the little Lord Jesus laid down His sweet head…
Nativity Chalk Pastel Art Tutorial
For this art tutorial you will need: black or dark blue construction paper. Chalk pastel colors: black, white, yellow, orange, dark brown, blue.
When we did our Glowing Christmas Tree Tutorial we really enjoyed using the dark construction paper and layering the colors. It works very well for the nativity scene and the setting sun as well.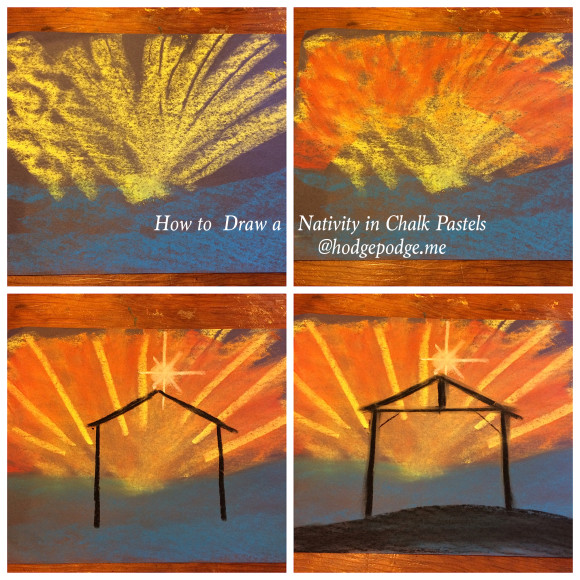 Begin by creating the dark blue hills – the setting for this Bethlehem scene. Turn your blue pastel on its side and skumble in the layers of hills. Both the ones close to the viewer and the ones in the distance that the shepherds will be coming from to see the newborn king. Blend in the blue with your finger. Make the layers of color smooth. (You will likely need to use a wet paper towel or baby wipe to clean your finger before moving on to sunset colors).
Next use your yellow to create the rays from the setting sun. Start just over the distant hills and imagine that beautiful sunset. Leave just a bit of sky for some stars to peek out (we will add this later). Make the sunset even richer by adding layers of orange and a dark brown. Smooth the colors and blend them with your finger.
Then draw in the simple shape of the manger scene with your black chalk pastel. Sort of like you are drawing a house – but with no detail. The sides, the roof. You can blend and soften this as well. While you have your black pastel, turn it on its side and skumble in the ground below. This ground is darker because it is closer to you, the viewer, and further away from that brilliant sunset. Soften/blend with your finger as well.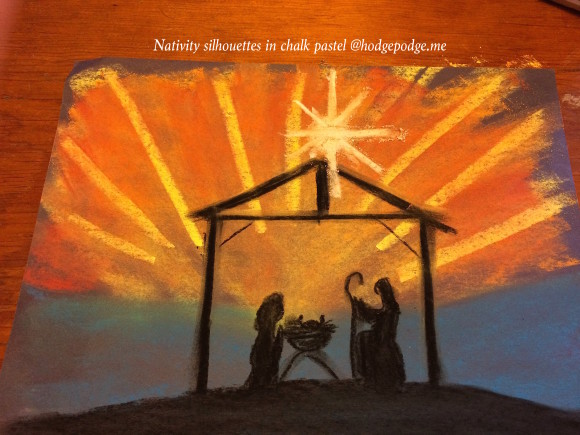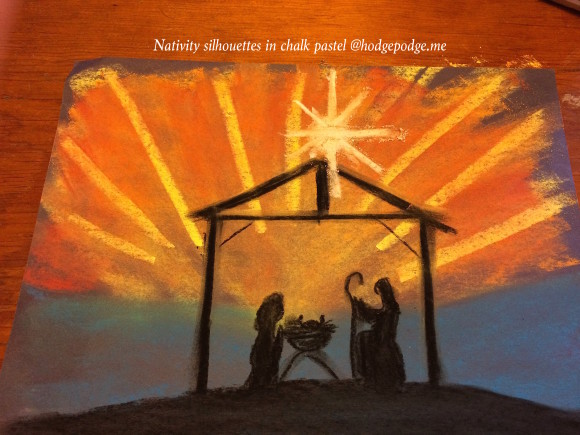 Now Mary, Joseph and baby Jesus are just simple outlines. No need to fret over them being 'just so' – draw them in as you have always imagined them. We are only seeing their silhouettes. So you don't need to worry about detail. The sunset makes them dark.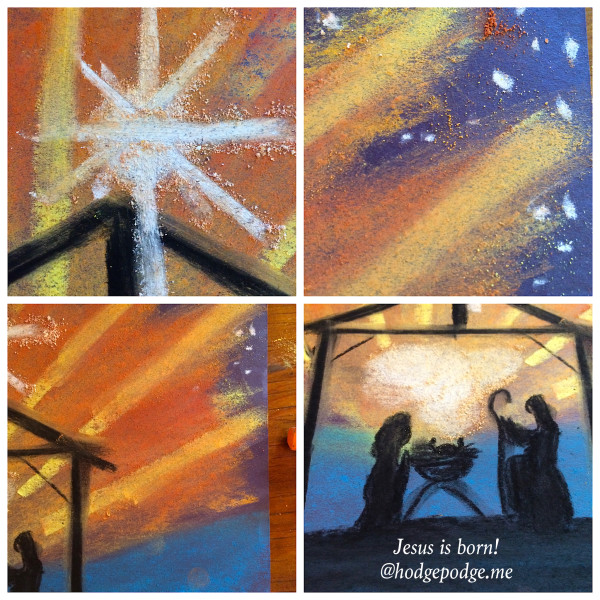 Now is the time to add that brilliant star of Bethlehem that shines right above, announcing the Savior's birth! Use your white chalk pastel and go over the star several times to make it stand out well. (Simply make a big 'dot' and then a cross right through it. More on this is our Star of Bethlehem tutorial). You might also want to take your yellow chalk and emphasize the sunset a little more – then blend again.
The stars in the sky looked down where He lay, The little Lord Jesus asleep on the hay.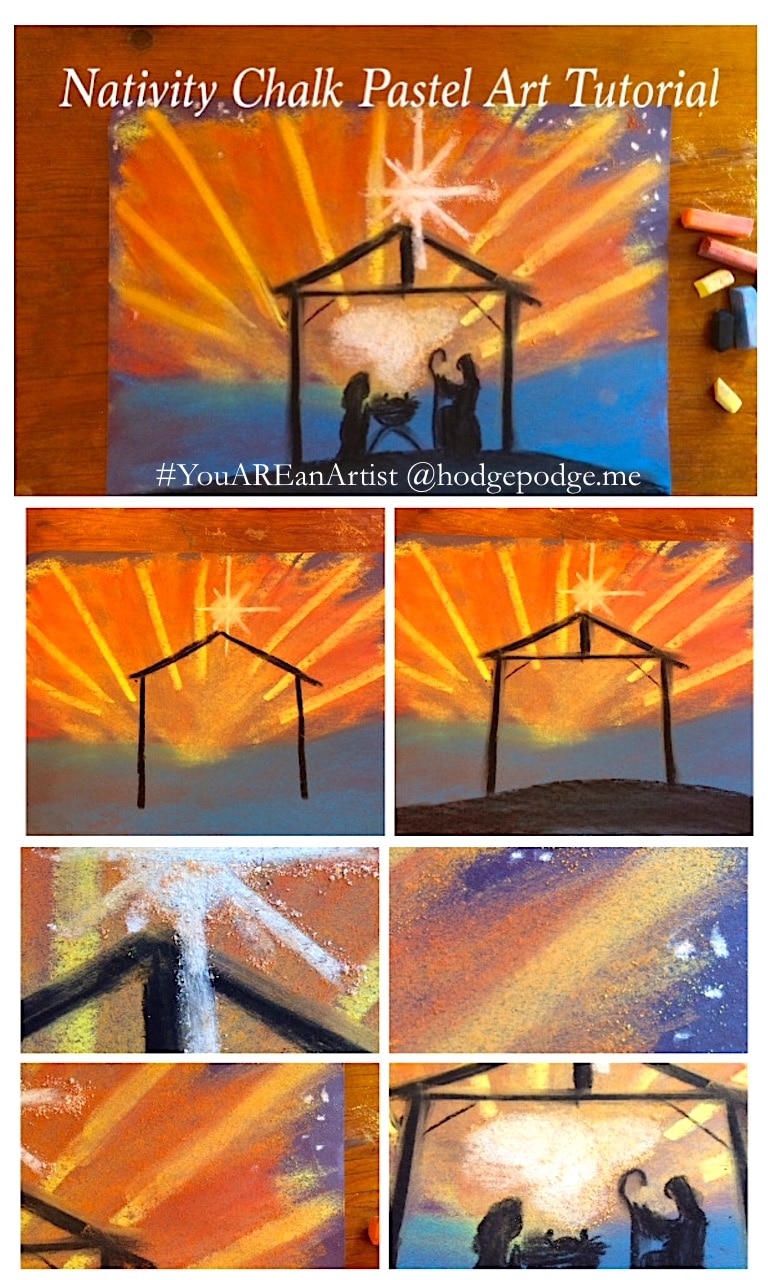 The stars in the night sky! The sunset takes up most of our picture but it is fun to add just a few stars in the corner of your black construction paper. They are just starting to peek out. I also added a bit of white from the sun's rays – just at the horizon and above Baby Jesus.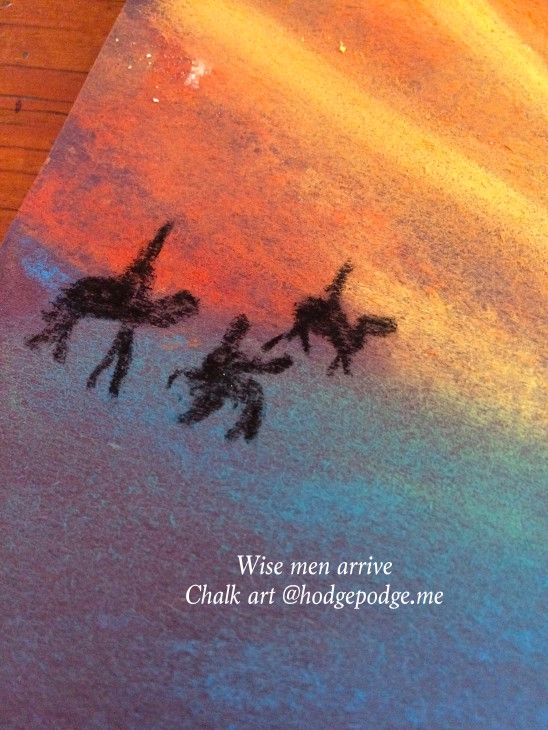 If you are reading any of the advent storybooks in the Jotham's Journey series (we are reading Ishtar's Odyssey) you may want to add the wise men arriving – far off in the distance.
What a beautiful nativity scene you have made – with the gorgeous colors of the setting sun! Be sure to turn your painting over, sign it and name it. Because you ARE an artist!
FEATURING YOU! YOU ARE AN ARTIST!
So, paint your Nativity chalk pastel art and be sure to share with us! Simply tag @chalkpastelart on social media, use the #YouAREanArtist hashtag, or upload a photo to the ChalkPastel.com Facebook page!
A note on chalk pastels: Pastels are an easy, forgiving medium. Fun for children and adults alike! Details on the pastels and paper we use, how and where to purchase, and links to all of Nana's other pastel lessons are in Our Favorite Chalk Pastels. A simple set is very affordable. Nana also teaches acrylic lessons.
The practical aspects of a mess: Pastels are blessedly messy. We always have baby wipes close by to wipe hands. We wear something we don't mind getting stained or don a smock.
Do you and your artists learn best with a video art tutorial? Find our Christmas, Nutcracker and Preschool Winter Video Art Lessons at ChalkPastel.com!
—>> Subscribe to Hodgepodge so you won't miss any future art tutorials! <<—
And she brought forth her firstborn son…and laid him in a manger – Luke 2:7

-originally published 2015
Save