Christmas Tree in Snow art lesson. Just six simple steps, starting with Christmas colors. A fun Christmas art project for all ages!

Christmas Tree in Snow Art Lesson
We had just finished up making some Christmas mixes when Nana offered a pastel lesson.

As in other lessons, she sketched off the steps for the children to follow. Just six simple steps, starting with the colors above…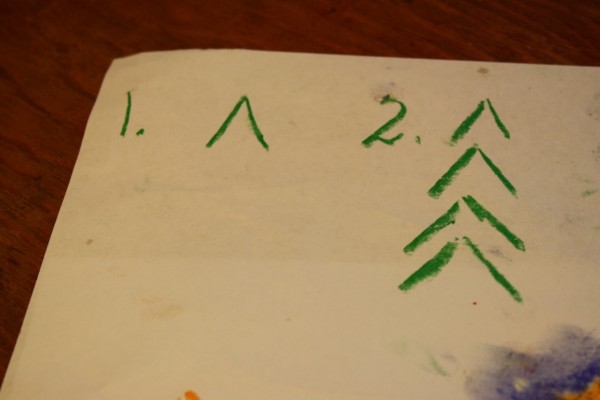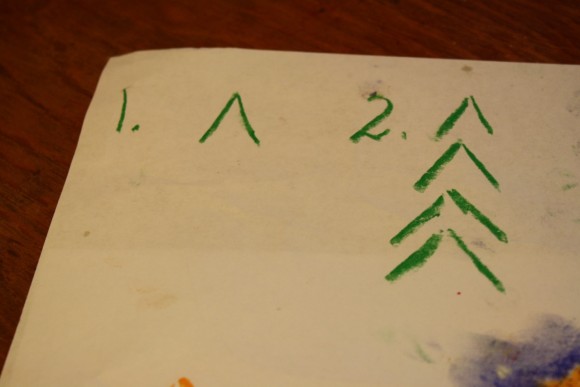 You may want to turn your paper so it is vertical to have more room for a tall tree. Then get your green and start on those upside down Vs. Steps one and two make your tree branches, your tree growing nice and tall…
Steps three and four are fun! Fill in your Christmas tree. Full of branches and needles. Add a trunk. And a star.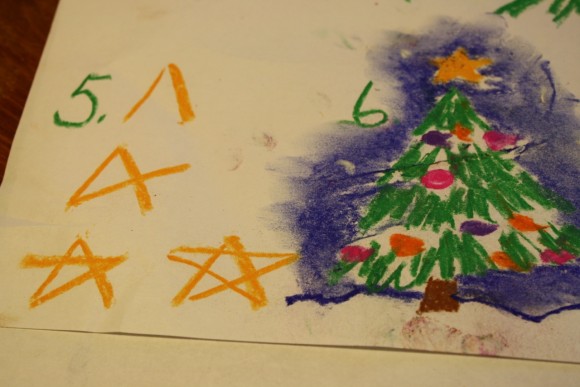 We had a couple that needed the steps to follow to make a five point star, so Nana marked those off…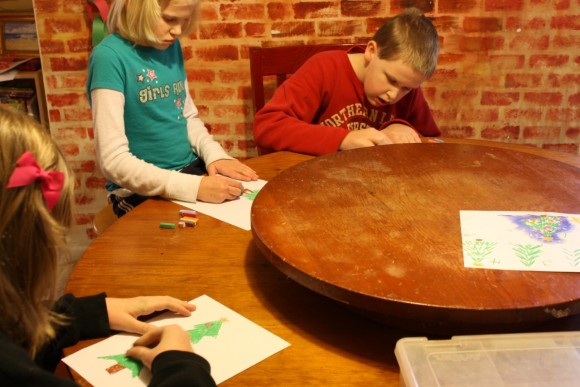 Next, decorate your tree anyway you'd like. Ornaments in the colors you like!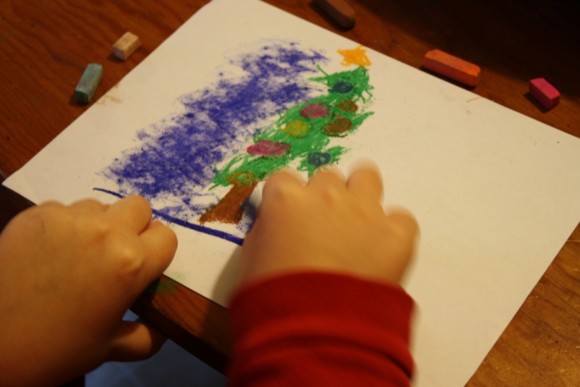 The last step each of the children interpreted differently. When filling in the evening sky, take your blue stick, turn it on its side. Make it a dark night like eleven-year-old did…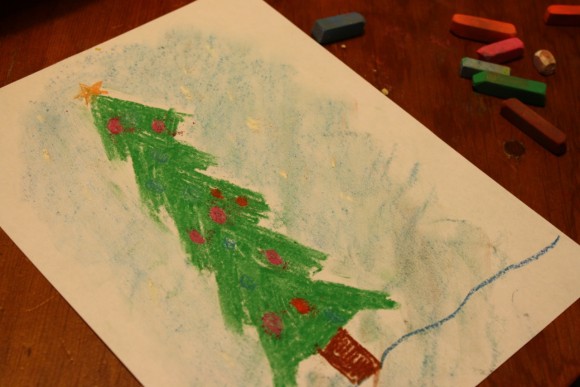 Or like twilight as thirteen-year-old did. She added a bit of snow falling. And a line for the ground. Nana explained that in a pastel painting that snow is not white. It's gray, has a twinge of blue shadowing.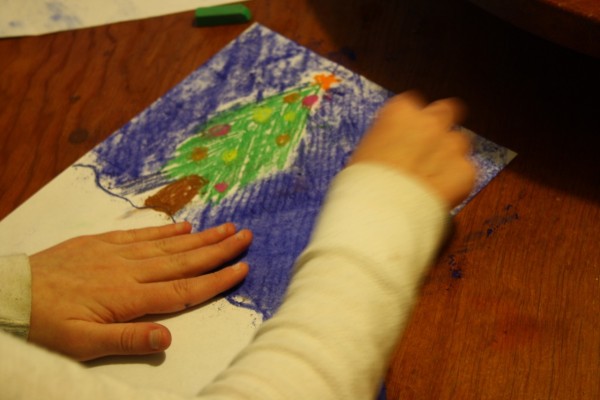 Make your picture the way you like it! Eight-year-old piled the snow up around her tree trunk then set to 'fisting in' or blending the night sky with her fist.
Five-year-old fisted her sky in too. You can also carefully use one finger to blend in next to your branches.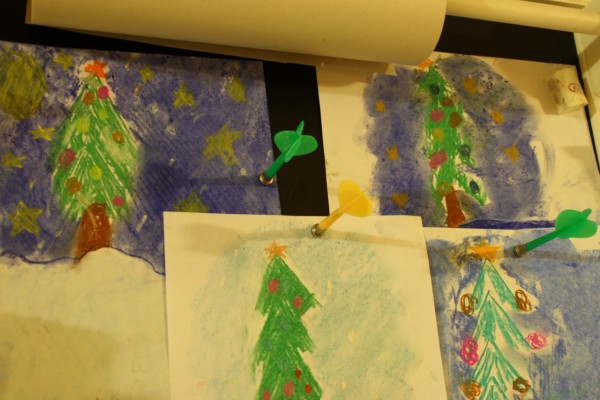 Be sure to sign your name with your favorite color, then find a spot to display your beautiful Christmas tree! You may even want to give your tree as a gift.
Enjoy!
FEATURING YOU! YOU ARE AN ARTIST!
So, paint your Christmas Tree in the Snow and be sure to share with us! Simply tag @chalkpastelart on social media, use the #YouAREanArtist hashtag, or upload a photo to the ChalkPastel.com Facebook page!
A note on chalk pastels: Pastels are an easy, forgiving medium. Fun for children and adults alike! Details on the pastels and paper we use, how and where to purchase, and links to all of Nana's other pastel lessons are here: 100+ Free Art Lessons for All Ages plus the video The Very Few Must Have Supplies for Chalk Pastel Art. A simple set is very affordable. Nana also teaches acrylic lessons.
The practical aspects of a mess: Pastels are blessedly messy. We always have baby wipes close by to wipe hands. We wear something we don't mind getting stained or don a smock.
Do you and your artists learn best with a video art tutorial? Find our Christmas, Nutcracker and Preschool Winter Video Art Lessons at ChalkPastel.com!
O Christmas tree, O Christmas tree, how lovely are your branches!
—>> Subscribe to Hodgepodge so you won't miss any future art tutorials! <<—
-originally published December, 2011
Save