In fourteen hundred ninety-two Columbus sailed the ocean blue…The Nina, Pinta and Santa Maria. This art tutorial is going to give you and your students the joy of an ocean voyage, complete with flapping canvas and great big waves! As you know, Columbus Day is upon us, and we must celebrate his journey to our shores with a chalk pastel painting.
Columbus Sailed the Ocean Blue: Chalk Art Tutorial
A big thank you to our subscribers!! Hodgepodge subscribers will find our latest tutorial at the bottom of their subscription email or feed. Subscribe to Hodgepodge here.

FEATURING YOU! YOU ARE AN ARTIST!
So, paint your Columbus Sailed the Ocean Blue and be sure to share with us! Simply tag @chalkpastelart on social media, use the #YouAREanArtist hashtag, or upload a photo to the ChalkPastel.com Facebook page!
A note on chalk pastels: Pastels are an easy, forgiving medium. Fun for children and adults alike! Details on the pastels and paper we use, how and where to purchase, and links to all of Nana's other pastel lessons are here: 100+ Free Art Lessons for All Ages plus the video The Very Few Must Have Supplies for Chalk Pastel Art. A simple set is very affordable. Nana also teaches acrylic lessons.
The practical aspects of a mess: Pastels are blessedly messy. We always have baby wipes close by to wipe hands. We wear something we don't mind getting stained or don a smock.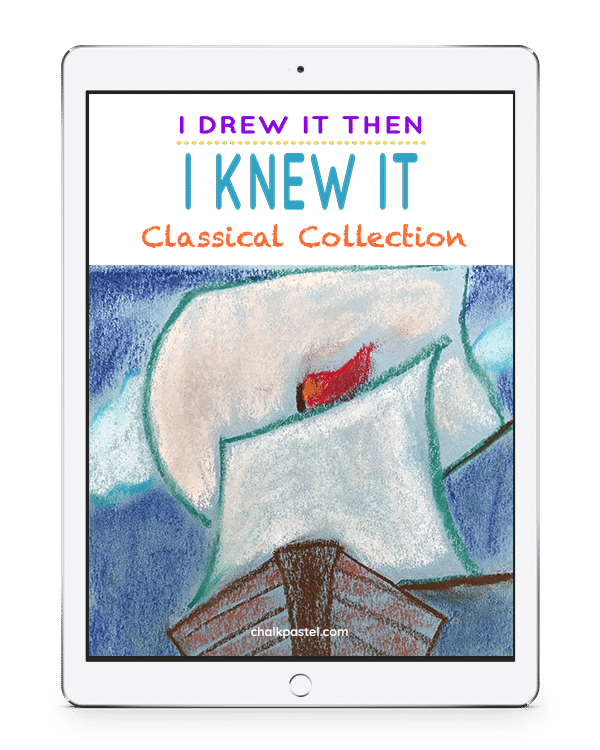 Do you and your artists learn best with a video art tutorial? Nana has a video version of this art lesson in our American History Video Art Lessons. Find our Video Art Lessons at ChalkPastel.com! You might also like our History Art Lesson subscription options.
–> Thank you to our Hodgepodge subscribers! You can find your Columbus Sailed the Ocean Blue Art Tutorial via a download link on our subscription feed or email. Not a subscriber? Please subscribe to Hodgepodge now (it's free!). Don't miss any art lessons!
-originally published October 2013