These fun and messy chalk pastels sure bless us. We know they will bless you too. You can build a love of art and some simple joys with this frugal medium. So here are 10 Cool Ways to Use Chalk Pastels. If you aren't already sold on chalk pastels, then you will be soon…
10 Cool Ways to Use Chalk Pastels
Chalk Pastels for Seasonal Studies
Sometimes parents find it hard to 'add in' art. It takes time or it seems intimidating. Though I believe in the daily practice of art, I give you permission to enjoy it on special occasions. Because then you will see just how delightful it is. We have many seasonal studies with chalk pastels. An example is our very latest Spring or Easter Video Art Courses.
Chalk Pastels to Accompany Literature Studies
After you read a favorite read aloud, pull out the chalk pastels and sketch an illustration or two. The learning just continues on. A great example is our Stopping By the Woods on a Snowy Evening art tutorial or Tea Time Art Lessons.
Chalk Pastels to Complement Nature Study
Hummingbirds might be flitting outside your window. Maybe you've watched a garden spider build a web or noticed the gorgeous clouds passing by. All the joys of nature can be captured with chalk pastels. Over the summer (or any time you'd like to take a virtual field trip) you might light to enjoy some Art at the Beach. We have a whole line of nature study video art lessons here.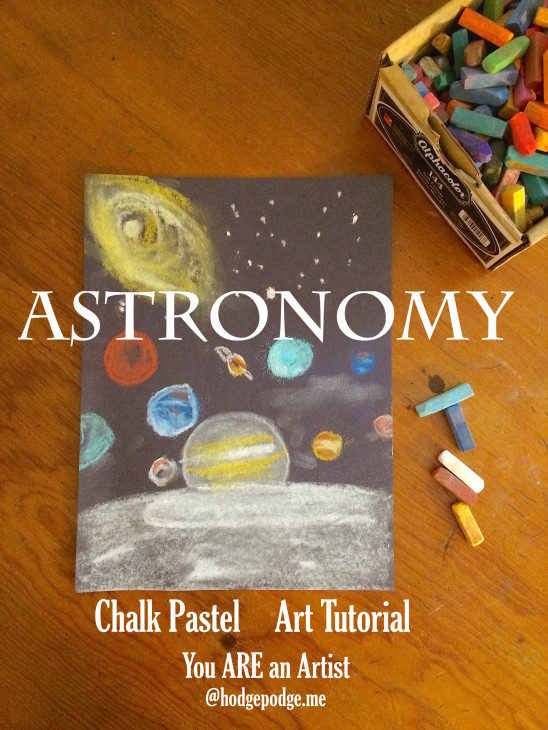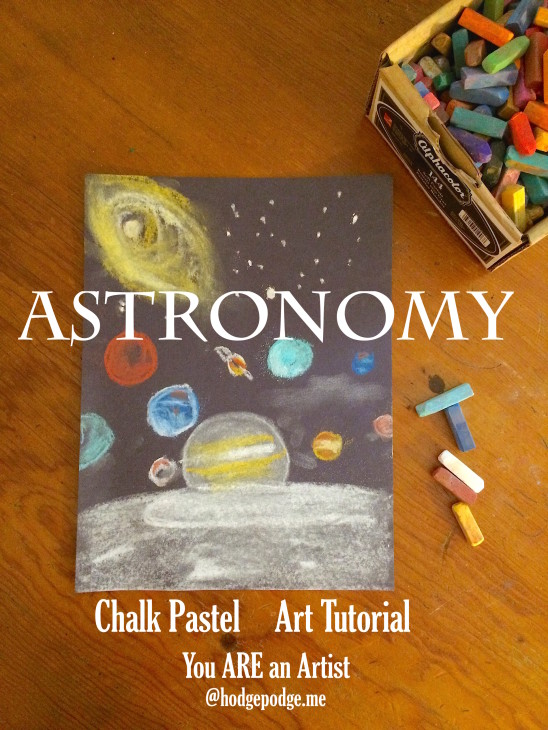 Chalk Pastels and Science
Now this combination is wonderful with any kind of science. Shark art is awesome. But we've found that astronomy and chalk pastels are a beautiful combination. There's something about those colors on black construction paper. Astronomy chalk art and Art in Space.

Chalk Pastels for Artist Study
Simply copying a great artist with chalk pastels makes you study a work of art more closely. We found chalk pastels to be especially successful when studying impressionists, like Monet. But also more modern artists as well, like Henri Matisse and Norman Rockwell. Ch
Chalk Pastels and a Study of Technique
Blending, skumbling, painterly effect and more are all fun to learn about and practice! Find more on chalk pastel techniques here at Hodgepodge and a glossary of techniques at chalkpastel.com as well as Chalk Pastel Art Techniques video art lessons.

Chalk Pastels for History and Geography
When we studied the Civil War we sketched a cannon. We also took a tour of American Landmarks from sea to shining sea. We even did a chalk pastel of the coliseum during the Summer Games.
Chalk Pastels for All Ages
Chalk pastels are truly art for all ages. No prior skill level necessary. Chalk pastels are a unique art medium. Younger artists find chalk familiar and fun. Budding artists that are upper elementary aged and older, find such freedom in independent time with chalk tutorials and creating what they please. Artists with much more practice still find chalk pastels challenging because of all the layering and 'painting of light' they can do. Adults enjoy chalk pastels too! The possibilities are endless. Frugal Art for All Ages

Chalk Pastels and Fun with Favorite Characters
We absolutely love to share art around our favorite characters. We did that with a Pete the Cat Facebook Live art tutorial. Tomorrow we are celebrating all things Dr. Seuss with some truffula trees and more. You are invited and I hope you will join us. Here are also 15 fun and free art tutorials.
Chalk Pastels for Pure Pleasure!
There is no rule saying that you have to use chalk pastels a certain way. Pull them out and experiment for the sheer fun of it. Browse all of our offerings and grab a free set of video art lessons.
Save
Save
Save