I am a firm believer that established habits cultivate a creative homeschool.
When there is a certain framework to your homeschool day, then those every day sorts of things are easily accomplished. The 3Rs, morning chores, a few more things after lunch. Leaving room – not only during those times of learning – but also building in creative down time.
Free time.
Exploration time.
Plus, just being creative with our time – taking advantage of a homeschool schedule (as I shared last week).
~Any affiliate links included are for resources we absolutely love and truly depend on. Please see our disclosure policy.
1. Highlighters for creative Bible verse writing while waiting in the car. | 2. A favorite spot for our elementary learners. | 3. & 4.  A Reason for Handwriting and Spelling Workout at the kitchen table.
Yet, with habits you also have a blank canvas. Yes, you are doing spelling, but maybe a new spot in the house offers a new perspective. Homeschool with a creative twist. A spark of ingenuity. And always room for flexibility. More in 10 Learning Centers at Hodgepodge.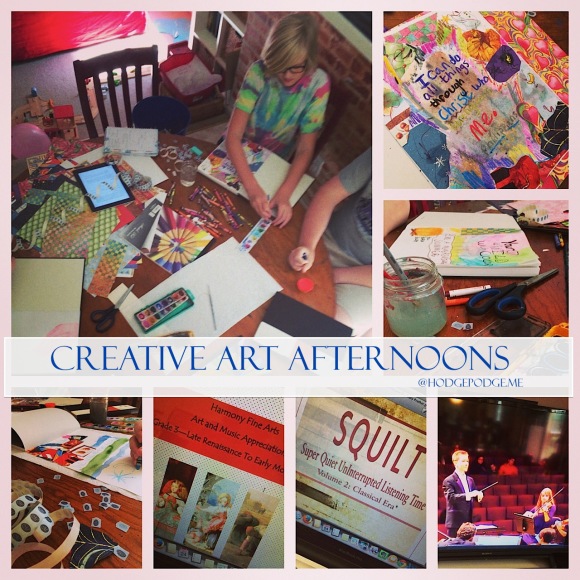 An afternoon of art and music with shout outs of thanks to Barb of Harmony Fine Arts, Christine of Bare Branch Blooming and Mary of SQUILT Music. We had the best time!
Creative Fine Arts
Creativity, it's good theology; it's what God did in the beginning." ~ Ann Voskamp
With habits you have built in 'all the extras' time – planned time for enjoying, balancing the left and right brain. Time for:
A Year of Art Journaling – this new resource has spurred us on! "Can I do art journaling?" is the new question I hear right after lunch. Plus, we now have a use for all that scrapbook paper from a decade ago. I am loving the creative times. And we'll be sharing more of our art journaling as we go along – in our Collage Fridays and on Instagram.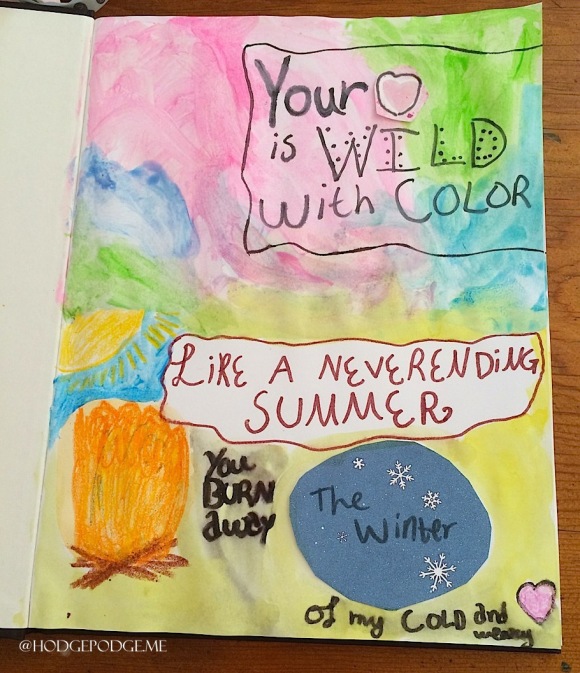 Eldest Girl's (11th grade) art journal page.
Our Art Box makes it a little easier to pull all the art supplies – and to put them all back in time for supper! But there are SO many creative things to do beside pulling out all the art supplies:
build a castle with the blocks, rework the train track into a new configuration
read a book in the ENO, swing
create photo art
build with LEGO StoryStarter® or MindStorms®
take a nature walk
play the piano or keyboard
sing!
practice drama
And speaking of afternoon time…
1. A favorite! And part of our Tapestry of Grace year (how great is that? She was already reading it before I flipped over to the assignment this week. Yay! | 2. Go, Dog, Go! and other fun Dr. Seuss books | 3. The Unofficial LEGO® Mindstorms Inventor's Guide – a new course our 10th grader is following thanks to Harmony Art Mom's Robotics Course – Totally Simple Version | 4. Middle Girl studying to earn her HAM Radio license!!
Creative Afternoon Quiet Time
I've said it time and time again that Afternoon Quiet Time for All Ages is our longest standing habit. Time-tested and when we stray from it I sure can tell. Except for the HAM radio studying photo – all of the reading photos were taken during afternoon quiet time. It is a wonderful catch all for catching up on reading. For creative time away from everybody else. And honestly, sometimes it is a blessing of a time to get our happy spirits back after all being together.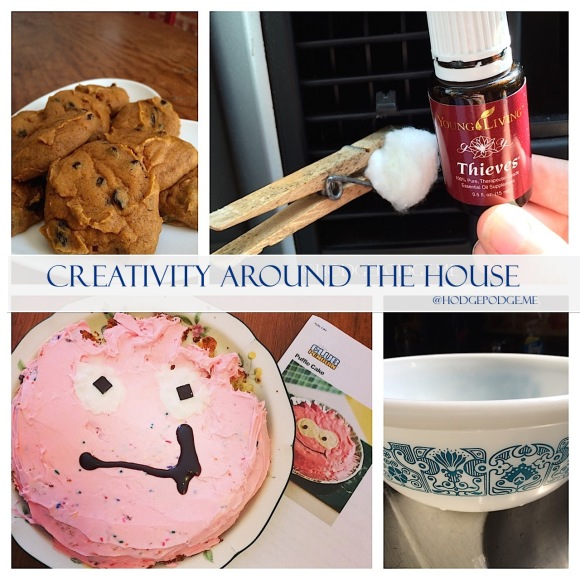 1. Grandma's Pumpkin Raisin Cookies in honor of fall | 2. It's a homemade Thieves car diffuser. Do you Essential Oil users do this too? | 3. Sometimes you just need to have a Club Penguin Puffle Cake after lunch. Littlest Girl made it last night as a late birthday surprise for her sister. | 4. I have a love of handed-down Pyrex bowls. #thatisall #1000gifts
Creative Cooking
A new season opens up a new chapter of meals, treats and cooking. Can't you just smell the seasonal spices with the cooler breezes?

Creativity Right Outside Your Door
Perfect spot for a weeknight family picnic – at a nearby park! We've made a creative habit of exploring right close to home. Assuaging the guilt of not going on big, memory-making (and budget busting) trips – we are determined to explore within an hour of home and build up a pile of memories close by exploring His creation. Plus take…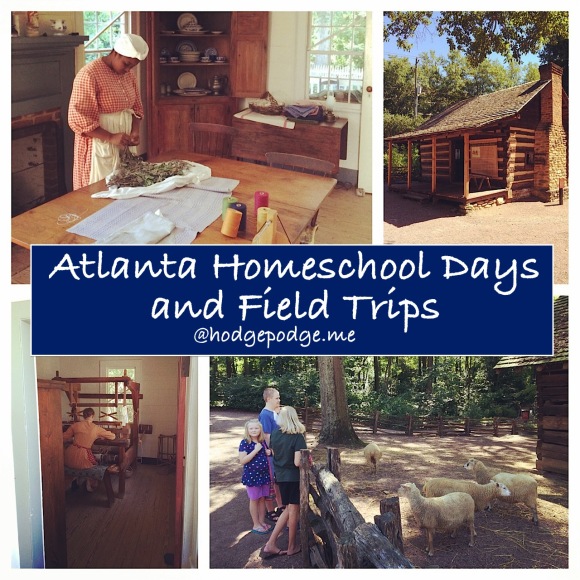 Creative Field Trips – Our trip to the Atlanta History Center on Monday plus a listing of area homeschool days and educational opportunities!  —> Some homeschool days today and special events tomorrow! <—-
Some of My Favorites for The Creative Homeschool
"Life is a great big canvas. Throw all the paint on it you can." ~ Danny Kaye
Many thanks to these kind hostesses (I'm linking up!):
How have you been creative this week?