When Nana was in Italy several years ago she learned how to paint a pot full of daisies with acrylic paints. She adapted what she learned to share with you in chalk pastel form. She shares with you a video daisy chalk pastel art tutorial for all ages. So gather around and enjoy – because you ARE an artist!

Daisy Chalk Pastel Art Tutorial
Chalk Art Supplies:
your choice of colored construction paper (cut in half – hooray for saving paper!) – our artists used blue, pink and dark blue.
white, yellow, brown, green, light green, blue, light blue and orange.
And our finished chalk pastel daisies…
Notice the variety of ways that you can choose to create your daisy – from color of paper to the chalk pastel colors you use. Make it your own because you ARE an artist!
Read more about Nana's trip to Italy in You ARE an Artist: Never Stop Learning.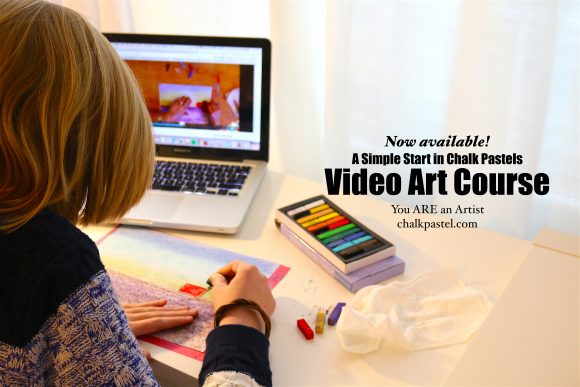 Do you and your child find it easier to learn with a video tutorial? You will be happy to know that we have video art lessons for all ages and even more nature lessons!
Featuring You! You ARE an Artist!
So, paint your daisy chalk pastel and be sure to share with us! Simply tag @chalkpastelart on social media, use the #YouAREanArtist hashtag, or upload a photo to the ChalkPastel.com Facebook page!
A note on chalk pastels: Pastels are an easy, forgiving medium. Fun for children and adults alike! Details on the pastels and paper we use, how and where to purchase, and links to all of Nana's other pastel lessons are in Our Favorite Chalk Pastels. A simple set is very affordable. Nana also teaches acrylic lessons.
The practical aspects of a mess: Pastels are blessedly messy. We always have baby wipes close by to wipe hands. We wear something we don't mind getting stained or don a smock.
Have you subscribed to Hodgepodge so you won't miss any art lessons?
-last updated March 2020
Save
Save
Save
Save