At the start of a new season I begin to think of how essential oils can support our health for the upcoming months. You might remember that essential oils are one of the 'layers' we use for promoting wellness in our family. And since I get several questions about essential oils, I thought I'd share an essential oils 101 over the next several weeks. Feel free to share your questions in the comments!
(The essential oils 101 information I share here is by no means medical advice. Just simple, practical encouragement and sharing of how thrilled I am to find what works for me. I am not a medical professional and these statements have not been evaluated by the FDA. Some links are affiliate links to products we have grown to love and truly depend on. See our disclosure policy.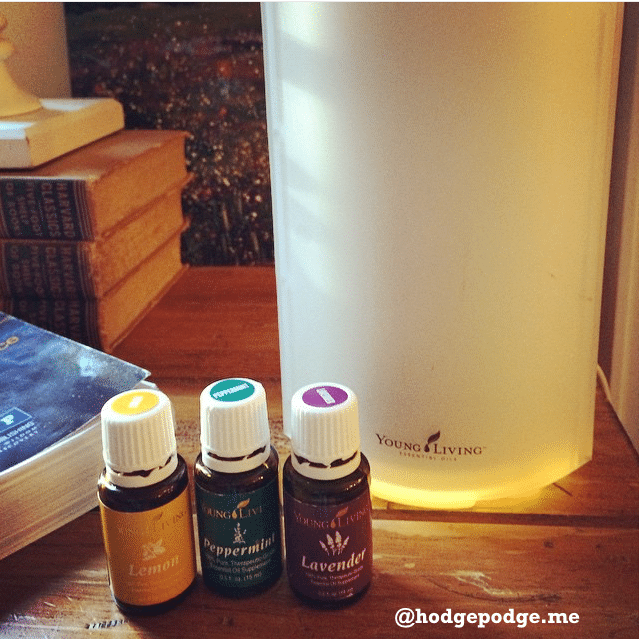 A favorite trio of oils for respiratory support.
When people ask me how and why we use essential oils it is sometimes hard to explain in a short conversation. Here at Hodgepodge, however, I can share over the course of a series just how to get started in essential oils and also how to promote wellness, boost immunity, help with mood and stress and other favorite helps. We have even enjoyed essential oil art! So, my fellow artists, I share those tutorials, below.
Essential oils are just one of the tools that I use on a healthy mama journey.
Essential Oils 101
The basics of getting started? Well, I am not the expert. I am simply always learning. After almost two years using essential oils I have seen the benefits. I encourage you to do your own research. But here are a few resources to get you started:
Getting Started with Essential Oils
I got started simply by talking to my friend. I also started researching on my own and got an Essential Oils Reference Guide so that I could search by topic. We use essential oils for support of so many body systems – respiratory, digestive and overall immunity.
I invite you to read about my family's start with essential oils in A Day in the Life with Essential Oils: I have been on a journey. For decades. I guess it could also be called a search. And now I share with you a day in the life with essential oils. Because I just can't keep quiet any more.

Essential Oils Art
Maybe you are ready for a wellness makeover too?