One of the grand balancing acts is that of being both a parent and a homeschool teacher. Add in the need for being the high school guidance counselor and a homeschool parent can be stressed. I find myself sometimes wishing that I could simply fall into one of those roles. And it is at those times that I pull myself aside for a homeschool parent teacher conference. Yes, just a little talk with myself. A rest. A breather. But mostly a focus on the Lord – asking for His wisdom and provision.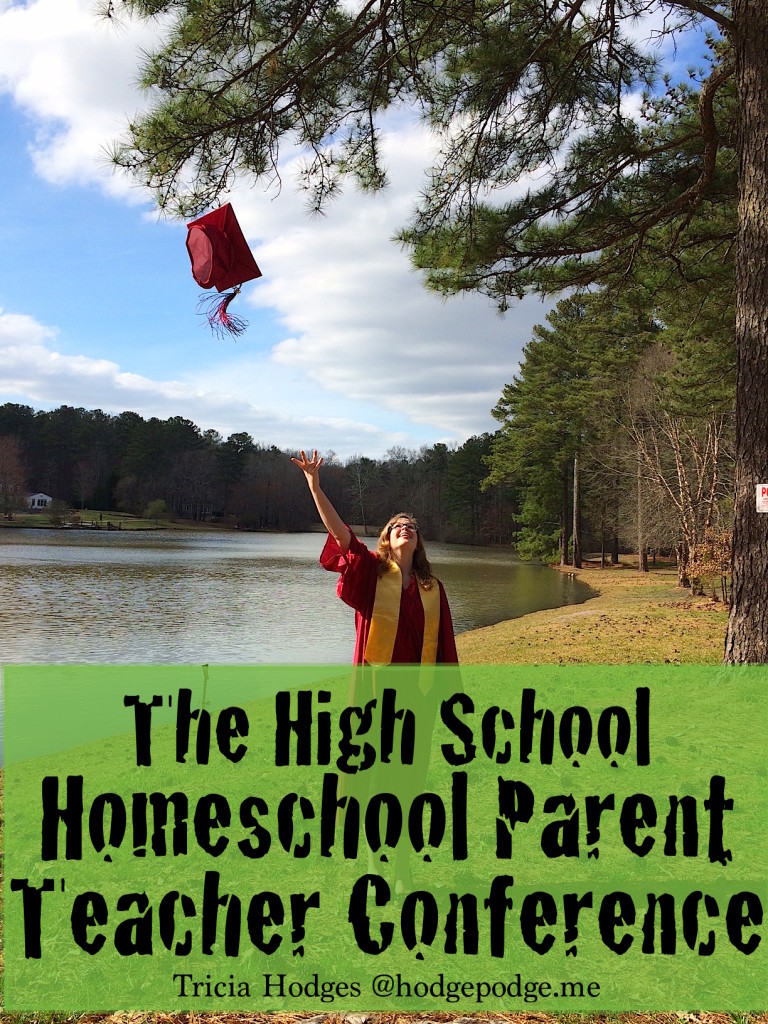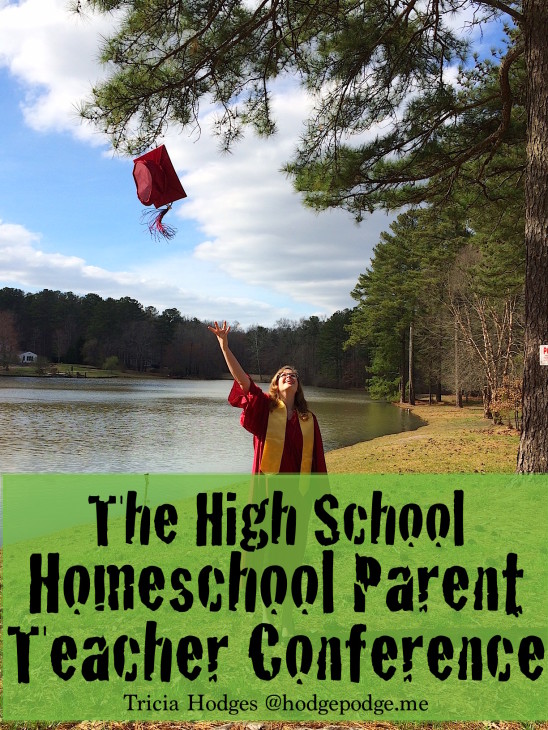 When I was a new parent I heard that just when you get your child settled into one routine, things change. Then you need to adjust that routine and change things up a bit. This is so very true. However, in the past two years I've found that I'm the one that needs to adjust. My role is changing here and there and I'm needing to adapt.
For my youngest two children, still elementary aged, I am the parent and the teacher. Answering questions about the election year or the voltage of a potato battery. For my middle schooler/rising high schooler, I am parent, teacher and a small slice of guidance counselor. For my two high school children I am still the parent – but my role as guidance counselor is strongest.
Yes, it is Hodgepodge and it may explain why I am conflicted some of the time.
But don't fret.
The Homeschool Parent Teacher Conference
How is a homeschool parent teacher conference helpful?
Get away to a quiet spot. Cast all your cares on Him. The very best answer to all of parenting and homeschooling (indeed, for anything in life) is to trust in the Lord with all your heart and lean not on your own understanding. In all your ways acknowledge Him and He will make straight your paths. (Proverbs 3: 5-6)
Talk to a fellow homeschool mother you know. Because that friend knows. We are not meant to go on this homeschool journey alone but to encourage each other. Send an email, set a coffee date or make a phone call.
The Habit of Rest – it is so very important to take care of yourself too!
We should make plans, counting on God to direct us. Make a list. Just get all that information you are worrying about out onto paper. Everything. Right it down. Next, offer it all up to the Lord. Ask Him to show you how to rearrange the list into manageable chunks. (Also, the Homeschool Teacher planner from A Plan in Place is GREAT for this practical step!)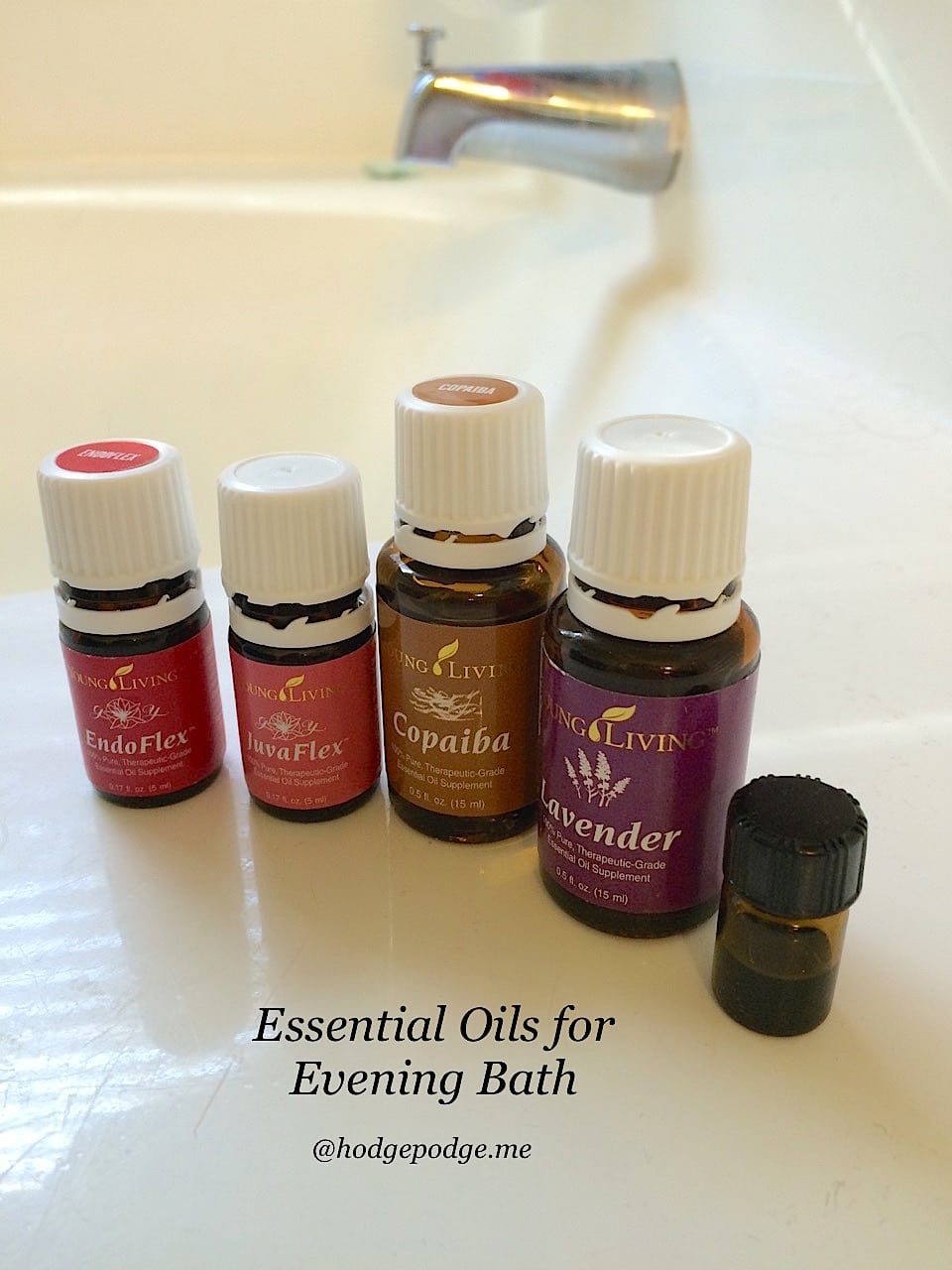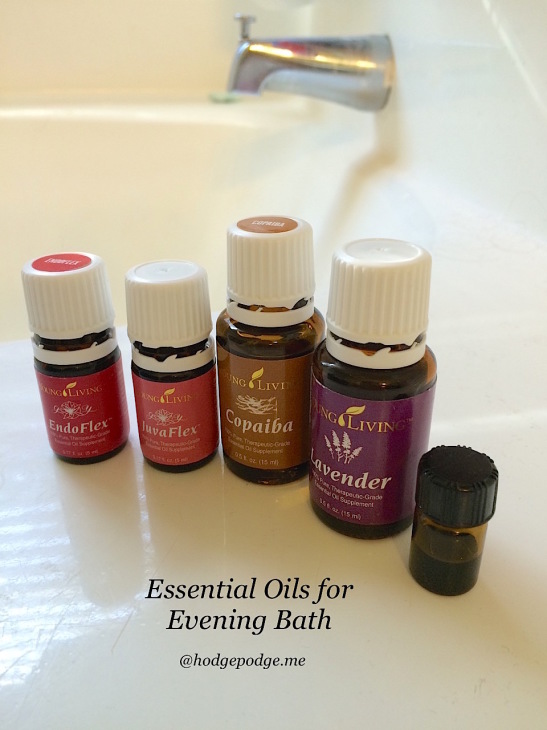 Yes, I have my to do lists for my soon-to-be graduate. I have my lists for my rising senior. We are busy applying for scholarships. Busy working on a senior thesis. Often talking about the courses our rising senior is taking now to work towards a certification in the IT field. My rising freshman and I have even started discussing plans. My mind is very full. But I am not panicked. I know that God has got this. He has every bit of it in His hands.
Deep breath.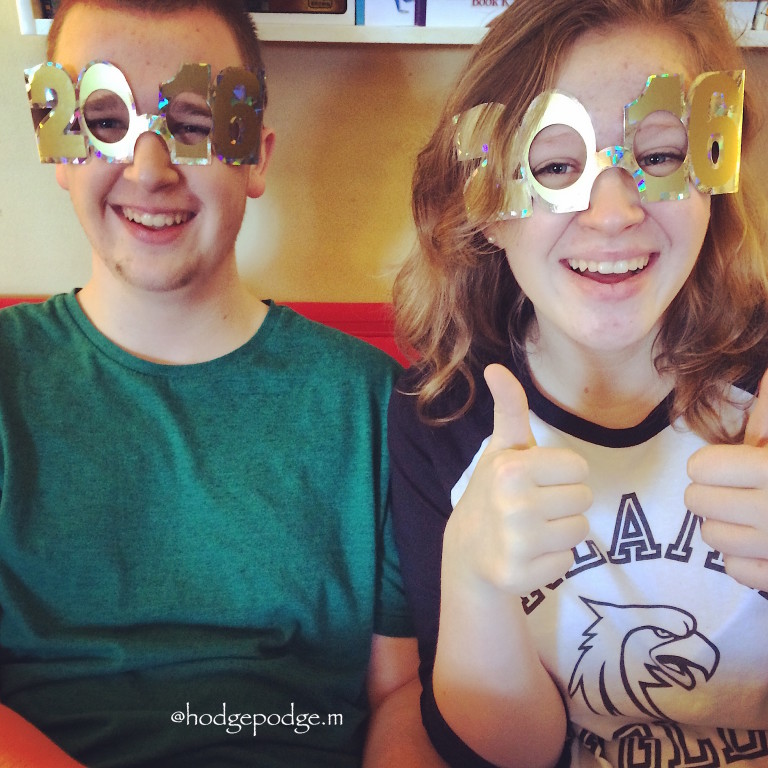 It's a wonderful time. Right now. It's a busy time. A whirlwind, in fact. But the Lord gives me just enough strength for each day. And then I fall in the bed.
I just wanted to encourage you. I see and hear so many 'you need to' posts and pieces of advice out there. (Of course, you do need to if you are following a college preparatory course. Here are 10 Steps for Preparing for College a practical guide from my friend Kim.) But I am here to say it just does not need to be hard work all the time. Be sure to add in some fun. Plan for fun if you need to. Because you need to have fun.
There are still plenty of fun memories to make with your high schooler. Picking out the favorite color for the cap and gown. Laughing while making cap and gown photos. And much of the process your young adult can come along side you and fill out, write, apply and do. Just make attainable goals for each week.
God's got this.

More Homeschooling High School Resources
In closing I will suggest that you ask the Lord for wisdom. Ask for it daily. And it will be given to you.

If any of you lacks wisdom, you should ask God, who gives generously to all without finding fault, and it will be given to you. James 1:5
Linking up and sharing in the fun with Finishing Strong at Education Possible.