With our love of essential oils comes a growing love for Sacred Arrow essential oils diffuser necklaces. Not only are the diffuser necklaces beautiful but they are practical. Oh how wonderful it is to have a trio of lemon, lavender and peppermint essential oils around my neck – oils that I can breathe at any time – especially with all the tree pollens here in Georgia right now. It's essential oils on the go!
~ Don't miss the Sacred Arrow jewelry giveaway at the end!
Sacred Arrow Necklaces are for the whole family. We purchased several diffuser necklaces from Sacred Arrow for our girls for Christmas. The diffuser necklaces with hymns are a collaborative effort with Sacred Arrow Jewelry and The Hymn Drop Shoppe. (You will have to be sure to follow Sacred Arrow on social media so you won't miss the next event!)
Having diffuser necklaces is also a frugal way to use essential oils. As we say, 'a dot is a lot' with the oils. Often one drop of an oil will last in our diffuser necklaces for several days. Now that is essential oils the frugal way!
Earlier this year we picked up a boys Sacred Arrow braided diffuser necklace for our youngest son. He loves that it has a magnetic clasp so he can put it on himself – and he wears it everywhere he goes! He has quite a few favorite oils he likes to wear that I shared about in A Day in the Life with Essential Oils.
We also love that Sacred Arrow Jewelry has a special mission to provide Young Living Sacred Frankincense essential oil to those fighting cancer. So a portion of our purchases go towards helping cancer patients. Read more about Sacred Arrow's mission to provide sacred frankincense.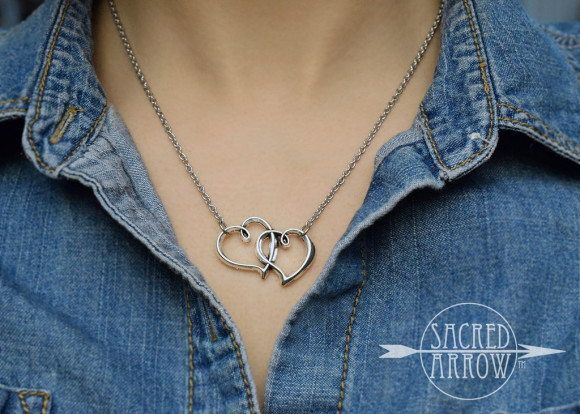 Be Mine Nape Diffuser Necklace by Sacred Arrow, pictured above.
Sacred Arrow Diffuser Necklace Giveaway!
Sacred Arrow is generously blessing one (1) Hodgepodge reader by giving away one (1) Be Mine Nape Diffuser Necklace (valued at $31.00)! Oh this would be wonderful for Mother's Day – less than one month away! (or for any day!)
Simply follow the instructions in the rafflecopter widget below.
a Rafflecopter giveaway

Interested in essential oils? Be sure to check out all we have shared: