One question I get quite often these days with Young Living essential oils – and one I faced myself when first learning about essential oils is: How do you enjoy essential oils the frugal way?
I will share with you the many ways we have made essential oils work on a budget – in a family of seven. In fact, we have actually saved money using essential oils! A family used to many a doctor visit, carrying two sets of epipens and paying for seasonal allergy medications.
(The information I share here is by no means medical advice. Just simple, practical encouragement and sharing of how thrilled I am to find what works for me. For us. I am simply a mama sharing and trying to help answer many of the questions I have been receiving. I am not a medical professional and these statements have not been evaluated by the FDA. If you do purchase through our links or sign up with Young Living using my distributor number, a small portion goes to keep our homeschool and the Hodgepodge site running. See our disclosure policy. )
Essential Oils The Frugal Way
See, as mamas we all want to do what is best for our families. Use natural products that help grow healthy bodies. So, save your pennies and…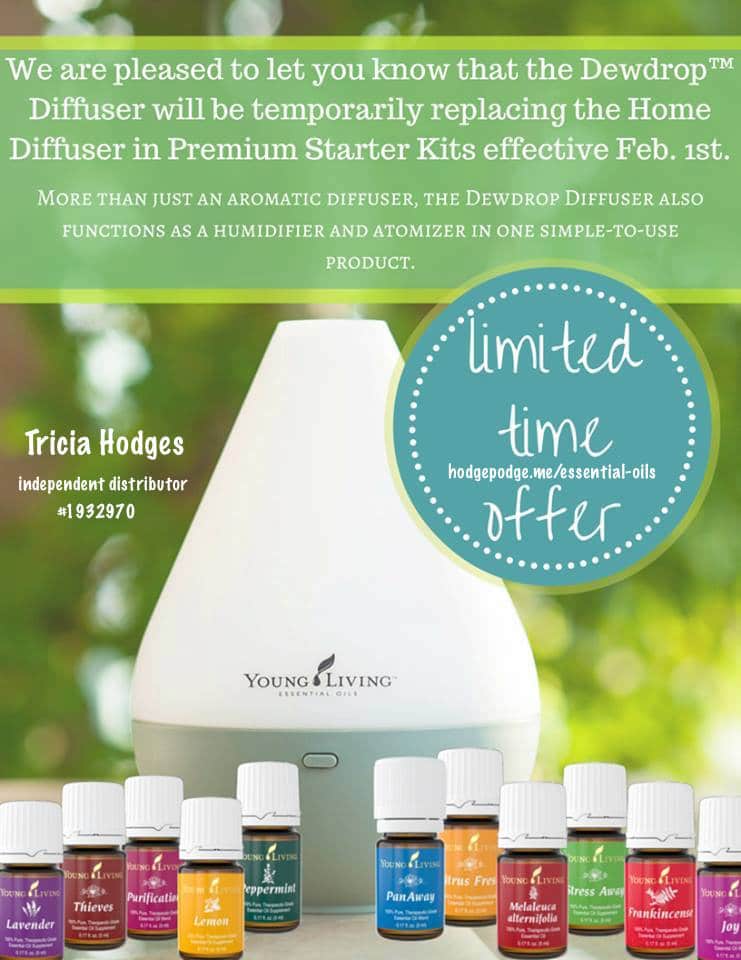 Get your start with Young Living Essential Oils
Make Your Essential Oils Starter Kit Last!
When I received my starter kit, the majority of the oils lasted us three months. Some we used within a month (lemon, lavender and peppermint). And some we are just now needing to reorder – seven months later!
Just how many drops are in those essential oils bottles and how long do they last?
5 ml bottle (those in the starter kit pictured above) – 85 drops
15 ml bottle (e.g., larger bottle of lavender, pictured below) – 250 drops!
.25 ml sample packet – 4 drops
Now, if you think about how just one drop usually does the trick – that is some potent stuff that will last quite a while!
Roller ball on top of the lavender mixed with coconut oil =  Happy boy!
Make an Essential Oils Roll On
One mom of many said to my friend, "I have to make this starter kit last a whole year with my large family." And so she purchased roll on bottle with roller balls, diluted the oils with coconut oil and made it work. Roller ball on bottle and add coconut oil. Stretch those oils!
Make a Homemade Essential Oils Diffuser
Now this is so very cheap and simple. Place one drop of your chosen oil on a cotton ball. Clip to a clothes pin. Clip both to the air vent in your car.

Wear Essential Oils Diffuser Necklaces
Though there is the initial investment of the necklace, just one drop of essential oils is all you need. And that one drop will sometimes last you three or more days! We love our diffuser necklaces from Sacred Arrow Jewelry (more photos of our necklaces in my Essential Oils on the Go).
Promote Healthy Living with Essential Oils
Make an assessment of your costs. We have found that we are now using all-natural cleaners. And we use essential oils for every day things. For example…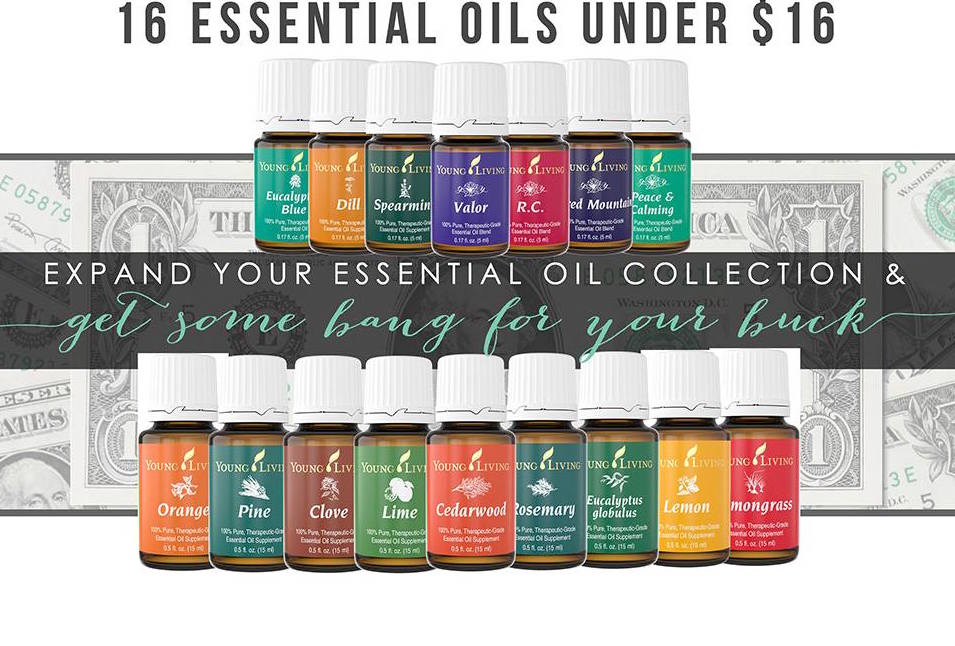 image credit to Sacred Arrow Jewelry
Essential Oils Under $16
Oh what a blessing R.C. has been this last month. We went through one bottle for respiratory support. And lemon? I have lemon every day in my Good Girl Moonshine to help promote gallbladder health. Plus lemon is in our diffuser every day with peppermint and lavender. Our latest favorite is lime. Wonderful for promoting alertness on homeschool days.

Give Essential Oils as Gifts
For Christmas I gave each of my children their very own bottle. Dragon Time, Lime, Peace & Calming, Peppermint and Lavender. (AND this helped me accrue essential rewards points (see explanation below)

Make Bath Salts – Use Every Last Drop!
A simple recipe for soothing bath times. Several cups of epsom bath salts in a glass bowl. Place your used bottles of oils down into the salts. Leave as long as you like. You can even put a few drops from a full bottle of oils in depending on how 'strong' you would like your bath salts. (No exact amounts in this 'recipe' can you tell?) Sprinkle a hand full in your warm bath and enjoy!
Cost comparison thanks to Cheryl McClure!
Cost Comparison of Essential Oils Retail Versus Wholesale
This visual tells it all! (You are basically saving $140) PLUS, as a wholesale member I have joined the essential rewards program. Each time I purchase oils I am earning points towards FREE oils. Since I am ordering oils each month, those points add up quickly. Plus there are free oils each month for those that spend a certain amount. See how to become a Young Living wholesale member.
Essential Oils the Frugal Way
Essential oils are helping our family be healthy. The oils are natural and we are ridding our household of chemicals. And we are still a frugal family. We have to be! Homeschooling family of seven that we are.
We are actually SAVING money using essential oils. Really. Truly.
Save
Save
Save