We have enjoyed the resources from Compass Classroom for quite some time. And as we were going about our usual afternoon video courses, I realized there are several reasons we love Compass Classroom for our homeschool. Not only that – Compass Classroom is having a super sale starting today that I didn't want you to miss!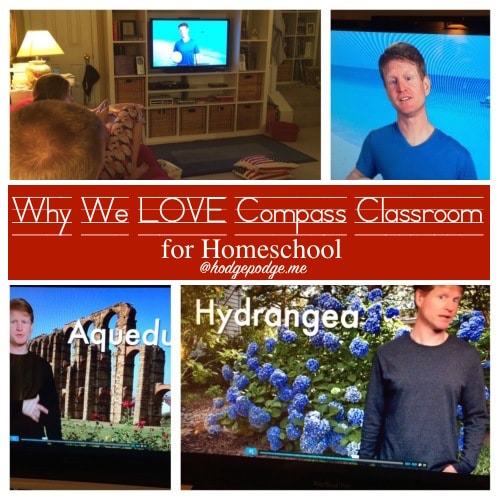 –> Also, in addition to the Compass Classroom sale, I have a special discount code for Economics for Everybody from our sister site, The Curriculum Choice!
Don't miss the special discount code – just for The Curriculum Choice readers – at the end! We received these Compass Classroom Economics for Everybody resources in exchange for an sharing an overview. All opinions are our own and we love this important study for our high schoolers. Please see our disclosure policy. The affiliate links included are for resources we absolutely love. If you purchase Economics for Everybody through our affiliate link, we will receive a small portion of the sale with no extra cost to you. Thank you for supporting The Curriculum Choice!

Reasons We Love Compass Classroom for Homeschool
1. Laughter. Soon followed by, "Can we watch another?" Then after the second lesson, "Can we watch just one more?" (My review of Visual Latin)
2. "Dwane Thomas does such silly stuff that it helps us remember Latin and Greek roots." ~ 11th grader (My review of WordUp! The Vocab Show)
3. We are watching the Economics for Everybody video lessons and doing the follow up study guide for a 1/2 credit for my two high school students. Since we are in a routine of Visual Latin and WordUp! in the afternoons and/or evenings, this fits nicely into our weeks. Of course, us parents sure wish we learned economics this way! (My review of Economics for Everybody)
4. We love that we can use these resources on our schedule. When it works best for us each day and week to week.
5. I love that there are ready to print worksheets, quizzes and resources to make both Visual Latin and Economics for Everybody count at high school credit.
6. Plus you can watch Visual Latin or any of these resources, while wearing a birthday crown. Even the family pet bearded dragon can join in  🙂

Economics for Everyone Special Discount Code
Just use Coupon Code: CURRCHOICE25  at check out for 25% off digital or DVD Economics products! But hurry, this offer is only valid through 2/16.
Do you love Compass Classroom for homeschool too?
Save