Growing up, Nana's Famous Chocolate Pound Cake recipe was the one at family gatherings. Doesn't that speak the loudest about a dessert?
It's a pound cake. A chocolate pound cake. The icing makes it a showcase (and it's what us children wanted to sneak a bite of as we ran by –  because it tastes just like fudge!)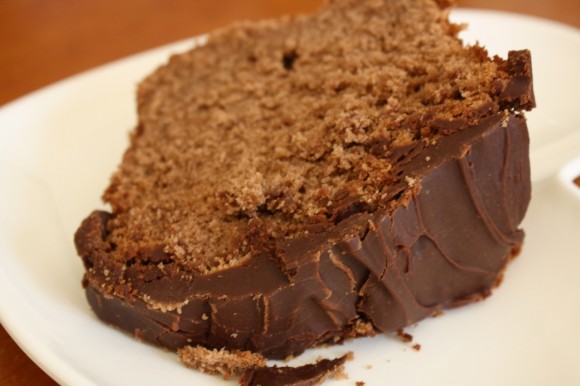 Nana's Famous Chocolate Pound Cake Recipe
Cake:
2 sticks butter
1/2 cup shortening
3 cups sugar
5 eggs
3 cups flour
1/2 cup unsweetened cocoa
1 tsp baking powder
1 tsp vanilla
1/4 tsp salt
1 cup milk
Frosting:
6 Tbs butter
1/2 cup cocoa
4 Tbs milk
1 box confectioner's sugar
Cake:
Cream sugar, butter and shortening.
Add vanilla.
Sift dry ingredients together.
Alternately add the sifted dry ingredients, eggs and milk.
Beat well on low speed.
Pour into a greased Bundt or tube pan.
Bake one hour at 350 then 10 minutes at 325.
Frosting:
Melt butter in large saucepan over medium heat.
Add vanilla and one box confectioner's sugar.
Reduce heat to low and stir until smooth.
(Nana's note: may have to add a little milk but be careful not to put too much in)
Spread on top of cake.
Preparation time: 15 minute(s)
Cooking time: 1 hour(s) 10 minute(s)
Number of servings (yield): 12
5 :  ★★★★★ 1 review(s)

Make it on Saturday to enjoy on Sunday. Serve with a scoop of ice cream or some whipped cream.

Another recipe from that red and white checked cookbook Nana gave me.
For more Sunday lunch ideas – that can be enjoyed any day of the week, see the other Fast Food for Slow Sundays recipes.

First published November 2011