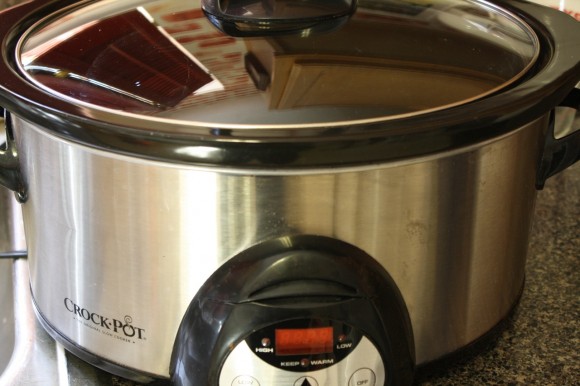 Only two years old and it's changed my life. The slow cooker my in-laws gave me for Christmas. I didn't know that just a few, little features like these would make such a difference:
programmable timer
switches to warm when cooking time is over
removable insert can go right in the dishwasher or be used as a serving dish
six quarts feeds my larger family plus guests
the stainless steel finish is pretty and matches my dishwasher and stove  🙂
See, I can put that Fast Food for Slow Sundays recipe on to cook and head out the door. Or stay put and teach homeschool all day. I don't have to worry that our main course might boil away to a crisp. It's happily simmering on warm. I can make a meal plan and save us big bucks by avoiding the drive through.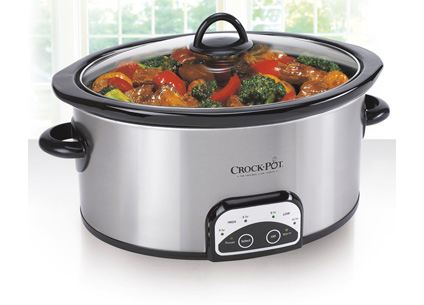 I looked over on the Crock Pot site. Boy have slow cookers changed in just two years! Fancy ones, with clips and carriers, you can take with you to a family reunion or party. The one similar to my six quart programmable now has four time settings and is currently available for $49.99.
You can also create your own crock pot of any color – with photos!
Another thing? This crock pot is durable. Two years. Two years worth of use – three to four times a week. Not to mention the monthly batch cooking I use it for.
I'm just saying that if you are looking for a Christmas gift for someone you know with a love of slow cooking, it might be time for an upgrade. Or it might be time to think of simmering soups rather delivery pizza.
If that doesn't convince you, how about some recipes?
Programmable. Removable insert. Larger capacity. Frugal living. Makes me love slow cooking even more.
Maybe you'd like to give the gift of slow cooker love too?