Cue 'Pomp and Circumstance' because it is time to celebrate all graduates with a Graduation Chalk Pastel Art Tutorial.

Graduation Chalk Pastel Art Tutorial
Supplies needed: Light blue construction paper. Black, white and yellow chalk pastel colors.
It is fun to start with your black chalk pastel stick and the graduation cap first. Plus, if you place the graduation cap up in the 'air' of your paper, you can see where it is best to place your graduate!
Your cap is similar to a parallelogram with a bottom flap. You need not worry about making it exact because it has been freely tossed high in the air!
While you still have you black chalk pastel stick, sketch the outline of your graduate. This is short of the shadow of the graduate against the brilliant, blue sky. This scholarly person has just tossed the cap, so his or her hand is still stretched out. Notice the sleeve of the graduation gown falling back down the arm. The outline of the graduate's head and shoulders are simple. You make your graduate outline the way you imagine!
Now, take your yellow chalk pastel stick and add that tassel flapping in the breeze. Lastly, the sky needs some wispy clouds. It is a beautiful day! Take your white chalk pastel stick, turn it on its side and spread some white clouds gently through your 'sky'.
Congratulations! You ARE an artist!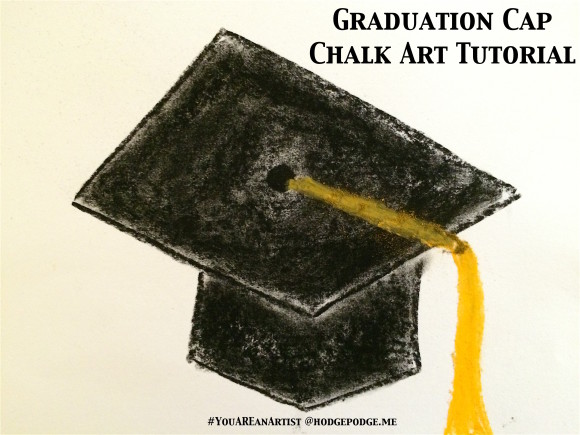 Bonus Graduation Cap Chalk Art Tutorial
In case you would like to make a close up chalk pastel of a graduation cap, here are some simple steps for you to follow in picture tutorial form.
Feel free to choose whatever color you would like for your graduation cap and your tassel!
Featuring You! You ARE an Artist!
Paint your graduation art and be sure to share with us! Simply tag @chalkpastelart on Instagram, use the #YouAREanArtist hashtag, or upload a photo to the ChalkPastel.com Facebook page!
A note on chalk pastels: Pastels are an easy, forgiving medium. Fun for children and adults alike! Details on the pastels and paper we use, how and where to purchase, and links to all of Nana's other pastel lessons are here: Our Favorite Chalk Pastels
The practical aspects of a mess: Pastels are blessedly messy. We always have baby wipes close by to wipe hands. We wear something we don't mind getting stained or don a smock.
Do you and your artists learn best with a video art tutorial? Join the You ARE an Artist Clubhouse for even more Video Art Lessons at ChalkPastel.com!
Have you subscribed to Hodgepodge so you won't miss any free art tutorials?
-originally published April 2016