"We should do a Star Wars BB8 chalk art tutorial!" our youngest exclaimed. And I am so glad we did. We share at least two options for painting BB8 with chalk pastels. You might come up with more – because you ARE an artist!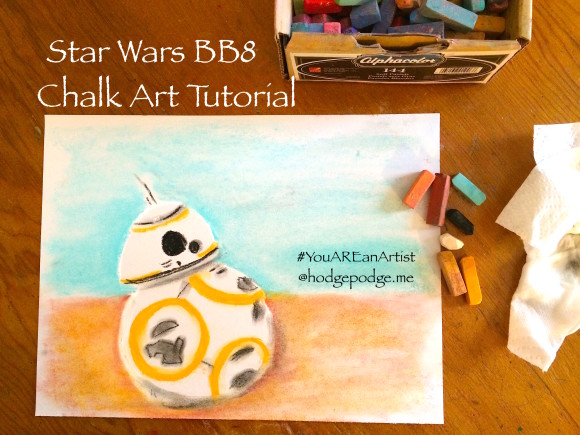 First, BB8 in the desert sand of the planet…
BB8 Chalk Art Tutorial
Supplies Needed: White construction paper (or regular printer paper) plus white, orange, black, sky blue and yellow/brown sand colored chalk pastels.
First, use your white chalk pastel to draw the half circle and larger circle of the BB8 droid. It may be a little hard to see on your white paper but this is the guide for your droid. You will be filling in with color. For more on this technique, see Nana's Less is More Chalk Art Tutorial.
Next, take your orange chalk pastel and sketch in the circles on your BB8. This helps you 'see' it better. You can then take your black chalk pastel and sketch in the markings on BB8, the circle on the droid's head, the antenna. Add just a small stroke of black chalk pastel under BB8 for a shadow. No need to fill in or do any color blending at this point.
Now, as Nana says, you can't just leave your droid floating out on a white paper! So let's add sand and sky. So, use your sand color and turn it on its side to skumble in the color. Do the same for the sky.
Pay special attention to how the sand and sky colors meet up with BB8. See how adding extra color up around your droid makes BB8 stand out on the paper? What fun!
Now blend! Take your finger and carefully smooth out the colors. You may want to start with the black outlines on BB8. And you probably want to wipe your hand on a wet paper towel or baby wipe in between blending each color. Once again, this is your painting – fill free to add some sand dunes or other background details if you'd like.
BB8 is speeding across that sand because you ARE an artist!
Are you ready for more?

Curious BB8 Chalk Art Tutorial
This tutorial was our eight-year-old's idea! He loves the 'personality' of BB8 and thought that peeking around the corner would be fun. It is a curious BB8 droid.
Supplies Needed: black construction paper plus white, black, orange and red.
Now I have to start off by saying that the first sketch of white in drawing BB8 was not what I really wanted it to be. But that is the beauty of chalk pastels! Just blend and smooth right on over any 'mistakes' – see it above? Watch how that is transformed with layering.
Just like the tutorial above, use your white chalk pastel to sketch BB8's outline. You will use your white for a while. Outline the one, large 'eye' sensor. Add just a touch of white highlight to show the light on the sensor. Leave some black along the top for the black band. But if you cover up a spot accidentally, you can always layer over with your black pastel. Sketch BB8's antenna too!
Next, use your orange chalk pastel and add in the orange bands and circles. And – this is fun – add the red in the lower left of BB8's 'eye' sensor. Add a touch of white too to emphasize the light. This little touches really bring BB8 to 'life'!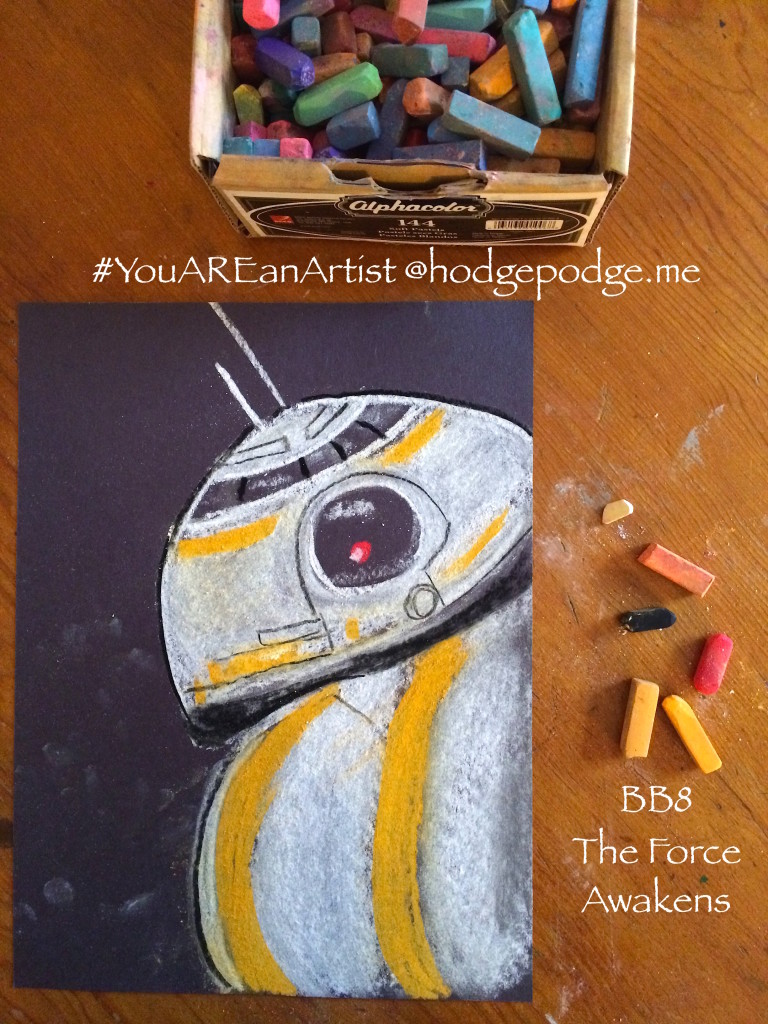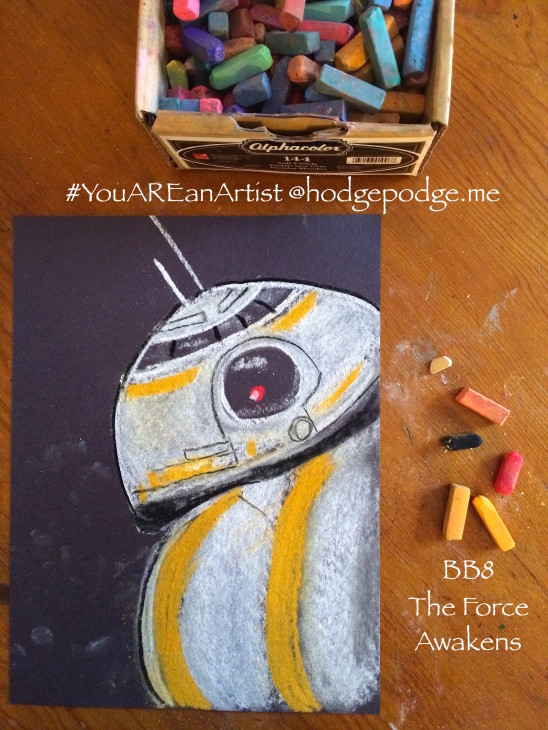 Lastly, get your black chalk pastel and draw in the outlines around the eye sensor, and other touches. And to give extra definition, use the black to outline the droid.
More Star Wars Art
Did you miss our earlier Star Wars chalk art?
Featuring You! You ARE an Artist!
Paint your BB8 droid art and be sure to share with us! Simply tag @chalkpastelart on Instagram, use the #YouAREanArtist hashtag, or upload a photo to the ChalkPastel.com Facebook page!
A note on chalk pastels: Pastels are an easy, forgiving medium. Fun for children and adults alike! Details on the pastels and paper we use, how and where to purchase, and links to all of Nana's other pastel lessons are here: Our Favorite Chalk Pastels
The practical aspects of a mess: Pastels are blessedly messy. We always have baby wipes close by to wipe hands. We wear something we don't mind getting stained or don a smock.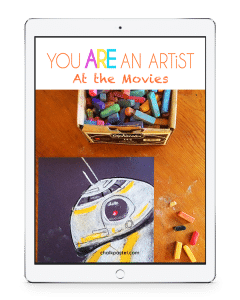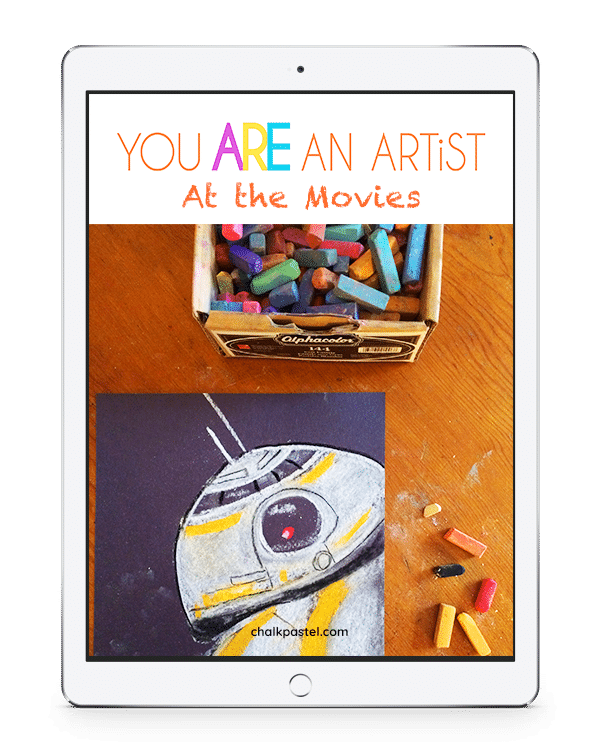 Do you and your artists learn best with a video art tutorial? Join the You ARE an Artist Clubhouse for even more Video Art Lessons at ChalkPastel.com!
You might also like:
—>> Subscribe to Hodgepodge so you won't miss any future art tutorials! <<—
May the force be with you!
-first published January 2016