Continuing to share the basic habits that bless our homeschool. Last week, I shared our Before 8:45 Checklist habit.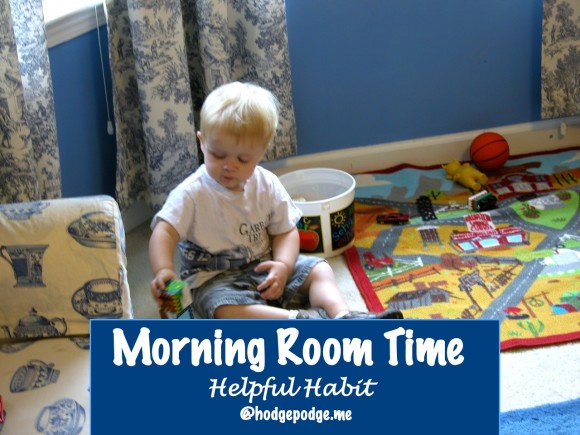 Morning Room Time is the habit that blesses all ages. It's how I can be in two places at once! Both helping our littlest ones and helping the older ones with math. It's the answer to the question I get most often: What do you do with the little ones while you school?
Morning room time goes hand in hand with teaching time or, this week, our occasional standardized testing. Basically, our littlest ones spend up to 45 minutes playing alone in their bedroom or other room of the house. But while they play, they are listening to Hodgepodgedad's voice and my voice – recorded on a CD. Teaching Bible verses, ABCs, our address, singing songs, talking to our child. If this is something that interests you, we have a series on What About the Little Ones over on Habits for a Happy Home:
Standardized Testing: This week, Morning Room Time helped enormously because my 3rd and 6th graders were both taking standardized tests. In Georgia, standardized testing is required by law in 3rd, 6th, 9th and 12th grades. This was my first time testing two at once! (and with five children it will come around quite often on down the road  🙂  ) Testing went well for the most part but of course was a challenge balancing the needs of the age range.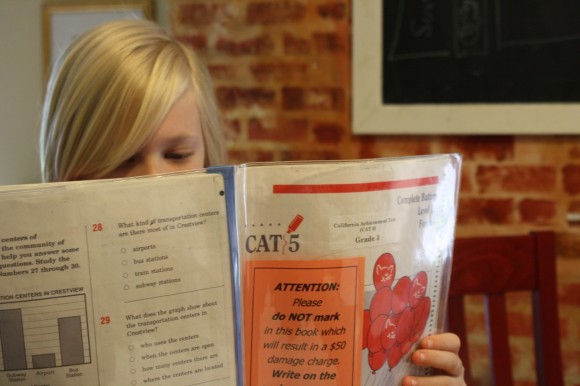 Ordering: We order our tests from Family Learning Organization. This is a company recommended by my friend with plenty of testing experience, Little Sanctuary.
Nature: We completed our spring bird study (our absolute favorite each season!) and got some family walks in (thanks for inspiring us in the walking area Jamie. The adults also got a few late-night walks in.)
We got the garden planted! Cucumbers, squash, zinnias, sunflowers, parsley! (spread around in other raised beds – not just in this one  🙂  )

Math and English were going on in the background this week. Sixth grader came in this morning giggling. He shared this problem from his Teaching Textbooks:
Out of 100 slices of bread, 99 dreaded the toaster. What percent dreaded the toaster?
Tapestry of Grace: just the basics this week reading from Story of the World Year 4. I let the older children pick any topic that interested them and just read. Just the basics when you are in the middle of testing!
Life skills and weather: Wednesday we had some pretty severe weather roll through. I know that you've seen the coverage of the storm ravaged south. Before Hodgepodgedad went to work that Wednesday, he went over all the weather alert equipment with eldest son. He asked him to be in charge of keeping the family alert. To be in charge of our safety while he was away.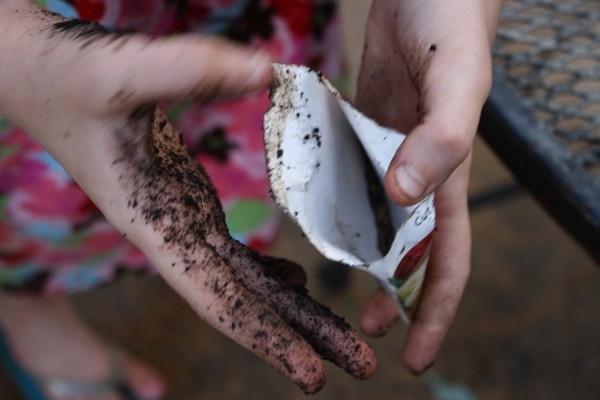 We have been singing His praises because we seemed to be right in a swath of safety. Bad weather to our north and to our south but we only got lots of wind, lightening and rain. We've been praying for and been heartbroken for our southeastern neighbors. Jamie alerted fellow homeschoolers on Twitter that Kris, our weekly wrap hostess, lives in a town hit by the bad storms. Praying for her and her family!
Plays and productions: Just a few, short weeks until our Drama Troupe's performance of Alice in Wonderland. Blocking and lines galore. Plus, Middle Girl was in two dress rehearsals for our church musical, Down by the Creekbank.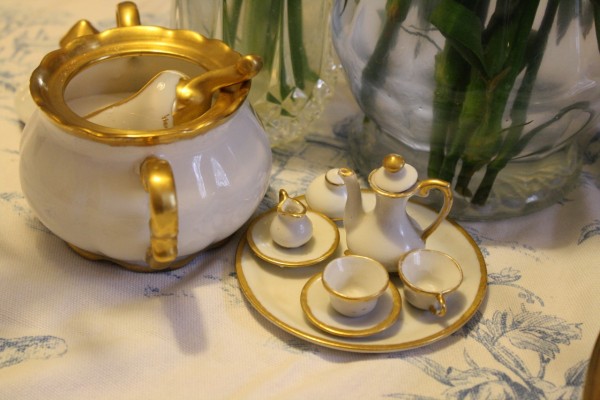 Royal Wedding Breakfast Tea Party: Did you have fun watching the royal wedding today? We sure did! Check out our tea party in this Royal Wedding as a mini homeschool unit study post.
More Praises: air conditioning fixed in the family van because of recall notice – just in time for summer heat!
Emergency haircut: Following the Easter haircut five-year-old performed on herself, our trip to the beauty parlor was a success. (Before photo above). Hair saved for the upcoming flower girl role in my cousin's wedding.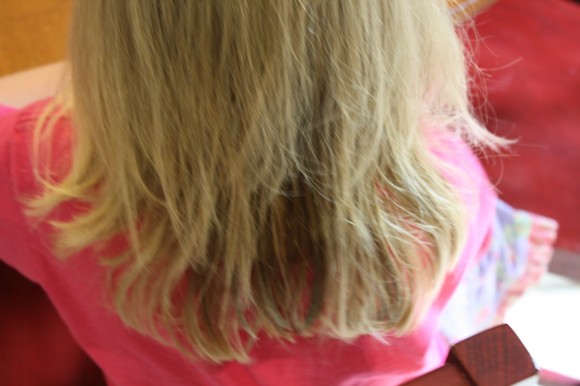 (After photo above) Whew! Our hair stylist said she actually did a fairly good job layering her own hair. Maybe a career in her future but not for now.
Come visit me and Tapestry! I hope to get to meet some of my homeschool friends at the Georgia Homeschool Education Association (GHEA) conference next Friday and Saturday, May 6 and 7. I'll be in the Tapestry of Grace booth Friday and Saturday. Please stop by for a visit.