Wrapping paper made that old-fashioned way. Oh, the money you can save making your own. Oh, the fun painting time the children get. Just a reminder about how simple…
…using a big roll of paper from the warehouse club…
carving some slightly past prime potatoes…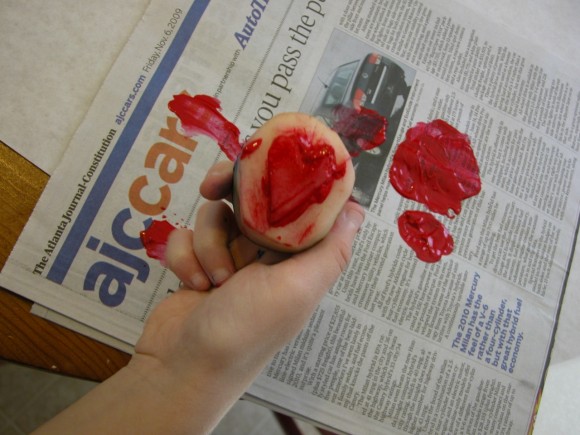 and using newspaper as a palette… how easy it can be.
Real joy comes not from ease or riches or from the praise of men, but from doing something worthwhile. ~ Sir Wilfred Grenfell
It was an, "oh yeah. I forgot" kind of moment for me. Look how pretty. We did have the problem of a place to dry the newly-stamped paper. Lil' Buddy was roaming as were curious cats. So we hung it outside to dry.
Ready, set, paint…Be ready for the holidays. Have an afternoon of painting fun. Make whatever design you wish!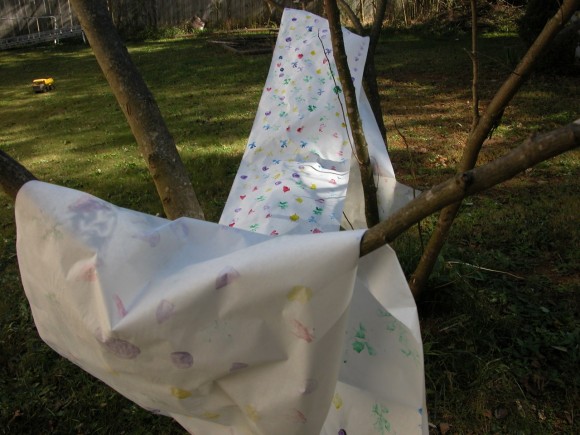 then wrap!
Counting the gifts of gift giving…
-Hodgepodgedad finding a new-to-him car. The all-around answered prayer of economical and practical. Knowing he'll be safe going back and forth and to and fro.
-My scientists, artists and photographers winning 1st, 2nd and 3rd place ribbons. One winning 1st place overall in the science fair!
-A gorgeous October weekend.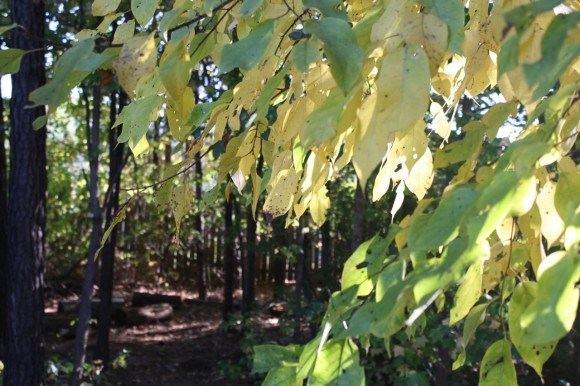 -Spreading a golden painting all around us in gifts 2749-2757.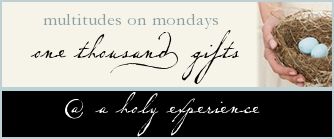 Who can hold an autumn leaf in their hand, or sift the warm white sand on the beach, and not wonder at the Creator of it all? ~ Wendy Moore