Photo credit ~Luci, my eldest daughter
I've been thinking on the helpful habit to share with you this week. The one that stands out for me in watching the children work on their science projects is the habit of carving out time for them to chase after an answer. Switching up the day to allow for large chunks of time for searching and researching. What a wonderful privilege it is to homeschool and allow the children to spend time learning about something they are really interested in. To say, what would you like to know more about? What are you really interested in? What do you want to find the answer to? And then have weeks to learn about it. Just because you have the time and want to foster the learning.
We managed to get in a little bit of Tapestry of Grace studies. Door in the Wall and Robin Hood readings.
Now, I'm not saying it hasn't been quite the experience to guide four children in four separate projects. I did exclaim last week that I have survived! It can be a strain to have pieces of projects scattered all about. Especially when Mama is under the weather. Ug. So, we made some spots for each of their projects to stay this week. Sort of tucked out of the way so that there wouldn't be footprints or matchbox car tracks on display boards.
With our science fair and art show tomorrow, I can't share our topics or photos of the display boards (next week!). But, I have been in the thick of the how to this week. I've been thinking of all the different subjects that are accomplished when we are working on display boards and projects. See, when we are here at deadline time, I only require the children to finish the basics. The basics being Before 8:45 checklist, Math and English. Then, the remainder of our time is spent in answering that science question or framing that art work.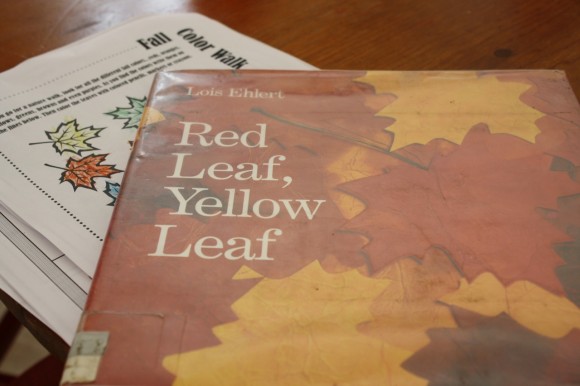 Because there is:
research going on
composition and presentation of that research
quite a bit of decision making skills
all kinds of learning related to what we were already studying in science
I feel confident that even though I didn't require all the other subjects that a huge amount of learning is going on. Besides four science fair projects and several art show entries, this week we also enjoyed…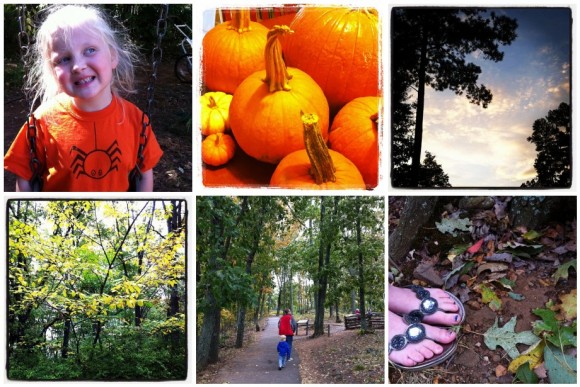 Nature: 1. Shared how to make a simple spidey shirt along with more web studies | 2. Made a family trip to the local pumpkin patch | 3. Watched a beautiful sunset. | 4. Spotted yellow leaves! | 5. Enjoyed a fabulous Fall Color Walk at Kennesaw Mountain | 6. …while wearing flips and coats 🙂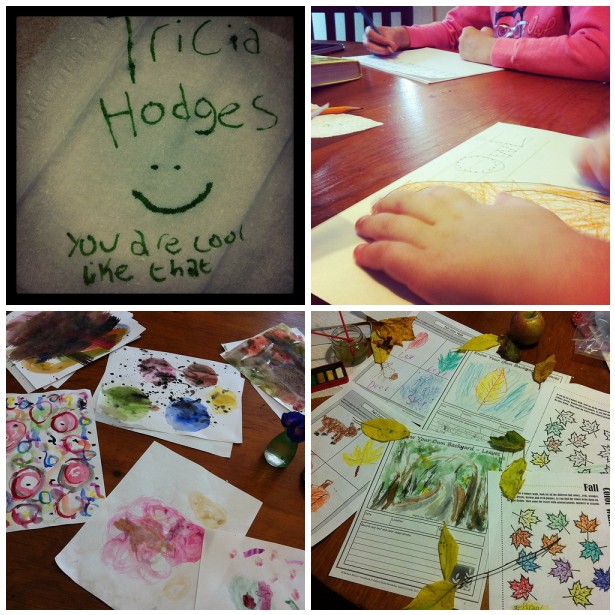 Art: 1. Message from Eldest Girl on a tissue – left on my bathroom counter. |2. Kitchen table is the best desk | 3. Shared about the watercolor mosaic art (and math!) we had fun with last Friday | 4. Notebook pages from our fall leaf study (We also shared some fall leaf art. Plus Nana's pastel tutorial, Leaf. And, one afternoon we enjoyed some time with this week's Sketch Tuesday topic.)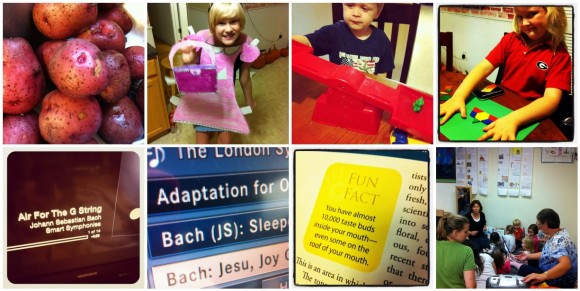 A few more highlights from the rest of the week: 1. made a pile of potato soup (recipe coming!) | 2. Middle Girl made her paper doll costume | 3. Pre-K see-sawing teddy bear counters | 4. Saxon K pattern blocks | 5. Composer study – Bach | 6. Listening to Bach in the car | 7. AiG Science Human Body – Tongue | 8. Children's Choir Open House
And speaking of chasing an answer, we are searching in the area of allergies. Lil' Buddy had his peanut challenge at the Emory Children's Center Allergy Clinic this morning. At the time of this post he was still with Hodgepodgedad at the allergist. He had had a reaction to the peanut protein as they ramped up the amount at four dosages. Hodgepodgedad will follow up with a post soon. You can read about Lil' Buddy's egg challenge and our allergy friendly living history here.
We're also searching for Hodgepodgedad a new vehicle. Something economical, dependable. Because his current vehicle is toast and served him well. Ah, car trouble. Yet…
God works, not through a few things or through the good things, best things, or easy things. But in "all things" God works. ~ Max Lucado
We're carting our science projects and art entries to our homeschool group's show tomorrow! It promises to be a busy weekend with that event plus car shopping.
Many thanks to our Friday hostesses…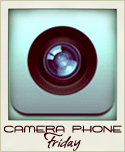 Camera Phone Friday hostess Dawn Camp @ My Home Sweet Home and…


Weekly Wrap-Up hostess Kris at Weird, Unsocialized Homeschoolers.
What's on tap for this lovely October weekend for you, friends?