Warning
: Trying to access array offset on value of type null in
/home/n0c986d/public_html/hodgepodge/wp-content/plugins/amazon-associates-link-builder/vendor/mustache/mustache/src/Mustache/Parser.php
on line
278
Here at Hodgepodge homeschool we are just about at the homeschool high school finish line. Time is going so fast that I find myself taking a deep breath – often. We are in the final two months of our eldest child's senior year. This time I will share with you all those last, little things we are currently working on or are coming up. Because you might want to consider these for your homeschool graduate as well.
(You may have noticed that I've gone to a monthly rather than weekly homeschool wrap up. If you'd like to have a peek our daily and weekly homeschool, I'd love for you to follow Hodgepodgemom on Instagram.)
~ The photo above was taken of our eldest last fall. She had just visited her top two colleges and was looking forward to the future! This post contains affiliates links to this resources we adore. If you click on the links, you won't pay anything extra but you will help us continue to offer art tutorials for free. Thanks for that! Please see our disclosure policy.
First of all, fear not. Fear not homeschooling high school. It is simply just another unknown. Just like starting homeschooling, choosing curriculum, homeschooling multiple ages, homeschooling middle school. There is a learning curve but homeschooling high school has become one of my very favorite times with my children. They are independent, can have time to delve in and study what they are interested in and can hone both their skills and goals.
Homeschool Senior Moments
Continuing to share all those times and accomplishments for this homeschool senior year.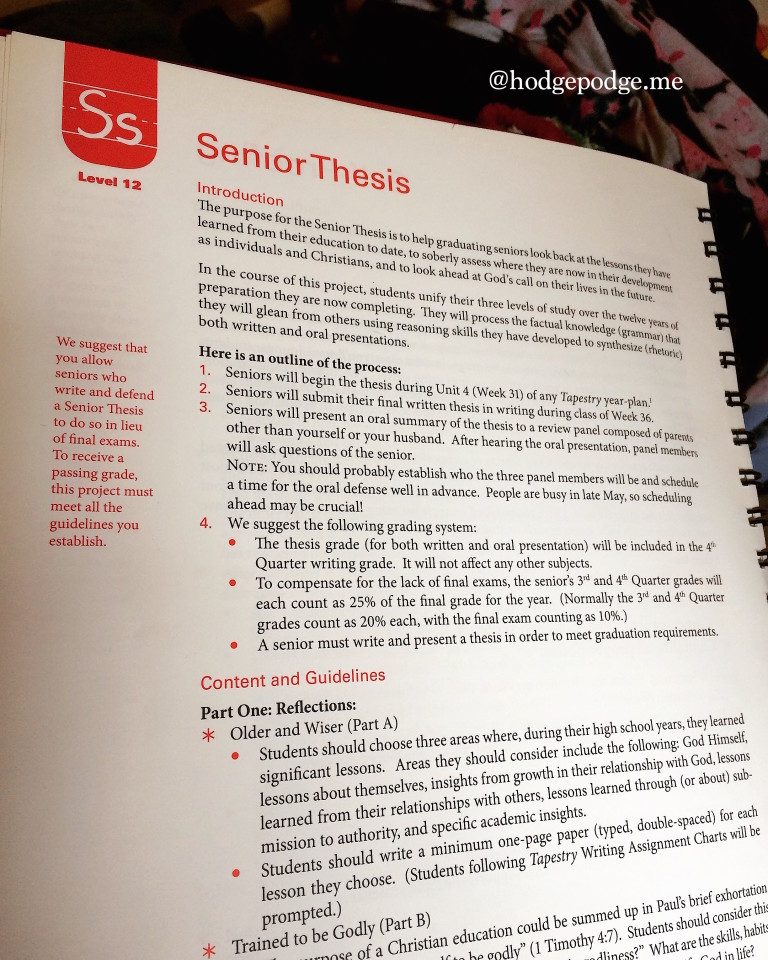 Senior thesis evaluations are coming in. This is one of those fantastic writing assignments from Tapestry of Grace and their accompanying Writing Aids. Part of the thesis is not only writing but gathering surveys and opinions from trusted adults (piano and Sunday School teachers, youth pastor) and peers and evaluating the results. What is fantastic about this is that the questions include such things as, "What type of vocation do you see me gifted for?" This is a great evaluation of homeschooling in general and homeschooling high school. What a wonderful way to have trusted adults and peers speak encouragement into your child! Comments from those outside your home at an important decision making time? So very valuable.
Formal cap and gown photos and the official high school 'velvet drape' portraits.
Ordering graduation announcements.
Writing a bio for the state homeschool convention graduation ceremony.
Choosing a baby photo for the graduation ceremony and senior recognition Sunday at church.
And I know there are more I am forgetting!
An afternoon of Great Books – Western Culture from @compassclsrm – with my high schoolers. I love that a master teacher can step in and offer such a rich, classical time of instruction. The Greeks is a full year with four units: The Epics, Drama & Lyric, The Histories and the Philosophers. Equals 2 high school credits – literature and social studies ? (You can get these courses in subscription form and stream with a monthly fee. It's awesome and affordable that way.) More details on subscription in my Visual Latin review  and a detailed review of this course coming next month at The Curriculum Choice.

Hodgepodge Spring Homeschool
But there are other things going on in our homeschool as well. Always a hodgepodge with five children…
Working on large motor skills at park day ☀️
Collage Friday from the first week of March 1. Flags Around the World sticker book from Dover Publications 2. The piano gals after taking the theory exam. 3. Littlest Girl (4th grader) singing a solo in big church! 4. Amanda Bennett's Election study with all our ages. 5. Cap and gown arrived for our first homeschool graduate. 6. Building afternoon with the Dandelion Chalk Pastel Art Tutorial. 9. Piano gals also page at the Georgia State Capitol. 10. Afternoon ACT prep studies with REA college prep. 11. Visual Latin with our high schoolers.
So grateful for homeschooling ?2nd-12th grade
Second week of March: 1. Park Day PE 2. "Mama, I have a surprise for you!" -2nd grader. Morning magnetism experiments. 3. Celebrate warmer days with an ENO chalk pastel art tutorial for all ages. 4. Taking a few cap and gown pictures of my soon-to-be graduate! 5. It's time to paint! ? Don't you agree? 6. When you are studying @apologiaworld astronomy you need to have a field trip to the local planetarium. 7. The Science in Motion exhibit at Tellus Science Museum.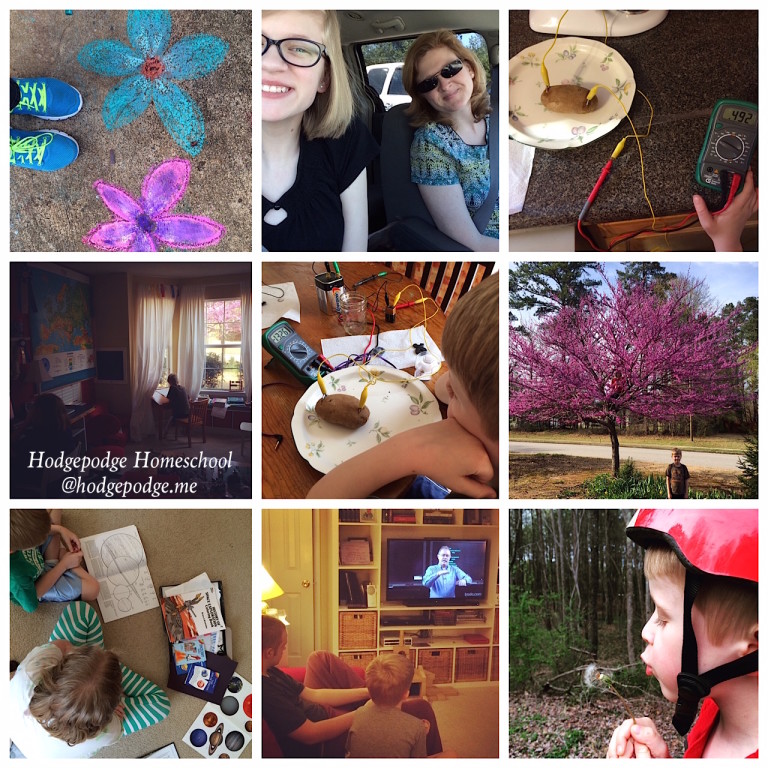 Third week of March: 1. Chalk pastel patio flowers by Middle Girl. 2. Extracurricular day around town. 3. Testing the potato battery with the multi-meter.  4. This homeschool moment brought to us by the glow of the redbud tree. 5. Some days we just have lunch around the science experiment. How about you? (❤️ this!) 6. There are two children in this picture… (And yes, another photo of the redbud!) 7. The younger two enjoying the combination of Dover Publications Space Exploration Fun Kit and Apologia Astronomy 8. Now playing for night homeschool – CompTIA A+ Prep – Electrical Terminology from our www.lynda.com subscription. 9. It's a dandelion blowing sort of evening walking/riding the trail (p.s. those eyelashes).
We are in the senior year count down, y'all! And then we shall have another high school senior next year – as well as a freshman! What a privilege to get to do this with my children.
Linking up and sharing in the fun with Mary's Collage Friday,  Finishing Strong at Education Possible and Kris' Weekly Wrap Up.