I've shared before how our homeschooling method is a hodgepodge. We have a true love of certain curricula (like Tapestry of Grace, Rod and Staff and Saxon) and have used them for all of our years of homeschooling. But that doesn't mean we can't add in some extras. Especially in the high school years, we have invited master teachers into our homeschool. We've done that with homeschool video courses for multiple ages.
~ Don't miss the details of Compass Classroom's sale at the end of this post! The whole store up to 60% off only April 4-11, 2017! The affiliate links included in this post are for homeschool video courses we absolutely love. If you purchase Compass Class room courses through our affiliate link, we will receive a percentage of the sale for no additional cost to you. Please see our disclosure policy. Thank you for supporting Hodgepodge and helping us continue to offer art tutorials for free!
Now, some homeschooling families are involved in a co-op or other homeschool organization to fill out those high school graduation requirements. Others pay a tutor or sign up for online courses. These are all wonderful ways to meet the needs of homeschooling high school. And I think that is yet another beauty of homeschooling – meeting the needs in the way that works best for our family and the ways that our children learn best. All the while – helping mama!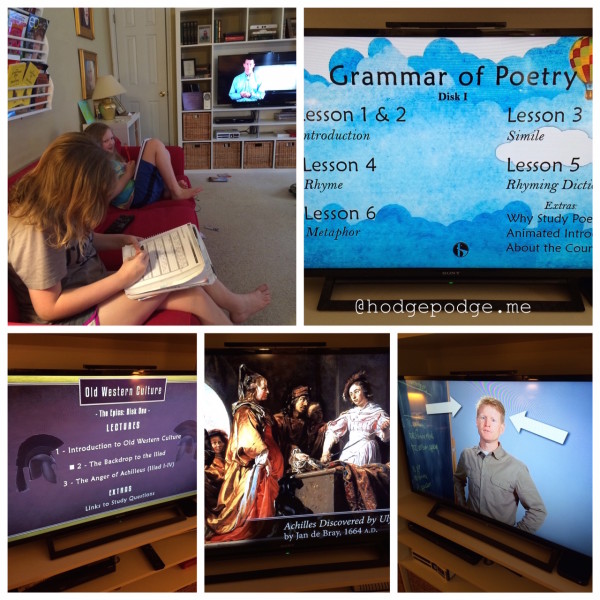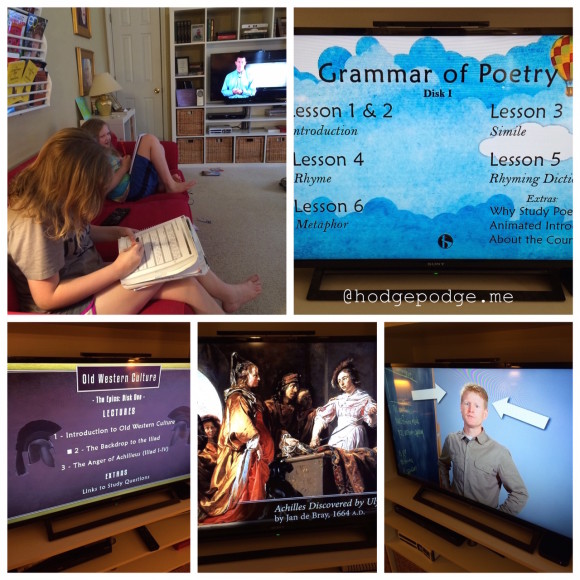 For our family, we have found it is such a huge blessing to invite master teachers in each of these subjects – into our own home! We can tailor our schedule and pace. We can pause, take notes, go back and review. It may not be for you but it is perfect for us.
Plus, if you think about it, the one time purchase can be used for all of our children. So it is a wise investment in the long run. We have high school courses for our elementary-aged children already!
High School Homeschool Video Courses
High school is a wonderful time to invite master teachers into your home. We have enjoyed several video courses during the high school years. We have used these both as stand alone courses and as wonderfully enriching supplemental material for our main curriculum.
This year we have expanded our Tapestry of Grace Year 1 ancient studies with Compass Classroom's Old Western Culture video courses. The Greek epics – The Iliad and The Odyssey, Drama and Lyric and on into the Romans and The Aeneid. This has been a robust and challenging course for sure. Along with all the rich books from our Tapestry of Grace studies and the Senior Thesis Tapestry suggests – Old Western Culture has offered an outstanding senior year for my eldest. More on all our Tapestry of Grace studies and all I've learned here at Hodgepodge.
Today I am sharing an extensive review of Compass Classroom's Old Western Culture video course my high schoolers have taken this homeschool year. Be sure to read my full review of Old Western Culture at The Curriculum Choice.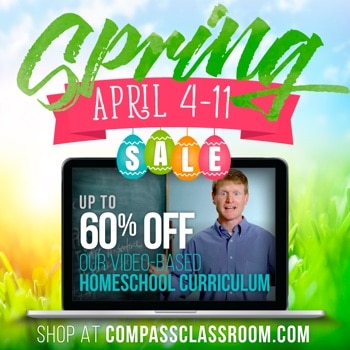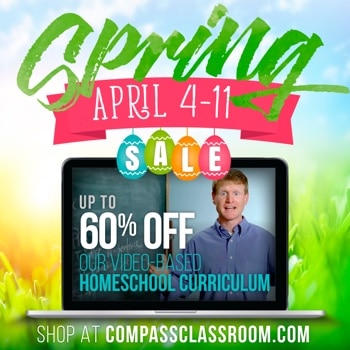 Compass Classroom Sale!
And guess what? Compass Classroom is having a sale! Up to 60% off everything! But hurry – only April 4-11, 2017! We love all of Compass Classroom's curriculum and resources for homeschool. So much so, I've shared reviews of all of these!
And a special bundle price for both American History and Modernity.
Have you used video courses in your homeschool – as your curriculum choice or to supplement your studies?